Thousands of ecovillage communities around the world are taking action and responding to the challenges confronting us due to global warming and climate change. These actions range from and focus on developing and implementing Green Building Practices, Climate Friendly Agriculture, Restoring the Natural Environment, Sequestering Carbon and Green House Gases through BioChar and Soil Restoration, Protecting and Regenerating Local Water Cycles, Installing and Using Renewable Energy and Appropriate Technologies, and responding to emergencies and crises with resilient and regenerative planning and rebuilding practices. Below we feature many of the best examples of what is being done around the world in ecovillages and by the ecovillage community to do our part in solving the climate crisis - grouped by topic areas.

Natural disasters triggered by climate change are responsible for 150,000 deaths every year and cause millions of people to seek refuge elsewhere. The Intergovernmental Panel on Climate Change (IPCC) predicts 50 million "environmental refugees" by 2010, and 150 million by 2050. Millions of people living along the coast in Bangla Desh and elsewhere in SouthEast Asia and the Caribbean or in Small Island Developing States are likely to have to resettle and need to rebuild in a more resilient and sustainable manner unless humanity can make an immediate about face. Ecovillages provide an excellent model for regenerative and restorative community based development. Here are a few examples of what the Global Ecovillage Network (GEN) is doing in response to this crisis and to deal more effectively with the situation.
The September Issue of the GEN's Newsletter focused on how many ecovillages around the world are dedicating their work, expertise and experience to disaster relief or prevention - and in the future, we imagine that this will become one of the core areas of engagement of our movement. You will find many examples in this newsletter. Read it here: PDF Sign-up for the Newsletter here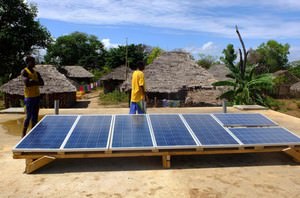 For the past 40 or 50 years many ecovillage communities around the world have been experimenting with and using renewable energy and appropriate technologies. Many of these communities also offer workshops and training programs in their installation and application. The world community is finally taking notice of and investing in the transition to a truly renewable energy future; but we still have a long ways to go. Based on REN21's 2014 report, renewables contributed 19 percent to our global energy consumption and 22 percent to our electricity generation in 2012 and 2013, respectively. This energy consumption is divided as 9% coming from traditional biomass, 4.2% as heat energy (non-biomass), 3.8% hydro electricity and 2% is electricity from wind, solar, geothermal, and biomass. Worldwide investments in renewable technologies amounted to more than US$214 billion in 2013, with countries like China and the United States heavily investing in wind, hydro, solar and biofuels.
One of our major challenges is providing access to such technologies in the developing world and in smaller and rural communities. GEN provides examples and information that can be essential in making such a transition, particularly to low cost, distributed, and decentralized systems in such places. Read on for more.

Our systems of industrialized agriculture have enabled humanity to feed billions more people but it has had its problems as well and has caused havoc both on ecosystems and in helping to cause global warming around the world. It has been projected that if we don't change our farming practices we will lose most of our topsoil on the planet in just 60 years. Fortunately humanity is learning that there are better ways to farm that not only limit the release of greenhouse gases and restore soil health but that also can help us sequester hundreds of billions of tons of carbon and reverse global warming - if we make the changes needed in a much more concerted manner.
Fortunately many ecovillages have been using permaculture, agroecology, no till and conservation tillage, cover cropping, organic farming, integrated pest management, and more recently key line farming to protect and build soil health, restore local and natural ecosystems, add to climate resiliency, and increase productivity for small scale and family farmers. Read on to learn more about both the problems and some of the best that is being done in ecovillage communities below.

Sustainable biochar is a powerfully simple tool to fight global warming. This 2,000 year-old practice converts agricultural waste into a soil enhancer that can hold carbon, boost food security, and discourage deforestation. Sustainable biochar is one of the few technologies that is relatively inexpensive, widely applicable, and quickly scalable. Biochar is a solid material obtained from the carbonisation of biomass. Biochar may be added to soils with the intention to improve soil functions and to reduce emissions from biomass that would otherwise naturally degrade to greenhouse gases. Biochar also has appreciable carbon sequestration value. These properties are measurable and verifiable in a characterisation scheme, or in a carbon emission offset protocol.
Click here for more articles and information about producing and using biochar.
And to read more about the basics of biochar, please see www.biochar-international.org/biochar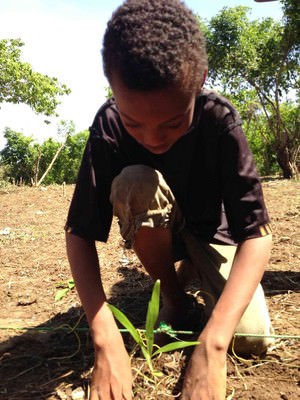 Over the last several hundred years humanity has released much more carbon into the atmosphere through deforestation, destroying once abundant grasslands, replacing them with built environments and industrial agricultural practices than has been emitted through the production and usage of fossil fuels. Similarly, we could do much more, and much more quickly, by restoring the natural environment, reforestation, restoring the health of grassland areas, adopting climate friendly agricultural practices and engaging in carbon farming than through investing in energy efficiency and transitioning to renewable energy - as important as both of these still are.
Many people, organizations and villages in the Global Ecovillage Network and movement are doing the pioneering work needed now to show how we might best restore the natural environment, sequester considerably more carbon than humanity produces, stabilize the climate and reverse global warming - while at the same time dramatically increasing ecosystem services, restoring natural water cycles, and substantially increasing our ability to feed the world's people.
Read on for the best of what is being done in this regards, why it is urgently and crucially needed and how we can and to a limited extent are already doing it.