The two-week PDC is an internationally recognized intensive program that equips students with:
– a comprehensive understanding of the concepts of Permaculture
– tools and know-how to design your own regenerative projects
– the basics for land design and whole-systems thinking tools to better navigate society as well as your own inner landscape
The course is an introduction and stepping stone towards advanced land-design or teacher training programs. That being said, we support students' continuing education through offering lifetime access to our knowledge base (read more about it on our website) and by providing recommendations for advanced programs you may want to take after the PDC. Formats vary from locale to locale, tailored to suit the local environment and expertise of the teaching team. Like other PDCs around the world, Terra Alta's PDC has at its core Bill Mollison's 72-hour curriculum. David Holmgren's seven domains of permaculture action are also paramount in our permaculture teachings. Also in line with other PDCs, ours is designed to reflect the conditions of our locale—the beautiful bioregion of Sintra. Pedro is a certified teacher through the UK Permaculture Association.
The focus of our PDC is to enable students to design regenerative systems that can be applied to all aspects of life through learning-by-doing experiences and is geared towards anyone: from those looking to build intentional communities to those looking to reduce their ecological footprint. Interspersed within the course are hands-on activities like gardening, natural building, zero-waste cosmetics, and bread making to create a participatory learning environment that's both fun and empowering for everyone.
COURSE TOPICS
Bill Mollison's 72h curriculum
The seven domains of permaculture action from David Holmgren
The principles and ethics of permaculture
Permaculture design method for planning a project and designing a homestead
Designing from patterns to details
Orientation to Terra Alta as home and land resource system
Appropriate technology and sustainable energy systems
Community and social tools for project and personal development
Regenerative landscape design
Water retention and regeneration
Composting and earthworks
Bio-intensive techniques for kitchen and market gardening
Sustainable social structures, alternative economy
Vermicomposting flush toilet system
Introduction to beekeeping (as we're natural beekeepers, we won't always get to interact w/ the hives, preferring to leave the bees alone unless we need to do some maintenance or annual honey harvest)
Zero Waste strategies: natural cosmetics, soaps, and biogas
Introduction to multiple natural buildings techniques
Food harvesting, preservation, and fermentation
Food Forest design, management, and implementation
Herbalism and seed saving
Permaculture Land Design
Students will be introduced to a Permaculture land design method called "SADIM" which stands for Survey, Analyse, Design, Implement and Maintain. We use our land-based project to illustrate this methodology. See our land plan below. Read more about our land features and history of project developments in each area.
For more about our Land Design, visit our courses' page on our website here.
COURSE FEE
850 euros
This includes food and camping. Upon registering you will be asked for your details and a registration fee of 200 euros to secure your spot. This is a deposit and part of the course fee. You just pay the balance when you arrive. We have a refund policy.
ACCOMMODATION
Camping with your own tent – free
1-2 person size tent is 60 euros*
Bell tent is 250 euros* (per availability, we only have 4)
* Total cost for renting for 2 weeks
For regular tents, it is an additional 40 euros for mats and sleeping bags.
For large tents, included in the cost are mattresses and bedding (including blanket and pillow).
The campsite is a semi-wild area where we have created level terraces among the trees, mushrooms, and stones for people to pitch their tents out of view from the rest of the garden.
FOOD
We serve three vegetarian & vegan meals per day with ingredients sourced from our gardens or local organic producers. Students are part of the preparation of meals as this experience is a component of the course.
For more about our location, learning environment, guest teachers and facilitators, and student testimonials visit our courses' page on our website here.
To register directly, click here.
Contact us at [email protected]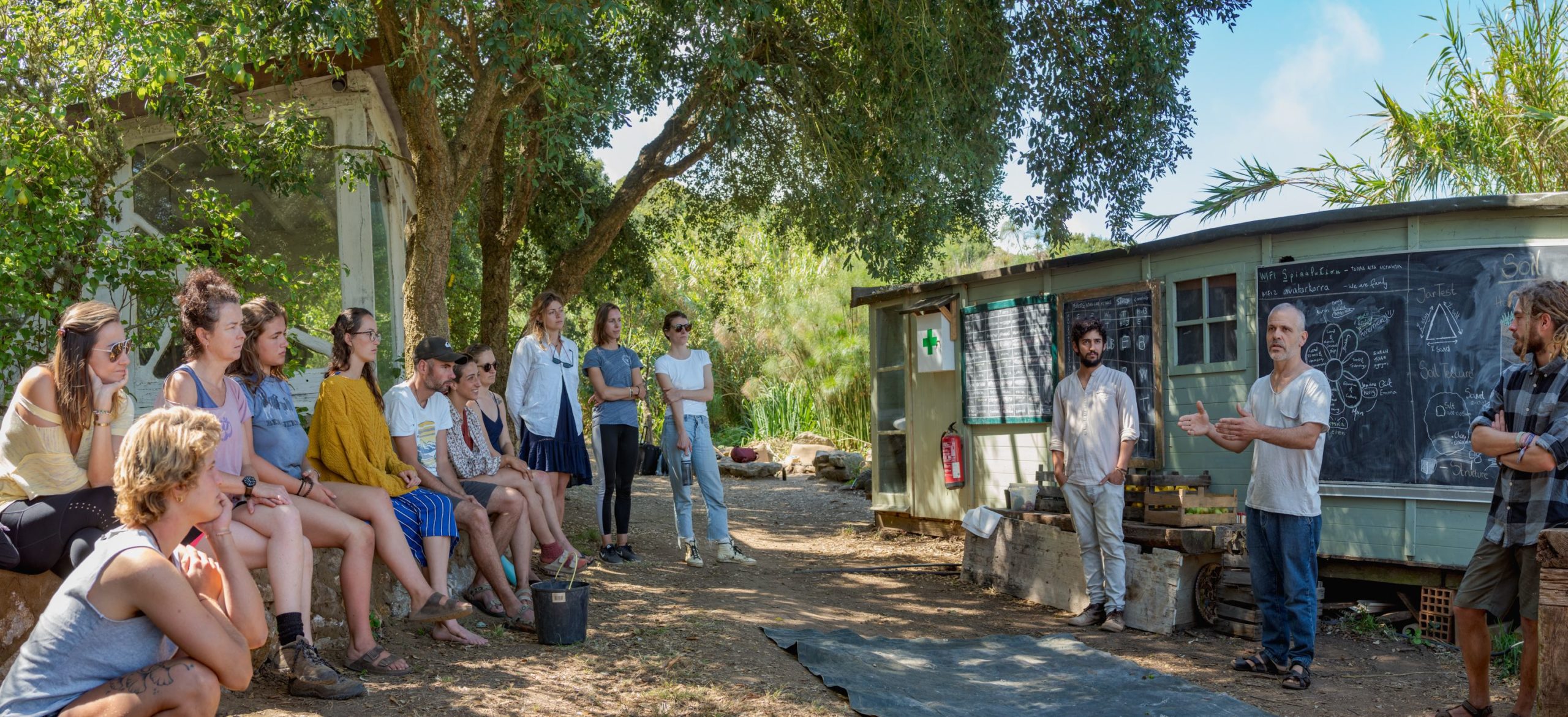 For more information, please visit the event website.