Date: 1 – 29 September 2019
Location: Antón, Coclé, Panama
Language:
Run by:
Region:
Areas:
Context:
Category:
Permaculture Design Certificate – $750
4-week combined on-site and online
Join the founding members of the 8th Life Panama EcoVillage Project in rural Panama to learn how being a Permaculture designer can lead you to real environmental solutions, both locally and globally. Permaculture provides us with the tools necessary to live more lightly on our planet. Applying this design science to our lives and all our projects we can create the new (or perhaps adapt a very old) way of living that is needed if our species is to survive. We're destroying ourselves and our planet. She will survive, but we may not.  It's time to STOP THE DESTRUCTION.
The course will be held at Villa Astoria, the project's guest house, and Finca Astoria, 21Ha of rolling hills, meadows & forests set between a stream and a river (with an incredible waterfall) the project's EcoVillage site. Help design and implement some of the initial interventions at this forming ecovillage.
Internationally recognized Certification
8th Life Panama has teamed up with the Integral Permaculture Academy to offer this course, which exceeds the 72 hour standard of study required for a Permaculture Design Certificate, the standard PDC. This iPDC consists of more than 90 hours and in addition includes a more multi-disciplinary perspective of Permaculture. The full contents of the course are described here.
The Integral Permaculture Academy is a network of experienced permaculture designers, social activists & change agents who have been working together to co-create an international, multilingual community since 2001.
Bilingual English & Spanish
One of the most enriching parts of the Academy and its on-site/online combo courses is that it is an international environment, with interesting people from all over the world living together for a time.
Apart from the cultural richness, this also means we can practice lots of languages, especially Spanish & English, which are respectively the 2nd & 3rd most spoken languages in the world (the first one is mandarin). We've even had students set up impromptu language support groups, where they wanted to accelerate the benefit of being around native speakers.
Everything we do in the Academy is published in these two languages. So, whether you speak in English or Spanish, you can take this course and have the opportunity to improve your language skills, which makes this a very multi-functional course (multi-functionality being an important permaculture principle).
This course in Panama will be held primarily in the language (English or Spanish) of most of the students. Bilingual students and the facilitator will support students in the other language to participate in discussions and activities.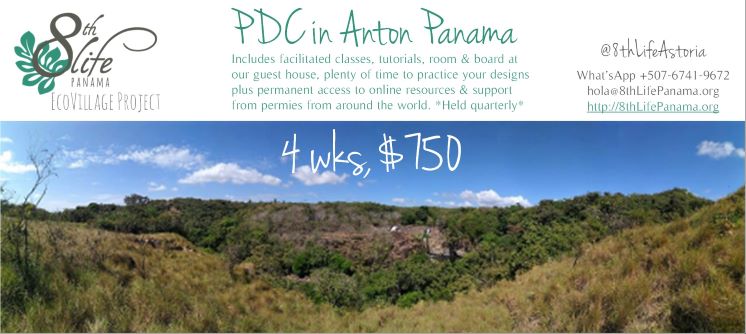 For more information, please visit the event website.