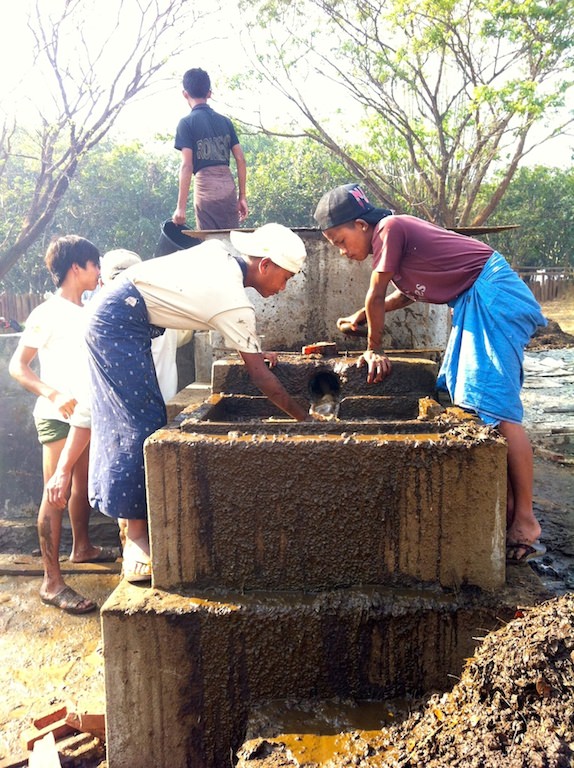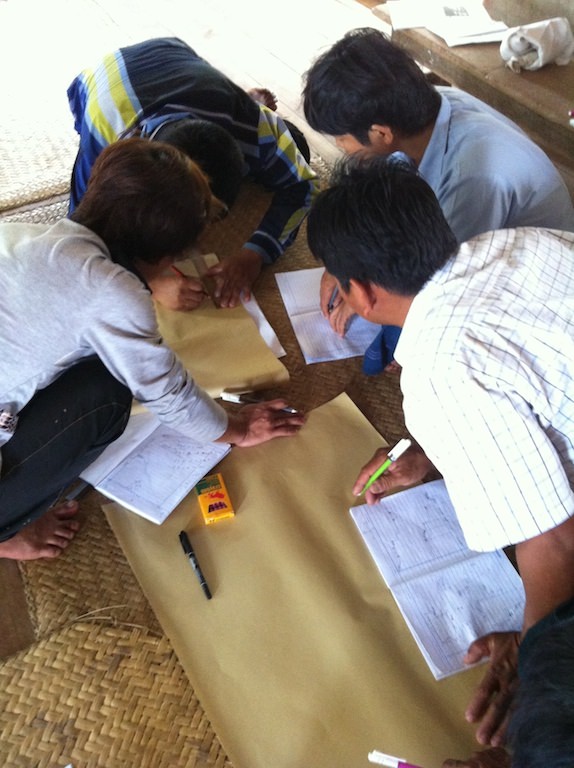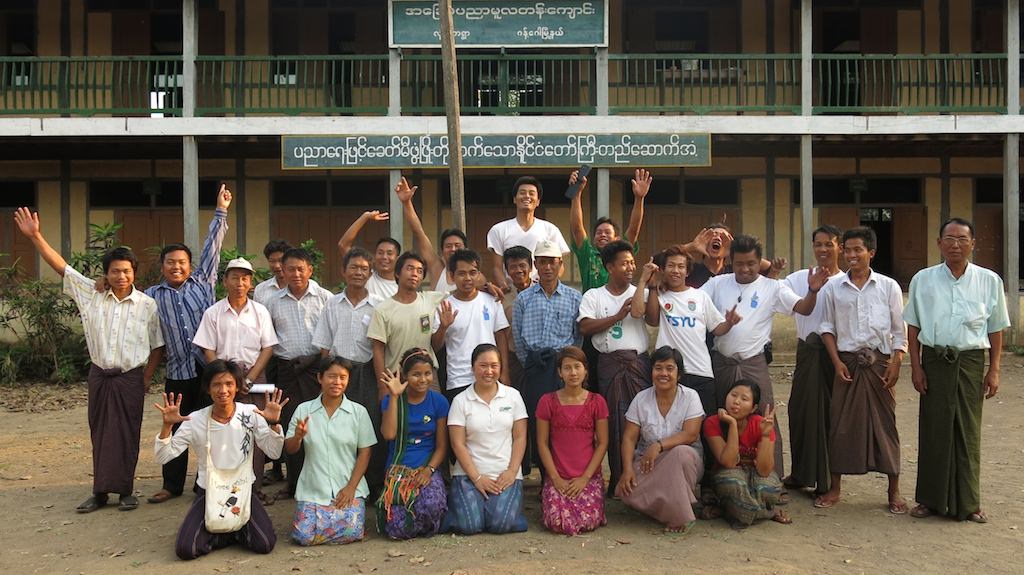 This short introductory course about eco village design, education and Eco-Farming was intended to raise awareness about Eco village and sustainable ways of Living for trainers and alumni of the Inle Lake Watershed Project under the Kalyana Mitta Development Foundation in Myanmar.
This 5-day training was held at Lonhaw Primary School in Lonhaw Village, Gangaw Township, Magway Region from 24 – 28 March 2014. There were 18 participants, 4 females and 14 males, from various areas including Lonhaw Village, Gangaw Township, Khudkhai Township, and Irrawaddy Division. The average age of participants was between 20-40 years old, with most of participants coming from agricultural backgrounds. The mission was that the participants would gain a more in depth knowledge regarding the concepts and skills in relation to Sustainable living, Self-Reliance, Organic Farming, and Community Building. The program followed the schedule below which shows there was a balanced combination of education sessions as well as time for relaxation and personal time. This enabled participants to experience the sense of community building referred to in the course.
The sessions were delivered so that participants had an opportunity for sharing and discussing in the morning session, which allowed time for exercise or hands-on experience in the afternoon session. The final hour in the afternoon session allowed for Community Design, so participants could gain both knowledge and a deeper understanding from participatory learning processes and sharing knowledge and skills.
The first day had a more social aspect with participants and facilitators getting to know each other, and time was spent drawing up a daily schedule, agreeing on common ground rules as well as doing group exercises. Participants were very
enthusiastic and integrated well together in both the exercises and discussions. To better understand the aspects of a social inclusion, we discussed how understanding and trust are two very important factors for building community, and that good communication is the tool to achieving these two elements. Also, we learned about leadership, as we all are leaders with different characteristics, and according to Myanmar morality a leader basically must have tolerance, generosity, kindness, and honesty.
The Second day, we learned about economics by doing an exercise on exchange and trading. Participants gained personal insight regarding their actions, and the impact of globalization. Currently more people are moving away from the villages and going to work in Yangon, as well as going to Thailand, Malaysia and Singapore. This trend is similar to Thailand and other countries, shifting the workforce from agriculture to industry, and changing from producer to consumer. Many young farmers now feel inferior, and are unhappy living so far away from family and feel a sense of helplessness. After exploring the current situation, we discussed ways to regenerate the community economy. Participants started considering the goods that they would normally consume and seeing the possibility of producing these items in their own village.
The third day focused on ecology, with the Lonhaw Youth Group presenting a bio gas project for Lonhaw Village. By mid 2016 the whole community (including 183 households, a primary school and monastery) will be using renewable energy. The discussion inspired many other participants to install bio gas tanks in place of diesel generators in their own community. Participants also learned about permaculture and Eco-Farming principles. In the discussion we looked into Earth Care, People Care, and Fair Share. We shared 3 core values about beliefs & ethics, local knowledge and patterns & principles, which are already applied in the traditional way of living in Myanmar.
The fourth day, Worldview, we all agreed to volunteer for the bio gas project. Participants carried cow dung from local houses to the site by carts, mixing cow dung and water in small pits using their feet, and then putting the sludge into the tank with baskets. Some people were hesitant to get dirty, but learned to tolerate it by the end of the task. Reflecting upon what we learned, it seemed everyone was satisfied with the end result, and were able to see that the cow dung was not only providing electricity for the community but also providing many other benefits such as local healthy food, education, livelihoods, and unity for the community, which leads to holistic world view. At this point, it was very encouraging for participants to realise that they were viewing the same things but from different perspectives.
The last day, Community Planning: we covered designing for sustainability and the participants were encouraged to discuss ideas for community development. Some examples of issues raised were road construction, education system, reforestation & community gardens, land reform, organic agriculture, water management, community enterprise, and energy planning & consumption. In a sharing circle, participants talked about what they had learned during the course and how they could implement their new knowledge when they returned home, even on a very basic level.
Everyone enjoyed their time and expressed a desire to share this experience with friends and within their community. In the evening, we had a community farewell party where participants and villagers were served with Chin Traditional Food. Participants engaged in role-play exercises, and were invited to act out some of the issues & situations that face the Myanmar community. This allowed everyone to have fun and be creative with finding solutions.
Quote from participants
Participant 1: "I learnt more about the connection between humans and nature, and I have come to love the world with a peaceful mind. I learned way that I can share with my community about Eco-Farming techniques. I also would like to learn more about agriculture"
Participant 2 "As soon as the training started, we set our responsibility and time, as we should plan for our life"
Participant 3 "If there is no communication and no mutual understanding, we may face many problems and unnecessary issues will occur"
Participants 4 " I'm glad to share about knowledge and experience to other participants and trainers, I learned about unity and collaboration from Lonhaw Community"
Feedback from Participants
Training Contents: Most of participants have gained more in depth concepts of sustainable living and Eco-Farming.
The Venue: Lonhaw Village is well suited to this kind of training, good environment and community. But the weather during the training is really hot.
Food: Participants were served locally sourced food at each meal and Chin traditional food on the final day. Feedback was very positive.
Accommodation: Basic accommodation was provided, some feedback was…
* The place was hot
* It was far from the shower
* Noisy at night time from telephone calls
* Doors are not sealed properly
Suggestion from Participants:
* Training hall should be in a cooler place
* This kind of training could be provided for the other areas in Myanmar
* The role-play for participating and finding the solution by the community members was really good.