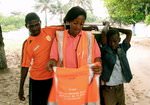 Pygmees are the powerest communauties in DRC and in central africa with only 2% of access to education, no acces to land. The human rights are not recognised.
RDC have more than 34000 Street children after wars and crises during which DRC more than 5 000 000 of personns died and more than 1 300 000 villages was destroyed.Street children don't have access to education and they are living in severe discrimination and hard conditions, wth out protection.
Espoir Pour Tous is managing project of street children school to give to them education. the project organises so education on human values, sport competitions,food health and training, and awaness.
This project will be integrated with the project of Mama na Bana, Ecovillage Training Center.
For Pygmees communauties,our projects in Ituri and in Katanga (DRC)make awareness, lobbying, training for sustanaible life for women and for men, and informal education by alphabetisations centers.
Membership & Visitors
Workshop-visitors welcome, Non-working Guests welcome, Work Exchange welcome, Volunteers welcome,