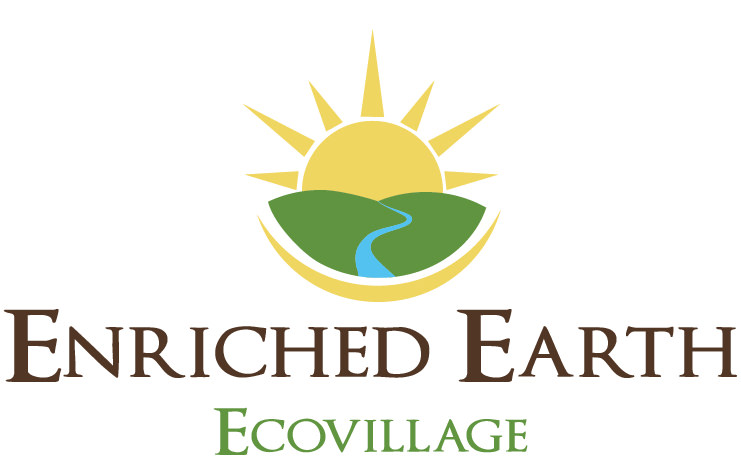 Enriched Earth Ecovillage is an exciting project aspiring to create a pioneering and educational Ecovillage in Northern Ireland. For residents, guests, the local community, nationally and internationally we seek to become an inspiring example of best practice in sustainable living. We also seek to work closely with native culture through celebrating traditional music, food, festivals, customs, literature, language and dance.
We are currently seeking a site, ideally at a cross border location, with west Fermanagh as key target area. It is our longer-term objective to set up an Enriched Earth Ecovillage in each of the Provinces of Ireland.
We aim to build a series of low impact, sustainable houses. We wish these to be 'hobbit-house' in form and blend into the land, with a grass roof and also to be ornate through the inclusion of indigenous style artwork. These houses shall serve as homes for residents and also as guesthouses for Responsible and Sustainable Eco-Tourism of the site. We shall also have a camping and glamping area for guests and tourists.
We will have a Community Centre for workshops on sustainable living such as agroecology, for community meetings, for celebrating traditional seasonal festivals e.g. Lughnasa, for hosting an annual Early Gaelic Harp festival, a Poetry Festival, Community Theatre and a wide range of cultural enrichment activities such as set dancing and yoga classes. The Community Centre will have an adjacent cafe and shop to sell local and organic produce and regional arts and crafts. This will be a place of genuine social and cultural integration, were all are made welcome regardless of age, gender, race, religion, sexual orientation or physical ability. True traditional hospitality shall be part of our legend!
The area around the centre will be made into an outdoor Eco Education area in the design of a labyrinth: featuring bug hotels, bird-watching area, play park, tree-house and discovery learning resources, all presented in a very imaginative, fun and interactive way. The core themes of the very successful Green Flag Eco-Schools Program will be explicitly explored and referenced for example the topic of Litter will be explored via 'The Island of the Legendary Litter Monster.' It will be designed as an enjoyable place of education for all ages from nursery school to OAP and a great, healthy, enriching and rewarding family experience. We intend for this Eco Education area to become in itself one of the 'must-see' visitor attractions in Northern Ireland.
The project is also intended to feature an analogue music-recording studio, natural amphitheater and sensory garden, a community library, a wildflower meadow and an herb garden. We also seek to promote traditional crafts such as blacksmithing, pottery, soap making and willow weaving through a series of interlinked small business enterprises.
We shall grow our own 'forest garden' food, keep free-range livestock and aim to power the site through passive solar heating of homes and renewable energy sources such as solar panels, wind and water turbines.
The site will also feature a wildlife and meditation pond, a natural swimming pool, an outdoor sauna and hot-tub to facilitate health in mind, body and spirit of residents, guests and the wider local community.
It is envisaged that this exciting initiative will not only serve to enrich the lives of its residents and guests but will also be a boon to the local economy and community through its cultural program, unique small business enterprises and through attracting the ever-growing Eco-Tourism market sector. Enriched Earth Ecovillage shall be a place of learning; harmony, transformation, prosperity and a place where each individual shall be sovereign over themselves while working in concert with their community colleagues through shared values and vision.
We need people who seek to be residents and also we need seed-investors in this cutting-edge social and rural development project. We are also exploring and open to a variety of available public aid and funding options from Europe, national government, local councils and environmental agencies and will run a crowdfunding campaign.
One of our primary case studies is Findhorn Ecovillage in Scotland, which brings in an incredible £2,500,000 in annual revenue, also Sólheimar Eco Village in southwest Iceland that receives around 35,000 visitors a year and the pioneering Lammas Ecovillage in Wales which received ground up planning permission from the Welsh Assembly and a £350,000 grant. We also have case studied the Eden project which has brought in an over 1 Billion £ to the local Cornwall economy.
Are you someone who wishes to be part of a vibrant, ecological community cooperative? Are you an ethical investor who can see the potential for growth in this ever more relevant market-sector? Are you a public servant with a duty to ensure the welfare of your nation and local area? Then please do not hesitate to get in touch! Every ingredient is essential in optimizing the potential of this potent enterprise of ecological inspiration!
Membership & Visitors
New members and seed investors for land purchase and infrastructure welcome!