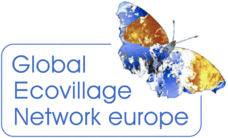 GEN-Europe is the European ecovillage association promoting social resilience, environmental pro­tection and restoration of nature through the concept of ecovillages as models for sustainable human settlements. We actively support the de­vel­opment of ecovillages and networks in Europe, the Middle East and Africa.
Within GEN-Europe, we experiment in re-knitting trustful relationships and honouring low impact life styles. Our strength lies in co-developing and co-designing economic, social, cultural and ecologic solutions that support local ownership of sustainable futures. Honestly sharing the questions we face in this process is as important as sharing any answers we find. Making visible people's projects that deeply care for local community while embracing global community is a vibrant tool for empowerment.
GEN-Europe is not prioritising the replication of 'the ecovillage model' as a whole and the creation of more and more 'green islands' out in the countryside. The demonstration sites we have are invaluable and we can certainly do with more. But the focus has long moved on. Today we need every village to become an ecovillage and every city to become an ecocity. The whole of society needs to transition to a low-impact lifestyle in order to survive. All social networks need to reintegrate values of solidarity and mutual trust in order to become resilient enough to face the future creatively. The focus of GEN has shifted to sharing best practice – ecovillage-patterns that work!
GEN-Europe is a membership organisation foun­ded in 1996 and open to a wide range of projects regardless of their political, religious or cultural backgrounds.
GEN-Europe forms part of GEN International, an NGO with consultative status at the UN-Economic and Social Council (ECOSOC) commission, and a partner of United Nations Institute for Training and Research, UNITAR.
Participation info
New members: Open
New collaborators: Open