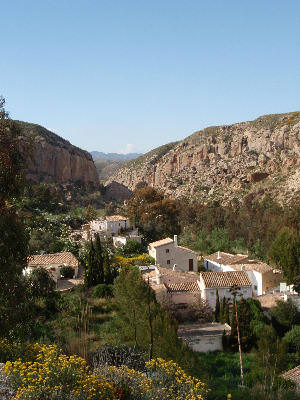 Sunseed was first conceived in 1982 during a talk at a 'Green Gathering' by Harry Hart, co-founder of the charity Green Deserts.
In August 1986, Green Deserts and Sunseed were lent a house in arid Southeast Spain, where a small joint project was started to look at practical ways of combating desertification. In March 1987 Green Deserts withdrew and it became Sunseed's project alone. It was named Sunseed Desert Technology and The Sunseed Trust was inaugurated to direct the project. The mission statement of the project at that time was
"Sunseed Desert Technology finds and spreads new ways to help people in poverty on desertified land ".
Another house was borrowed, Geoff's, on a repairing lease, and both houses were rebuilt. Five terraces were under cultivation, and work was started on tree trials, solar stills and new pumps. The Main House was purchased and, in 1988, a third house, Isabella's, was added to the project.
In 1989, Graham Savage became Manager, his wife Shirley joined him later as financial administrator. Since then, Gaye's House and land was purchased on very generous terms allowing us to increase the number of volunteer bed spaces to around 33.
The Volunteer scheme was set up in earnest and volunteers started to come from countries other than the UK. More effort was put into education for visitors and collaboration with other organisations, including universities and schools. Sunseed has gradually evolved into an experiential educational project with volunteers working to support the ongoing tasks of Sunseed whilst simultaneously learning about the methods and ethos.
In 1995 and 1996 teams went to Tanzania, at the request of a women's group in Dodoma, to start trials of an ultra-low-cost solar cooker and subsequently the Sunseed Tanzania Trust (STT) was established to better oversee this project. STT and The Sunseed Trust remain separately constituted organisations but have an ongoing working partnership.
Graham retired from the project in June 2002. And since then the project and its strategy have been under review. The new mission statement is:
"Sunseed Desert Technology aims to develop, demonstrate and communicate accessibke, low-tech methods of living sustainably in a semi-arid environment".