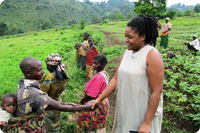 The Democratic Republic of Congo can be seen as the heart of Africa. The country is extremely rich: in resources, in biodiversity and in young people. However after many years of conflict and exploitation the Congolese are searching for a new perspective. GEN Congo was first formed in 2009, stemming from research done by Lua Bashala-Kekana (Secretary General for GEN Central and Southern Africa), who at the time lived at Khula Dhamma Eco Community (www.khuladhamma.org) in Eastern Cape, South Africa. Now GEN Congo is connecting with the Eastern part of the country. By Lua Beshala-Kekana.
The objective of the research was to connect with groups or individuals within the Congo who had already established ecovillage or permaculture projects, in order to share best practices and build bridges of support with the wider International Global Ecovillage Network. The intention is to relocate to the Congo and support the rebuilding of the nation after many years of the destructive consequences of war. For more details on the situation in the Congo please visit the Friends of the Congo website at www.friendsofthecongo.org.
With the support of my immediate family, and partner Lucky Kekana, as well as friends from the Global Ecovillage Network, GEN Congo slowly began to emerge. An official GEN Congo conference was held in May 2010, in which 26 organizations (mainly NGO's), were represented. Members of the network include NGO's Fondamu (www.fondamu.org), Espoir Pour Tous (www.espoirpourtous.midiblogs.com), among others, and Government Institutions such as the Congolese Institute for the Conservation of Nature ICCN (iccn.gorillacd.org), and the Ministry of Communications and Media.
Mama Na Bana Ecovillage and Permaculture Living and Learning Center was initiated at this conference. In January 2012, with the support and intervention of Lush Cosmetics UK (who also funded the GEN Congo Conference), work began to rehabilitate an old training center into the first site for the dissemination of information and to facilitate Ecovillage Design Education and Permaculture courses. Our first course was held in March with participants from the local village in attendance and street children who are part of our program. This project received the 2011 GEN Europe Excellence Award.
Most activities within the emerging Congolese Ecovillage Network had thus far been limited to the Province of Kinshasa and Bas Congo, but with much effort and support from GEN Europe and Next GEN we have begun to expand our network into the Eastern Province of Sud Kivu. Mr. Radar Nishuli, Director of World Heritage Site in Danger Kahuzi Biega National Park (kahuzibiega.wordpress.com), has been in contact with GEN Congo since 2010, planning for future collaboration, and this November, we were finally able to make our first visit to the site.
GEN Congo in partnership with GEN Africa, GEN Europe and Next GEN are organizing an Ecovillage Design Education course EDE (for more info on course: www.gaiaeducation.org), which will take place at the Gorilla Sanctuary Kahuzi Biega. This course is being designed together with the staff of the park with input from local communities surrounding the park including Indigenous Pygmees, in line with the parks strategic community based conservation management programme.
The course is scheduled to take place from July 28th 2013, and will run for a duration of five weeks, with a minimum of one year following for implementation. The participants will include park officials and rangers, traditional village leaders and NGO's representing local communities, Indigenous community members, GEN Congo and Next GEN members as well as other international participants.
During this visit to Sud Kivu, we also visited other projects to promote the Congolese Ecovillage Network. This included a visit to the Center for Research in Natural Sciences, of which one of the Directors will be attending the EDE, and we also visited with the Rehabilitation Center for Primates in Lwiro (who are in dire need of volunteers) and are doing a excellent job caring for our precious wildlife (lwiro.blogspot.com).
We also visited the City of Joy in Panzi, a powerful and inspiring women led V-DAY initiative supporting the reintegration of women into their communities. It has been said that it is more dangerous to be a woman in D.R.Congo in the last two decades than it is to be a soldier. Rape has been systematically used to destroy communities. The City of Joy is in the process of designing a recently acquired piece of land using permaculture. We have invited them to become members of GEN Congo and look forward to deep collaboration: www.vday.org/node/2638
Most recently GEN Congo was able to host a convergence with the support of GEN Europe's Executive Secretary Kosha Anja Joubert, who appealed to the German Foreign Ministry for funding to make this programme possible. This programme has benefited the Congolese network in many ways, most valuably in affirming a place for Ecovillage Design Education training in sustainable community development in the country. This will result in ADRIME (an association of local villages practicing sustainable agriculture and livestock management) becoming the latest member to join GEN Congo.