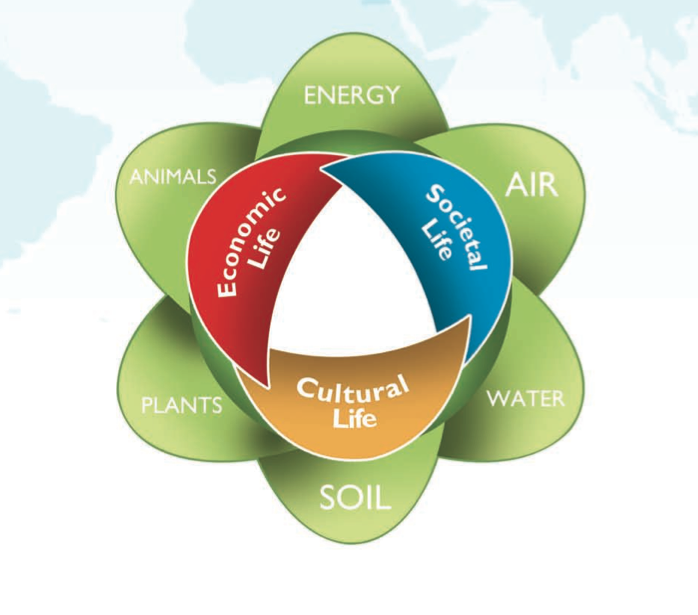 When Dr. Ibrahim Abouleish returned to Egypt in 1977 to start the SEKEM initiative he had a strong vision deep in his heart: In the midst of sand and desert I see myself standing as a well drawing water. Carefully I plant trees, herbs and flowers and wet their roots with the precious drops. The cool well water attracts human beings and animals to refresh and quicken themselves. Trees give shade, the land turns green, fragrant flowers bloom, insects, birds and butterflies show their devotion to God, the creator, as if they were citing the first Sura of the Qu'ran. The human, perceiving the hidden praise of God, care for and see all that is created as a reflection of paradise on earth. For me this idea of an oasis in the middle of a hostile environment is like an image of the resurrection at dawn, after a long journey through the nightly desert. I saw it in front of me like a model before the actual work in the desert started. And yet in reality I desired even more: I wanted the whole world to develop. People did not believe that this will ever come alive but today SEKEM has become a role model for sustainable development with various international recognition i.e. with the Alternative Nobel Prize in 2003 or the Business for Peace Award in 2012.
Sekem vision
SEKEM was founded with the idea of sustainable development and giving back to the community. The vision that brought Dr. Ibrahim Abouleish to dig the first well in the vast desert land still resounds in SEKEMs approach of conducting business. Like a compass, our vision, mission and values guide us in the everyday work in all SEKEM companies.
Sekem mission
To realize our Vision for Sustainable Development in Egypt…
we establish Biodynamic agriculture as the competitive solution for the environmental, social and food security challenges of the 21st century.
we support individual development through holistic education and medical care.
we create workplaces reflecting human dignity and supporting employee development.
we build successful business models in accordance with ecological and ethical principles.
we innovate for sustainable development through research in natural and social sciences.
we locally and globally advocate for a holistic approach to sustainable development.
SEKEMs core values
In nature, every organism is independent and at the same time systemically inter-connected to other organisms. Inspired by ecological principles, representing the wisdom of nature and the universe, we continuously strive to gain and sustain a harmonious balance between the following polarities and to integrate them into our development.