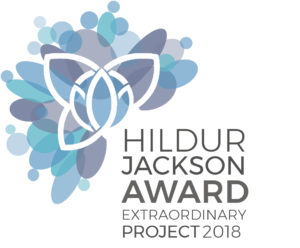 [Spanish version follows below]
Nashira Ecovillage in Colombia is the winner of the 2018 Hildur Jackson Award for Extraordinary Project. Together with Gaia Trust, GEN developed the Hildur Jackson Award, a €3,000 annual prize that supports and honours projects around the world that demonstrate regenerative best-practices in all dimensions of sustainability. The prize is awarded to projects bringing the most impactful inspiration about ecovillages/ecovillage lifestyles to a broad audience, and Nashira was particularly recognized this year for their accomplishment of opening up their community to visitors to learn about sustainable agriculture, use of waste materials for art, and share cooking and dance classes. Congratulations to Nashira Ecovillage!
Watch this short video of the presentation of the award:
[español]
El Premio Hildur Jackson 2018 para Proyectos extraordinarios: Ecoaldea Nashira
Una ecoaldea colombiana liderada por mujeres recibe el premio en honor de la co-fundadora de GEN
La Ecoaldea Nashira en Colombia es la ganadora del Premio Hildur Jackson de 2018 al Proyecto Extraordinario. GEN desarrolló junto con Gaia Trust, el Premio Hildur Jackson, un premio anual de 3.000 € que apoya y honra proyectos en todo el mundo que demuestran las mejores prácticas regenerativas en todas las dimensiones de la sostenibilidad. El premio se otorga a los proyectos que brindan la inspiración más impactante sobre las ecoaldeas / estilos de vida de ecoaldeas para una amplia audiencia, y Nashira fue particularmente reconocida este año por la apertura de la comunidad a visitantes para aprender sobre agricultura sostenible, uso de materiales de desecho para obras de arte y compartir clases de cocina y baile. Felicitaciones a la Ecoaldea Nashira!