What makes ecovillages thrive? What are grassroots initiatives around the world doing to create cultural, ecological, economic & social regeneration? How can you live an ecovillage lifestyle, now wherever you are?
Ecovillages are experimenting with regenerative living: from compassionate communication and self-governance to natural building, appropriate technology, social entrepreneurship, and participatory design. Ecovillages are full of innovators, teachers and facilitators dedicated to the creation of regenerative cultures.
Our aim is to be a link between them and you, enabling you to learn from and with them.

We strive to make it easy for you to:
Explore Ecovillages and learn more about where they are, how they work, and what it's like to live in one;
Get Resourced to work with the Ecovillage Principles for cultural, ecological, economic & social regeneration;
Take Action and start a community project, found an ecovillage, or use ecovillage solutions in your life.
Resources and Skills for Ecovillage Living and Community Action
In the current times, we offer a range of online learning opportunities, with two long-term certified courses, both launching the second learning cohort in early 2022 (with pre-registration now open):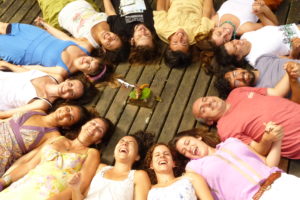 Learn how to create a new way of living with low environmental impact and high quality of life, bringing together the four areas of regeneration. Through this transformative learning journey, gain skills and knowledge which can be put into action in any sector you are involved with. After working through each area of regeneration and co-designing a project, you will become a facilitator of transformative learning environments and collaborative action. Weekly sessions spanning 4.5 months starting on 4 March.
Coming Soon: Ecovillage Start-Up
Learn what it takes to start an ecovillage, based on research and examples from around the world. Explore success factors as well as common pitfalls in the process of creating community.
Our vision for GEN is one of a prosperous network that creates abundance by uniting around amazing talent and inspiration. If you want to be an ecovillage pioneer, we want you to succeed!
This course will be based on answering the main questions that emerge when we create an ecovillage and will identify the skill set and resources you need to solve each question. Showcasing diverse skilled pioneers, participants will gain access to a wide spectrum of solutions to start up an ecovillage. They'll each share why they believe in ecovillages and what they learned were the steps to create them: where to start, how to get property, how to make a master plan, how to involve and empower diverse people, how to organise and make it legal… and much more!
Leave your info here to be notified when dates and details are confirmed.
————————————————————–
We also offer several low cost, self-paced courses (meaning no live sessions, you explore the video and reading material at your leisure). Each learning opportunity enables you to connect with other participants on the platform and in our community space.
GEN Introduction – An overview of the organisation and network – from our history and methodologies to case studies of well established ecovillages. Gain access to resources, delve deeper into some of our projects, and understand the opportunities to step (more) into GEN's work.
ReGENerative Schools Series – For educators in both formal and informal settings wishing to set up or expand an educational programme for children and youth. Explore 13 case studies from around the world of how ecovillage principles connect to the universal curriculum of child development.
Research Colloquium Series – For academics, journalists, and/or the scientifically-minded, explore the work of experienced ecovillage researchers who share their knowledge and insights from the field. Topics include Transformative Social Innovation, Potential for Rural Areas, and Alternatives to Capitalism, among others.
Designing Regenerative Communities – Deepen your insight into the unique contribution you bring to a life-affirming culture. Dive into the intricacies of the Map of Regeneration while gaining practical skills for measuring alignment with a regenerative lifestyle through strengths, weaknesses and leverage points of communities and organizations you live in or work with.
The Art of Speaking and Presenting – GEN and Your Own Story – Originally designed for GEN Ambassadors though relevant to all who are passionate about ecovillages. Learn how to confidently represent the ecovillage movement and network. Become familiar with techniques and materials for presenting and storytelling which empower you to be an effective leader for the regenerative movement.

Plus several more, hosted by GEN Europe:
Cultivating Community: From I to We – For anyone considering founding or joining an ecovillage. understand the levels of community building and the tools to navigate the process, including decision-making, deep listening, conflict resolution, self-sufficiency, and love relationships in community.
And several packages highlighting Ecovillage Solutions for Extraordinary Times, including: Community Incubation (resourcing the transition, conflict and communication, scaling up regeneration, and forms of power), Inclusion in Commuinities (challenges of diversity, indigenous spirituality, connecting with ancestors), Low Impact Technology (soil, water, biogas, circular economy), and Sacred Activism (archetypes, healing biotopes, unschooling).
Our Approach
Our passion is to facilitate hands-on, participatory and positive transformation. Our vision, a world where empowered citizens and communities design and implement their own pathways to a regenerative future.
We work with three core ingredients
Regenerative & Holistic Design – working with the Ecovillage Map of Regeneration and the 32 ecovillage principles. A whole-systems approach where attention is given to cultural, economic, ecological and social regeneration, the way they are linked, as well as to how we can design and act knowing that we are in the system not apart from it, and that how we do is equally important as what.
Community Building – learning, experiencing and using creative and diverse ways of building trust, inclusion, friendship and a sense of belonging. We can create community wherever we are, whether in a short workshop or our homes, in small villages or large cities.
Ecovillage Solutions – the practical, hands-on things people in ecovillages are doing to create and maintain their communities. From membership policies and decision-making to biogas digesters and agroforestry. From traditional crafts and inner transformation, to new social enterprises and community currencies. These are the grassroots solutions that enable people to make real shifts in their day-to-day lives.
We aim to always be
Participatory – inviting active engagement and encouraging you to draw on and include your personal life and experiences
Transformative – encouraging inner and outer change, in your own worldview as well as our communities and the world
Integrative – welcoming bodies, thoughts, feelings, senses and intuition in sharing and creating holistic approaches to inner and outer transformation
Collaborative – reflecting an interdependent world and the power of collective intelligence
Cocreative – embracing peer-to-peer learning, co-teaching and active inclusion as tools for personal and collective learning
Experiential – enabling deeper understanding through lived experience

For any questions or feedback, you are welcome to reach out to our team at [email protected]
Ecovillage Education Resources
We know that each journey to ecovillage life is unique, so our offerings are modular, flexible, and designed to fit different contexts, aims and situations. Whether you want to dip in for an inspiring online session or set up a year-long process to create and implement a community resilience plan for your entire bioregion, we have something for you.

GEN Online Learning Platform –GEN's Learning Platform with interactive and self-paced online course offers as well as free webinars and other resources
The Solution Library – Gathering best practices and concrete examples from around the world
Ecovillage Design Cards – A flexible and creative way to explore holistic sustainability and whole-systems design, available for purchase in several languages
GEN Consultancy – Seeks to share some of the world's best practices in the field of community, sustainability and resilience through a highly skilled and diverse network of expert consultants
Through our collaborations, network and partner organisations, you can also
Get support developing your ecovillage or community-led project for regeneration through the emerging Community Led Incubator Programme for Sustainability, CLIPS
Access a free online youth sustainability toolbox to empower the work of youth and youth workers through Bridgedale360
Create a custom-made programme run by your institution in an ecovillage campus through CAPE – Custom Academic Programs in Ecovillages
GEN Supports the Sustainable Development Goals