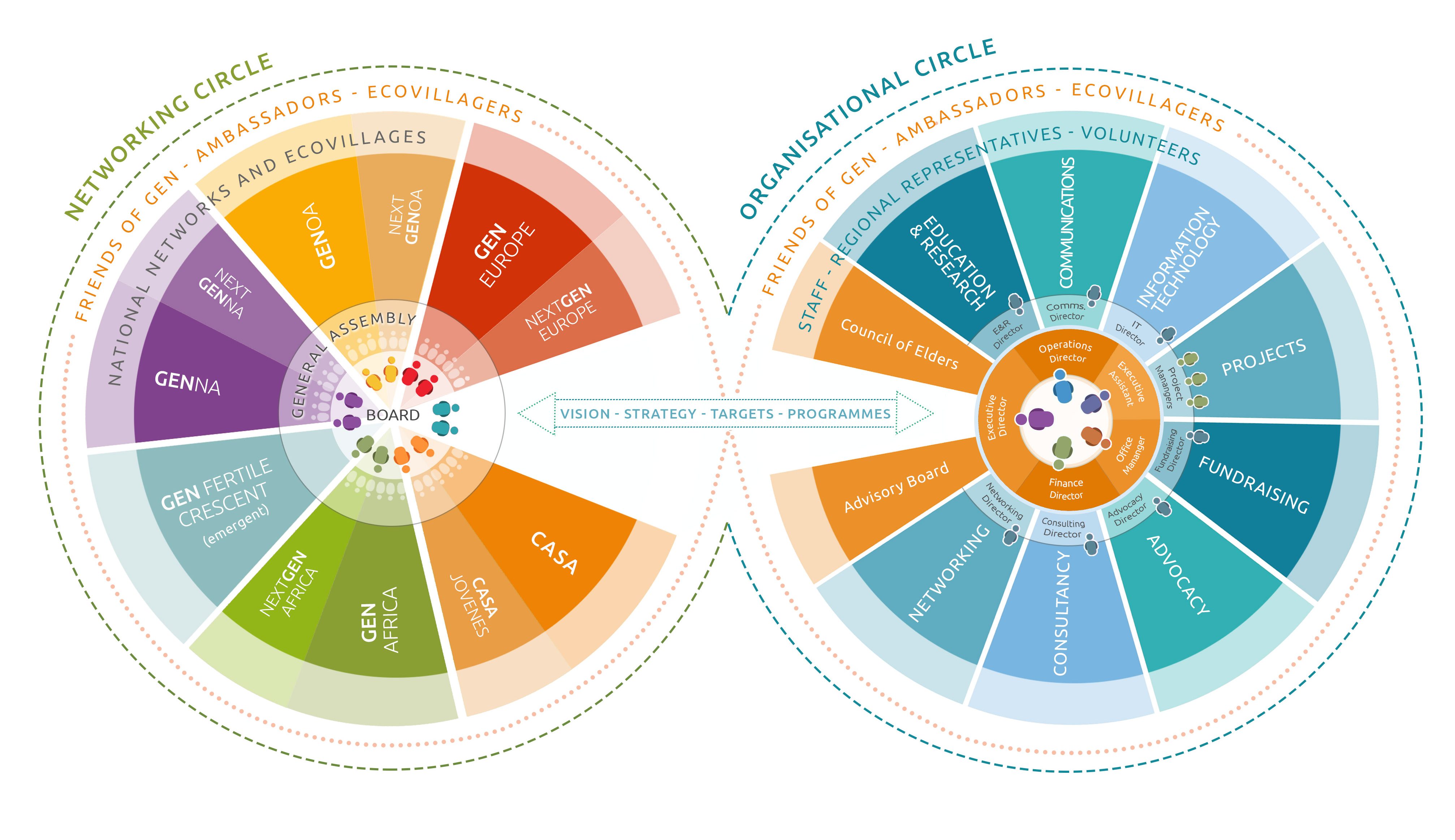 Organisational Structure Diagram
Within our Networking Circle (left), GEN is stewarded by a Board of Trustees (with 2 representatives each from the Regions, from NextGEN and from GEN), plus an active General Assembly (with 9 representatives from each region) connected to national networks and ecovillages.
Within our Organisational Circle (Right), GEN is operated by its staff with the support of volunteers, interns, ambassadors, and advisors from all regions. GEN has several Focus Areas (Networking, Consultancy, Information Technology, Fundraising, Communications, Education & Research, Advocacy), with employed staff who maintain the core organisational infrastructure and also manage GEN's funded projects. Meet the GEN Staff here.
Responsible for carrying the larger picture for GEN's overall Vision and Mission, the GEN Board is composed of two Charity Trustees representing each of the Regional Networks of GEN (GEN Africa, GEN Europe, GENOA, CASA, and GENNA), as well as two representatives from NextGEN and GEN (the Board President, and a representative from the country where GEN is incorporated).
All Trustees are officially instated and blessed by the General Assembly at least once per year. Charity Trustees have the responsibility to serve the interests of GEN and serve as double-links, sharing information about their Regional Network in the Board of GEN; and vice versa. The Board aims for gender balance, and makes decisions in accordance to Sociocratic principles.
The Board is Chaired by GEN International President.
See the current GEN International Board members.
The GEN Advisory Board provides additional perspectives, support and resources to the Global Ecovillage Network. Its members are regularly consulted regarding strategy, fundraising, global networking, and the ongoing development and evaluation of the organization's work.
See the current Advisory Board members.
The Council of Elders is a group that represents the founders of the GEN movement. These are people who have been accompanying GEN for many years, and who share their experience from a long term perspective on GEN's work and mission in the world. This Council meets regularly in online calls (at least 6 times per year) and inform GEN staff on strategy, vision, and any current questions.
Meet the Council of Elders members here!
General Assembly
The General Assembly is formed by the 45 official Members of GEN (also named Regional Representatives), with 9 representatives from each of the geographic regions, including among these representatives of NextGEN.
General Assembly representatives are chosen from the regional network's council, staff and membership, and they meet in an online General Assembly, (at least every 15 months, but ideally 3 times per year) to approve budgets and any constitutional changes by majority vote (at least 30% must be present to endorse changes).