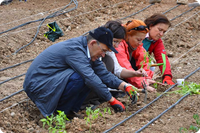 The capital of Turkey, Ankara has become home to one of the first urban community gardens in the country. In March 2012, 2 hectares of unused land in front of the neighborhood association building was transformed using Permaculture design principles, and prepared for seed planting. The interest from people in the neighborhood was enormous, especially from children, who were actively engaged in the process. "Cigdemim Community Garden" now expands their dreams for the future.
In early 2012, a group of Permaculture activists called 'PermAnkara' began their search for a piece of land in the centre of Ankara city where they could apply permaculture principles and share their knowledge with the local area. In collaboration with the 15 year old neighborhood association called Cigdemim, and Guneskoy Ecovillage – which is a GEN member – they started to spread the word and mobilize interested people.
In a harmonious collaboration, rocks were cleared from the land, raised beds were prepared and compost materials were collected alongside the community building and training centre. Local seeds sent from different parts of Turkey were classified and planted according to the companion planting method. Pipes were supplied and installed for drip irrigation, and mulching was applied on the planted areas together with homemade worm compost. Furthermore, the municipality supported the community by providing water and fences to surround the planted areas.
Interest was enormous from the neighborhood people and from children who were actively engaged and included in the process. There has also been great attention from the local and national media. The harvest was celebrated around early July and the results were surprisingly successful. Many kinds of healthy and delicious vegetables and herbs were harvested, such as tomatoes, watermelons, sunflowers, corn and zucchinis.
"Cigdemim Community Garden" is now expanding its dreams for the future years of the Project. They have the vision of involving primary schools around the neighborhood in order to familiarize children with food growing and gardening practices. There are also plans for 2013 to organize Permaculture trainings and applications such as water harvesting, and growing a food-forest.
This highly successful, voluntary initiative is now regarded as an inspiring example for other neighborhoods and municipalities, as a national showcase collaborative urban community garden.