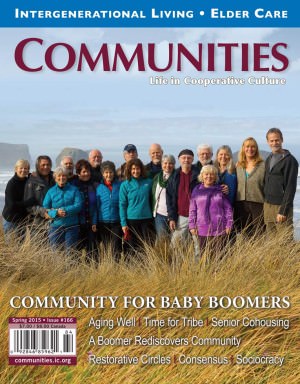 Big Changes in Communities!
We're excited to announce two major changes in Communities magazine, starting with our Spring 2015 issue.
Fulfilling a long-held dream of better aligning our production process with our ecological values, Communities is now printed on 100 percent post-consumer recycled paper. Not a single tree fell to produce our new issue of Communities. We are thrilled to be using this beautiful matte-finish recycled paper from our new printer, Ovid Bell Press, and to be helping support a regenerative economy in doing so.
Equally gratifying to us from an aesthetic standpoint, and better reflecting the richness of life in cooperative culture, Communities is also now all-color throughout, not just on the cover. Both our print and digital editions are now able to showcase the many wonderful color photos that authors send us, as well as adding tasteful color touches in our text presentation (headlines, subheads, etc.).
Both of these changes raised our production costs; we are counting on the greater values alignment and appeal of our new magazine to help us raise revenues to support these changes. If you support our decision to go all-recycled paper and all-color, please Subscribe or Renew Today!
Community for Baby Boomers—Issue #166: http://www.ic.org/community-bookstore/product/communities-magazine-166-spring-2015-community-for-baby-boomers/
Our new Communities issue on Community for Baby Boomers was mailed to subscribers on March 3. You can subscribe now or order a sample and we'll ship you a copy today!
What role can baby boomers (born 1946-1964) play in a new resurgence of intentional community living? Where can they find and offer support to meet their and others' needs over their final decades of life? How can aging baby boomers regain the sense of community that defined much of their generation as youth and young adults? What gifts do baby boomers offer to younger generations? In "Community for Baby Boomers," our contributors explore these questions and many more.
The following articles are included in this new issue, while some are also posted on our blog.
Community for Baby Boomers, #166 Contents by Chris Roth
The New Communities by Chris Roth
Living Intergenerationally at Dancing Rabbit: "The Times They Are A-Changin'…" by Sharon Bagatelle
Publisher's Note: Boomerang by Laird Schaub
A Baby Boomer's Guide to Community: Then and Now by Valerie Renwick
Every Eight Seconds by Aurora DeMarco
Intergenerational Living at Twin Oaks by Stephan Przybylowicz
The Intergenerational Challenge by Laird Schaub
Integration of Different Generations by Looby Macnamara
My Father the Toddler by Karbyn Eilde
The Power of Community by Charles Durrett
How Community Can Help Baby Boomers Cope with Caregiving by Cindy Nickles
Senior Cohousing in Canada: How Baby Boomers Can Build Social Portfolios for Aging Well by Margaret Critchlow
A Baby Boomer Rediscovers Community by Jeffrey Mabee
We're Back! Still Beautiful, Bolder, and Hopefully a Whole Lot Better by Andrew Moore
Transparency, Vulnerability, Interdependence, and Collaboration: An Intergenerational Perspective from a Boomer and a Millennial by Melanie Rios and Skye Rios
Time for Tribe: Boomers Get Connected by Bill Kauth and Zoe Alowan
Short-Term Vacation Cohousing: A Great Way to Learn by Deborah Carey with Ray Shockey
Kashi Ashram: Navigating the Transition from Baby Boomers to the Next Generation by Eileen Beal
Restorative Circles and the Missing Link in Conflict Mediation by Arjuna da Silva
Sociocracy to the Rescue at Aldeafeliz Ecovillage: How Sociocracy Can Help Communities, Part V by Anamaria Aristizabal
The Top 10 Most Common Mistakes in Consensus Process and What to Do Instead by Tree Bressen
First We Take Manhattan by James Andrews and Paxus Calta
Review—Turn Me On, Law Man! by Arjuna da Silva
Creating Cooperative Culture—Saying Goodbye to Mildred Gordon by Laird Schaub