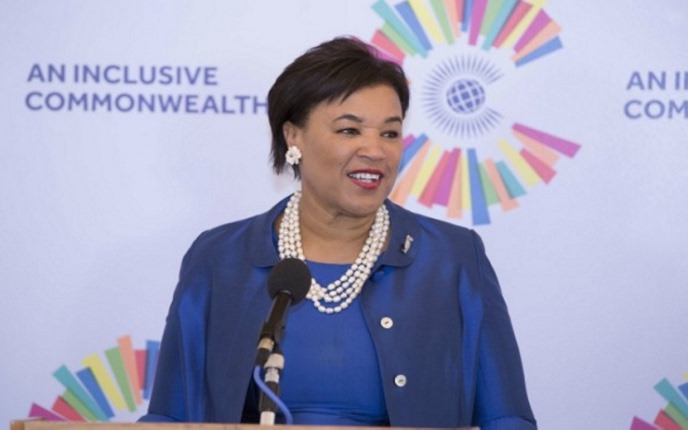 Albert Bates, founding member of The Farm, Tennessee, was part of the GEN delegation at the Climate Summit in Marrakech, this November. He is also part of a group of sustainability experts brought together by the Secretary General of the British Commonwealth, Baroness Patricia Scotland.
At the final day of the 22nd Conference of Parties to the UN Convention on Climate Change, Baroness Patricia Scotland rose to address the Joint High-level Segment gathered in plenary session: "Mr. President, I speak for the Commonwealth collectively, a family of 52 member states, among them countries in all continents and oceans that are highly vulnerable to climate change.
Our priority is to move from agreement to action. Small islands threatened by rising sea levels and larger states vulnerable to flooding or desertification share the common advantages of a common language, common laws, and closely related systems of governance. These similarities enable us to work together without distraction and get straight to the heart of issues".
"High on our agenda for 30 years has been the impact of climate change. This long-standing focus bore fruit a year ago when our Biannual Heads of Government Meeting assembled in Malta. Days before COP21, our member states, in their rich diversity, agreed to set ambition high and paved the way for the Paris Agreement. Our practical and distinctive Commonwealth contribution is technical support, offered by our Climate Finance Access Hub".
"A month ago, we convened a groundbreaking and dynamic gathering on Regenerative Development to Reverse Climate Change. It brought together biologists, ecologists, oceanographers and regenerative development specialists to consider ways of reversing the human impacts of climate change".
"Our focus was on developing positive action for the living world to restore climate balance, including biomimicry, permaculture, ecological engineering, and circular economies. It is through such pioneering approaches, I believe, that, as on so many occasions in the past, the potential for our Commonwealth networks' meetings will be mobilized to lay the foundations on which progressive global consensus can be built to create a safer and more sustainable future for all."
In her two minute address, the Secretary General managed to insert into the high level deliberations and intergovernmental agencies a keyword swarm that was foreign to them but familiar to ecovillagers — regenerative development, biomimicry, permaculture, ecological engineering, and circular economies. This did not occur by accident but is a conscious seeding of ideas for our common future.
Patricia Janet Scotland, who prefers to be called just S.G. (Secretary General) is a force of nature. The 10th child of 12 born to a Dominican mother and Antiguan father, she came with her parents to England in 1957. She excelled in school work and took a law degree from Mid Essex Technical College, joining both the British and Dominican bars. In 1991, Scotland became the first black woman to be appointed a Queen's Counsel. Her work on the Commission for Racial Equality earned her recognition by the Queen and a life peerage in 1997. She then became Parliamentary Under-Secretary of State at the Foreign and Commonwealth Office, where she was responsible for the UK Government's diplomatic relations with North America, the Caribbean, and Overseas Territories.
In 2001 she was made a member of the Privy Council of the United Kingdom. She was the minister formally responsible for civil justice and the reform of civil law including the comprehensive reform of land registration. In 2007 she was made Minister of State for the Criminal Justice System and Law Reform at the Home Office, where she created the Office of Criminal Justice Reform. She also created an advisory group on victims and the Criminal Justice Centre, Victims and Witness units.
She was then appointed Attorney General for England and Wales and Advocate General for Northern Ireland by Prime Minister Gordon Brown, the first woman to hold the office since its foundation in 1315. She served the Labour government in that role, inside government and as Shadow Cabinet, until 2014.
At the 2015 Commonwealth Heads of Government Meeting, Scotland was elected as the 6th Commonwealth Secretary-General and the first woman to hold the post. She began her first of a maximum of two possible four-year terms on 1 April 2016.
When we first met in London, she told me that she had polled the then 53 High Commissioners to see what were the priority issues. Climate change came out on top. The threat to the small island states in the Commonwealth was existential. "We are 2.4 billion people on half the land area in the world," she told our small gathering. "It is 21 percent of the world's forested area. We are joined by common language and common culture. And now we are joined in common purpose."
Scotland is not a woman lightly chosen for her role. She is someone to whom both the Monarchy and Her Majesty's civil government turn when there is a practically impossible job to be done. When Ed Miliband appointed her to his Shadow Cabinet in 2010, she engineered Labour's strategy against Rupert Murdoch. Without that, British electoral politics might have gone the way of the US.
Murdoch has not forgotten. If you read the London tabloids, she is not a humble, foreign-born woman of color who became a peer and high government official on pluck and merit, but rather a posh aristocrat who squanders millions of pounds on frivolous personal perks. The stories are flat lies, but Murdoch knows, like Donald Trump, that there are no serious fact checkers any more and anyway, another day another news cycle.
Despite being lambasted by the press and having her budget slashed by the Tories, Scotland has forged ahead with her mission, undeterred. At the end of October, she pulled together a meeting of some of the best talents in the world with strategies to combat climate change — Permaculturist Maddy Harland, Christopher Cooke from Savory Institute, David McConville from Buckminster Fuller Institute, Katherine Wilkinson from Project Drawdown, Marcello Palazzi of B-Lab Europe, Bill Reed and Ben Haggard of Regenesis, Louise Baker of UNCCD, Janine Benyus of Biomimicry for Social Innovation, Herbert Girardet of World Futures Council, Isabelle Dellanoy of Symbiotic Economy, Sam Muirhead of Open Source Circular Economy, Daniel Wahl and May East of Gaia Education, myself representing Global Ecovillage Network, and many others who know of active experience that only soil and simple living will save us, but that gaining the social capital to make such a switch is the real challenge we face.
She told those gathered that the Paris Agreement was a pivotal change. Prince Charles had called it a 100-trillion-pound moment. Money will not be an obstacle. "Do you want access?" She asked us. "You have it."
She told the group we were assembled to then answer the next question: "And, so?" Over the course of three days we honed for her a platform of change that mirrors the elements of ecovillage design – social, economic, ecological and culture.
The central issue, in this pre-meeting as well as in COP-22, was how to avert a runaway greenhouse effect and get back to the climate human life evolved in, quickly, before more tipping points are reached. Scotland's group explored the nexus between eco-agriculture, permaculture, cooperative organizations, open source technology, shared governance and ethical investments. For these efforts to be successful the social dimension developed by ecovillagers arrives at the fore — with "cool schools" and programs to train agents of change with practical skills to influence educators, scientists, innovators and leaders in each locality.
In Marrakech there was still a very uncomfortable level of pushback big fossil users, saying that economic growth had precedence over near-term emissions cuts. Turkey is planning to build 70 new coal plants. New Zealand plans to increase petroleum exports from $3 billion to $30 billion per year by 2025.
And yet, as the science briefing from the Tyndall Center made clear, the world cannot begin atmospheric carbon drawdown later than 2020 — three years from now — or the two degree red line will be broken.
Clear next steps emerged from COP-22 discussions: end fossil fuel subsidies (including fracking); phase out coal and then ban it; cancel all new fossil fuel infrastructure orders (including supertankers, arctic exploration and pipelines); set higher efficiency standards; subsidize agroforestry and renewables (down to zero cost); enforce LDN (Land Degradation Neutrality); and reform agriculture to an organic, no-till standard. None of these was achieved in Marrakech but they will be back on the table next year in Bonn, at COP-23.
In the meantime, ecovillages will continue to grow and prosper, showing people at a very personal level that the future is not something to be afraid of. We can, collectively, choose to make one that will be much better. And, now we have friends in high places.