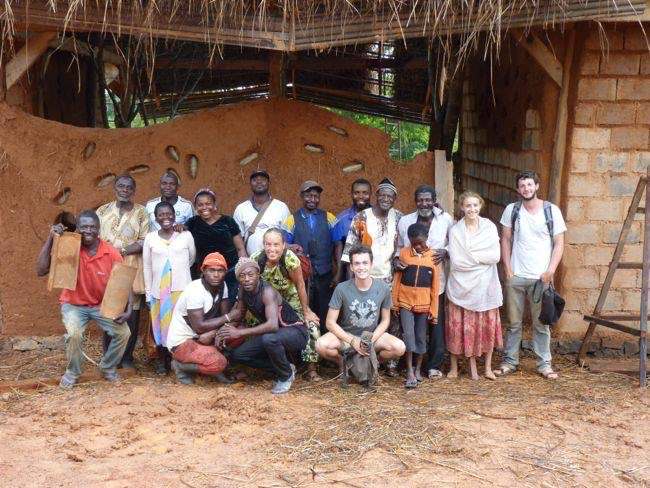 Transforming a farm into a learning center and ecovillage: together we have created a model for the region with ecological buildings, the beginnings of a food forest, and water and solar systems to generate clean energy.
Ndanifor Permaculture Ecovillage, under the auspices of Better World Cameroon and the Bafut Ecovillage Network, is a demonstration site in northwest Cameroon. In recognition of the United Nations' Sustainable Development Goals Bafut council declared their intention to become a sustainable community by investing and supporting the concept of Bafut Ecovillage 2020.
Ndanifor Permaculture Ecovillage takes its name from the word "Ndanifor," which in the Bafut language means to understand and appreciate, actively and profoundly; to comprehend fully; to contemplate with full love and understanding; to listen; to play. The Ndanifor Permaculture Ecovillage was named with the full nuances of its name in mind.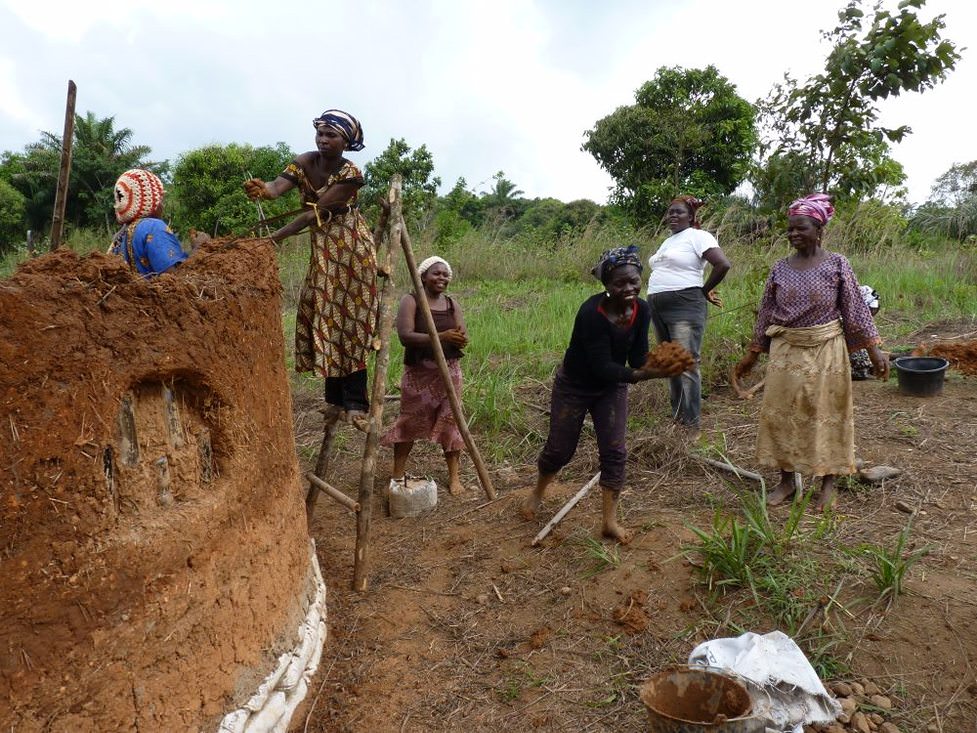 Over the last three years the transformation of a small farm into a learning centre and nascent ecovillage has occupied and sustained a number of volunteers both from Cameroon and the international community. Working mostly in the dry seasons, we have drawn on the skills and the willingness to learn of local craftsmen and village women. Together we have created a model for the area and region with ecological buildings, the beginnings of a food forest among a terraced landscape, and water and solar systems.
A small cottage built with cob on an earth bag foundation set the theme of using local natural materials, merging traditional and modern techniques. Under the guidance of natural builder Elke Cole, we engaged local youth and a local women's group with international volunteers in training. Local craftsmen built a bamboo (raffia) roof thatched with dried grass. Natural plaster inside and out transformed the rough earthen walls and floor into a place of beauty. Visitors are continually awestruck by its simplicity—and lack of concrete!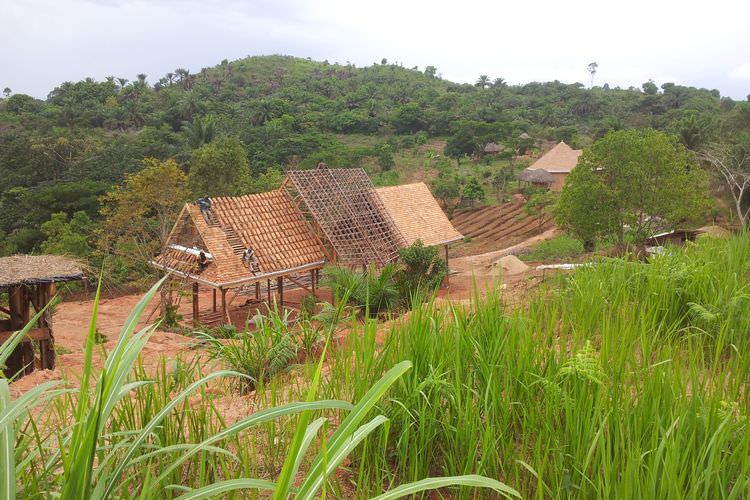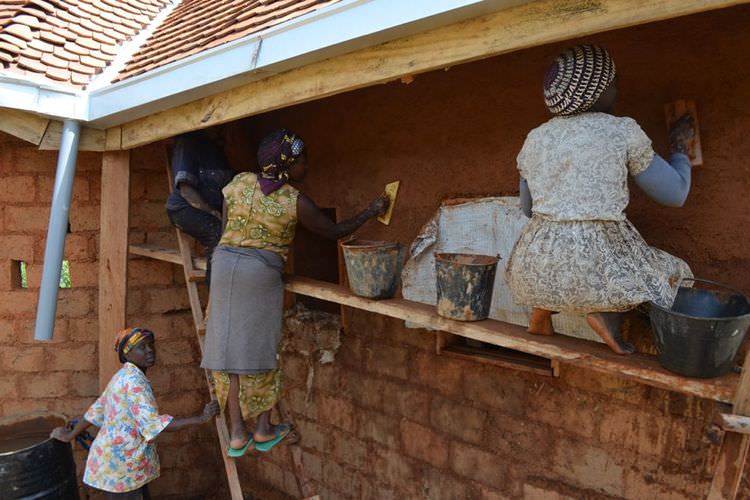 At the core of the centre stands the meeting hall and kitchen. An ecological building, it features a drystone foundation, with eucalyptus poles supporting the wooden roof frame. Surrounded by mud blocks and cob, it forms a large circular space. We chose locally produced clay tiles for the octagonal roof and had local builders create the trusses and lay the tiles. The hall opens its shutters to a view over the farm and forest beyond, while offering shelter for more than 50 people.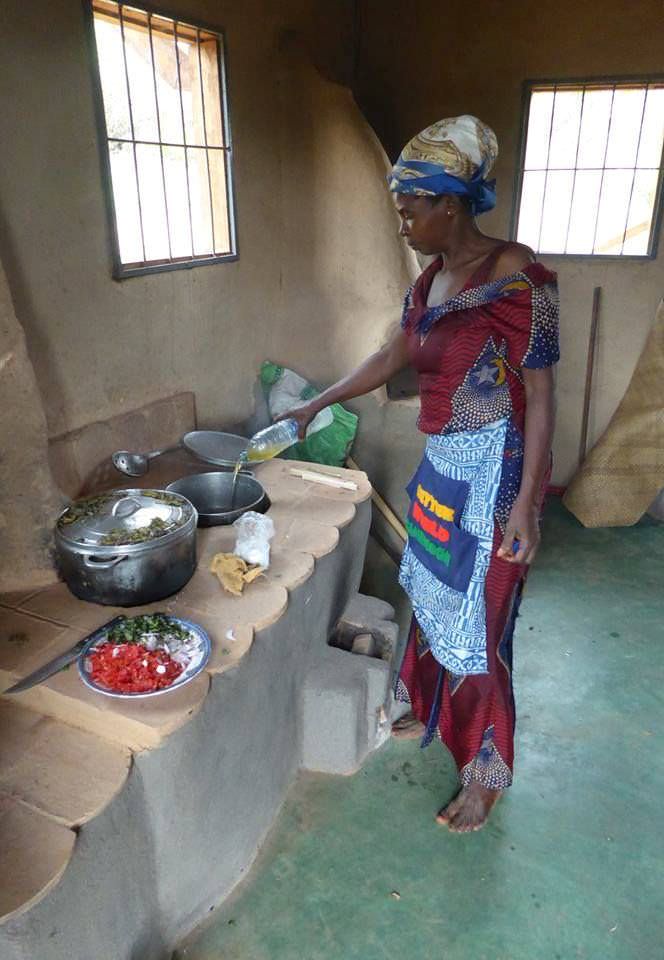 The attached kitchen features two rocket cook-stoves and a cob bread oven. As these sample stoves are used, we have adjusted the design to suit the needs of local cooking culture. Recently an outdoor kitchen was completed. Highlights include a large double stove (assembled by the participants in a train-the-trainers workshop), now attractively surfaced with pieces of leftover tile in mosaic, along with cob counters and washing stations hooked up for grey water recycling. This will facilitate providing larger groups with nutritious meals harvested from the productive farm operation. We hope to see the three-stone fires replaced by efficient, clean burning stoves like these through our stove-building project into the surrounding communities.
At time of writing, our dormitory is in the final stages of completion. Within a month we will be hosting our annual summer camp followed by Cameroon's first full ecovillage design education course (EDE).
This newly constructed eco-building can accommodate up to 30 people. Locally manufactured raffia furnishings compliment the 4 attractive bedrooms, two up and two down. Between the buildings, we created a hangout space sculpted with cob, recycled bottles, and locally sourced wood under a tall thatch roof with a naturally finished cob bench.
While builders generally participate with enthusiasm and some curiosity in these projects, we are hoping to see these practices take hold on local homes. We have trained the women in plastering and stove building, believing that their need for better kitchens would inspire them to take action within and outside of the group. Our future work will continue to encourage, train, and engage those who wish to learn, as well as further exploring ways of building modern, local, and natural eco-buildings.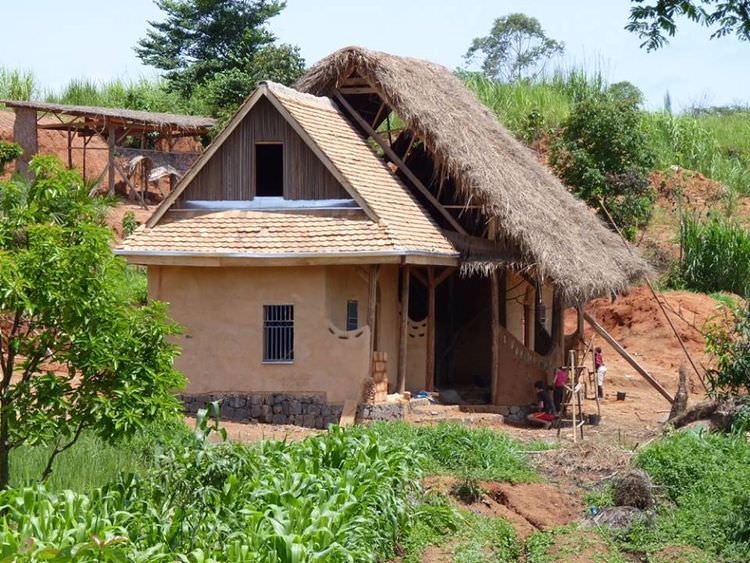 About the Author
| | |
| --- | --- |
| | CliveMichael (CM) Justice – I am a semi-retired assistant teacher/facilitator, coach, writer, and apprentice permaculturist, among other things. I am supporting the creation of the Ndanifor Ecovillage and Better World Cameroon by assisting with their website, research, intellectual troubleshooting, conflict resolution, photography, working at the farm, and occasionally cooking. I bring a measure of enthusiasm and inspiration to strengthen multicultural ties and support the efforts to create a better world. |