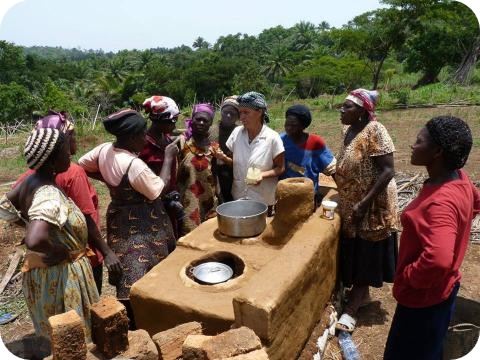 About 20 km north of Bemenda, Cameroon, is the village of Bafut, where the traditional "fondom" (kingdom) community living structure remains intact. The goals for the future are ambitious, and inspiring. With the help of matching Permaculture principles with volunteer placements, Better World Cameroon (BWC) http://www.betterworld-cameroon.com is building an African green revolution based on youth, agriculture and environmental conservation.
In just two years of linking up with the Global Ecovillage Network's GENAfrica, the Bafut Ecovillage vision 2020 is already on its way to being realized. Sonita Mbah from NextGEN reports.
Situated on little more than a 5 acre piece of land, the Ndanifor Permaculture Eco village Project (NPE), promotes social resilience, environmental protection and restoration of nature through the concept of ecovillage and Gaia Education models for sustainable human settlements. It includes demonstration Permaculture gardens, a learning center for water and agriculture and an eco-lodge for international volunteers to be able to stay and learn for short or long periods of time. NPE is working with Bafut Council under the ambit of UNESCO World Heritage Center to restore traditional village structures and places for opening up to the world for learning and education.
The main priorities of NPE in 2015 are equipping training hall and building water catchment in High Vale Agricultural products and water harvesting test fields to become a self sustainable start up venture for Bafut Ecovillage.
One of the guiding principles for BWC is the preservation of the cultural heritage and biodiversity of the grass fields of Cameroon through conservation, a goal which has often been forgotten due to pressures of modern development needs. Today in Bafut, many benefits accrue through working with local social and cultural norms, including obligatory participation in village community work days. These community-wide efforts have been very productive at NPE, for example, entire stretches of road have been established in a single day and a water catchment built in three days ( http://youtu.be/XNMXqtc2brs ).
NPE has been designed as a demonstration site, not only for understanding the merits of ecological and productive capacities of Permaculture gardens, but also of the ability of the Principles of Gaia Education to enhance, rather than replace, local customs.
The hope is to develop NPE as a sustainable development model, with a strong economy in harmony with the Bafut landscape, but which can also be replicated anywhere.
This 'macro goal' builds on successes in the 'micro achievements' of solving challenges in water harvesting and food sovereignty that had been retarding progress over the years. BWC's other major project is the development of the more efficient use of firewood in cooking. As part of the Africa Kitchen Revolution project, BWC is teaching the women to build their own stoves using traditional materials.
In applying GEN and Gaia principles, BWC educates and supports other villages and communities in the region towards self sufficiency, through social entrepreneurship and the development of sustainable community projects, while building solidarity and cooperation between Cameroon and the outside world.