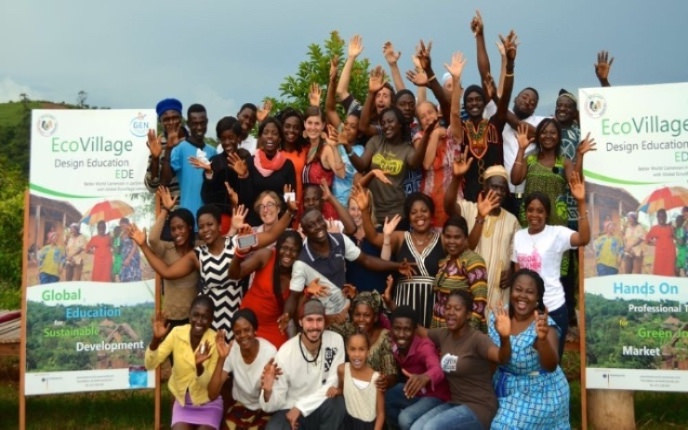 In the Northwest of Cameroon, a whole kingdom is transitioning into an eco-region. In consultation with King Fon Ambumbi II and combining the vision of Mayor Langsi and GEN ambassador, Konkankoh Joshua, a great deal of effort is being invested in creating a transition from rural subsistence farming into a thriving, sustainable, eco-friendly region. Sonita Mbah, Executive Secretary of GEN Africa, reports.
Watch the trailer for Bafut Ecovillage: https://www.youtube.com/watch?v=tXqSwMVY2Pc
Late in 2016, GEN Africa sponsored an Ecovillage Design Education (EDE), course hosted by Betterworld Cameroon (betterworld-cameroon.com) at Ndanifor Permaculture Ecovillage; a demonstration site and possible model for the transition into a sustainable region in the Fondom* of Bafut (* a 'Fondom' in Cameroon is a traditional kingdom). The Fondom of Bafut in the Northwest region of Cameroon comprises 54 communities. Bafut is the most powerful of the traditional fondoms of the Grassfields in this part of the country. Amongst the population of Bafut, there is a growing understanding for the necessity of sustainable development.
In 2013, Joshua Konkankoh had completed an EDE course in Ecovillage Sieben Linden in Germany. Drawing from this experience, participants created a sustainable business and community resilience plan to achieve a vision for 2020. In order to use Bafut's natural assets in a sustainable way, all stakeholders of the community were engaged in implementing nature-based solutions using Permaculture principles and adaptive governance. Simple solutions were preferred, to provide the knowledge, know-how and materials that would help to improve the lives of people in all 54 villages of the fondom. These solutions can be achieved by individuals in the community or through global partnerships.
The EDE identified innovative business strategies to achieve consensus among organizations, cultures and green economic sectors. The solutions highlighted in the business plans revolved around restoring soils, building water retentive landscapes, adding value to agricultural products, supporting and renewing local arts and crafts, providing access to renewable energy (solar, biomass, wind, waste to energy etc), and raising awareness through greening schools. Our main strategy is to maintain and enhance the value of Bafut´s heritage and indigenous knowledge systems, combining these with new ideas and innovation through youth entrepreneurship.
Our objective is to achieve a green Climate Town by 2020. Utilizing local youth leadership is a major key to continuing community engagement in implementing the Sustainable Development Goals and UN climate agreements in Cameroon. The continuing support of Bafut Palace and council in tackling climate change, securing food sovereignty, local planing and action through community-driven plans enables our work to be taken to the next level.
What is the Bafut Ecovision 2020?
Placing youth and women in the frontline, taking up the challenges and opportunities of urban growth using businesses which explore green economy and green infrastructure in the pursuit of low-emissions.
Sustainability guidance and a tailored framework for meeting local governance to analyze ecosystems, act and accelerate low emission development into policy, plans and processes. Flexible participatory approaches to accommodate the different contexts of villages to engage at their own pace. A wide range of ecovillage design principles, Permaculture and capacity building tools to support climate actions and peer to peer exchange opportunities.
Involvement in Global Ecovillage Network Pan African Ecovillage Programme in tackling issues of finance and technology.
Guidance to improve local national dialogue and international co-operation to enhance contributions to the national SDGs Implementation Plan Outcomes.
Bafut communities are capable of realizing the goals of the global protocols within their own capacity.
Adapted structure to integrate low emission development into urban planning in the Bafut municipality.
Enhanced understanding of local capacity strengths and weaknesses.
Engagement of all stake holders in a meaningful and inclusive dialogue.
Enabling farmers to face climate change and improving the livelihoods of 54 local villages through identification and promotion of high value agriculture products eg.: Ginger, Turmeric and Lemongrass.