The Comunidad de Paz (Peace Community) of San José de Apartadó has twinned with Tamera, an intentional ecovillage in Portugal. Their cooperation started over the conflicts in Colombia, where the community's farmers had been resisting war and land grabbing, all the while facing threats and killings. Tamera gave support as an advocate, creating bridges with key international organizations. Comunidad de Paz got more protected and respected thanks to the visibility and the acknowledgment they received. Tamera community members also facilitated the implementation of regenerative practices that provide sustainable energy and health to the community. The Comunidad de Paz has taught Tamera about humility and forgiveness, and this north-south relationship also brought clarity and healing onto the shadows of colonial past and present.
"Because of the international help, we can always leave our home to go to our fields without being killed. We also have a lot of death threats from the leaders and because of the people of Tamera we can survive."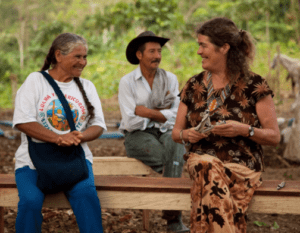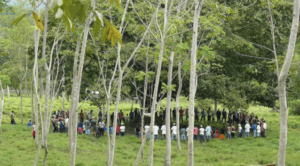 Twinning
For Ecovillages, eco-projects, regional and national ecovillage networks
For years there has been the practice of "twinning" within GEN, where ecovillages, eco-projects, and ecovillage networks form special friendships and support each other. Over time, these friendships solidify and evolve into mutually beneficial relationships. We now have wonderful examples of twinning relationships in GEN and are excited to streamline the twinning so more projects are able to find and support each other.
GEN is now supporting twinning relationships in a more systematic way, as a 'dating agency'. When possible, we try to provide modest funds to support collaborative projects. Know more in the Twinning page.
Become a Friend of GEN and support the ecovillages on the ground build the new normal!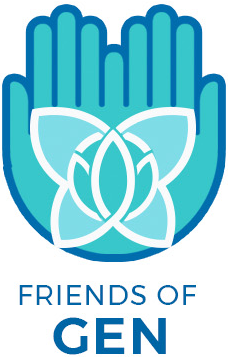 As a Friend of GEN, you become a sustaining contributor to the work of the Global Ecovillage Network. Together we can continue to implement sustainable solutions and help catalyze the power of community for a regenerative future.
By becoming a Friend of GEN you will receive exclusive benefits to bring you closer to GEN's work on the ground and connect with communities worldwide. Friends of GEN sustain the work of the Global Ecovillage Network through creating a grassroots community of supporters for ecovillage solutions and collaboration. Learn about the levels of giving below and find the one that is right for you.