The Kumasi Institute of Tropical Agriculture (KITA) in Ghana has partnered with LOES, the Danish Ecovillage Network. From this partnership, GEN Ghana Network was created and started to connect ecovillages and eco projects across the country. 40 young men and women became Ecovillage Ambassadors to promote eco-strategies around Ghana. Both KITA and LOES designed and held an Ecovillage Design Education course for 50 students, as well as an Eco-strategies training, which reached 80 organizations and aimed at connecting business with holistic sustainability. Thanks to the implementation of a Greening Schools project, moringa gardens were planted in 10 schools of 10 different regions in Ghana. Through other environmental actions, 5000 trees were planted. Health-promoting products derived from these plantations were developed within a marketing plan.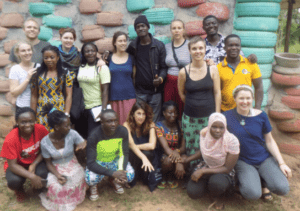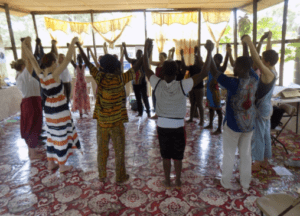 Twinning
For Ecovillages, eco-projects, regional and national ecovillage networks
For years there has been the practice of "twinning" within GEN, where ecovillages, eco-projects, and ecovillage networks form special friendships and support each other. Over time, these friendships solidify and evolve into mutually beneficial relationships. We now have wonderful examples of twinning relationships in GEN and are excited to streamline the twinning so more projects are able to find and support each other.
GEN is now supporting twinning relationships in a more systematic way, as a 'dating agency'. When possible, we try to provide modest funds to support collaborative projects. Know more in the Twinning page.
Become a Friend of GEN and support the ecovillages on the ground build the new normal!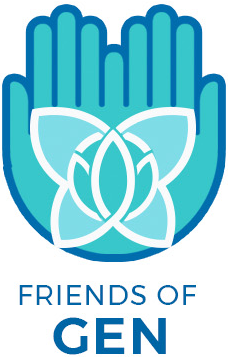 As a Friend of GEN, you become a sustaining contributor to the work of the Global Ecovillage Network. Together we can continue to implement sustainable solutions and help catalyze the power of community for a regenerative future.
By becoming a Friend of GEN you will receive exclusive benefits to bring you closer to GEN's work on the ground and connect with communities worldwide. Friends of GEN sustain the work of the Global Ecovillage Network through creating a grassroots community of supporters for ecovillage solutions and collaboration. Learn about the levels of giving below and find the one that is right for you.