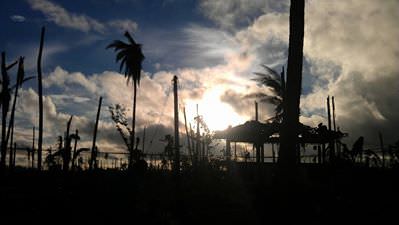 How many times have we seen images of refugee camps worldwide with people being forced by wars, or other disasters, to live together under harsh and unbearable circumstances? Sometimes this situation can last over years, and even decades. An increasing number of people in the GEN movement feel that ecovillage processes and practices can contribute a great deal in these situations. A prime example being in communities that are forced to come together out of traumatic or disaster situations often have many similar needs and conflicts that appear in ecovillages – be they of an ecological, social, economical or cultural kind. In the Philippines, the founder of Maia Earthvillage – Pi Villaraza – and Sabina Arokiam, a Malaysian permaculturist, created Permaculture Aid Yolanda as a tool for disaster relief and prevention. Pi Villaraza reports.
On the morning of 8 November, the category 5 Typhoon Haiyan – locally known as Yolanda – made a direct hit on the Philippines – a densely populated country of 92 million people – devastating areas in 36 provinces. Haiyan was possibly the most powerful storm ever recorded. The typhoon first made landfall at Guiuan, Eastern Samar province, with wind speeds of 235 km/h and gusts of 275 km/h. Rain fell at rates of up to 30 mm per hour and massive storm surges up to six metres high hit Leyte and Samar islands.
Many cities and towns experienced widespread destruction, with as much as 90% of housing destroyed in some areas. Roads are blocked, airports and seaports impaired, and heavy ships have been thrown inland. Water and power supplies were cut, much of the food stocks and other goods were destroyed, many health facilities are still not functioning, and medical supplies have quickly been exhausted.
Two weeks before I had met Sabine in Kuala Lumpur at the GENOA (Global Ecovillage Network Oceania and Asia) annual meeting planning a southeast Asian permaculture and ecovillage convergence next year. After Yolanda, we decided to create Permaculture Aid Yolanda. Besides a longterm disaster prevention programme, we also now join our forces and our networks to support victims.
The Philippines is one of the most disaster-stricken countries in the world, so we always expected the next storm to come. For many years, we have been running a programme called Green Relief. Permaculture Aid Yolanda came about as some of us, fresh from the GENOA Annual General Meeting, were planning a southeast Asian permaculture and ecovillage convergence next year. When the organizers in Indonesia and Malaysia heard about the typhoon, it was natural that we directed our attention to a post-disaster response.
Maia Earth Village is a very simple intentional community in the hills near a beautiful beach in central Palawan: an international community that houses yoga teachers, healers, permaculturists, and advocacy field workers. Maia is a raw food community. It spreads across two spaces, one in the city as a healing, detox, and training facility called Bahay Kalipay, and the village itself, a forty minute drive into an isolated area where solar-powered mudhouses and gardens nestle in a fifteen acre property.
Based on our success in manifesting the community, Maia was invited to become a member of GENOA three years ago. One of our main occupations throughout the years has been in disaster
management. Early in our evolution, we have been contributing to aid through innovative means that do not add to the carbon emissions that are created when people donate canned goods or instant processed food in so much plastic, that is flown across great distances to feed people who have been ravaged by weather shifts that are due to such excesses in the global consumption. Through this simple goal, we have created structures from trash, that help people source local, nutritious and easily prepared food that was previously not considered as a food source, as well as generally expanding fear-based experiences of disaster, that help bring perspective back to human ecology and nature.
Maia Earth Village is situated in the only part of the Philippines that is typhoon-free. We made sure to choose our land in such an area. After Yolanda we have made Maia Earth Village the base camp for the disaster relief work. With our experience and connection with the worldwide permaculture and ecovillage movements, we are able to use the ecovillage network to gather all the corresponding aid agencies, farming groups, rehabilitation planners, and permaculturists working in the collective.
In terms of assistance, GENOA has decided to make a special project to hold a disaster-response EDE in the worst hit areas that trains town leaders from various areas on how to rehabilitate their own communities from all the elements of eco-village design.
As to help, any form of funding, volunteerism, and EDE trainers will be much appreciated. We have created a framework for discussion on the collaborative and inspiring platforms that allow multiple parties to contribute to the restoration of the hardest-hit sections of the Philippines.
PILOT SITE: Batug, Leyte
Batug is a peaceful village of 500 families that had been farming and fishing as a way of life. The campaign "One Block for Batug" had been started by Andrea Roa, a Filipina yoga and breathwork teacher who went back to her village in June 2011 and witnessed the destruction of the only Primary school. The reason was that the school was too close to the river banks that were destroyed by soil erosion and the heavy current from the Daguitan river.
"One Block for Batug" is a community based, registered non-profit project to raise awareness towards the plight of this little village of Barangay Batug and it's Elementary School. The project intends to raise funds to provide proper classrooms so that the students can continue with their education.
However, on November 9, 2013, everything changed. Overnight, their community was evacuated and their homes were destroyed. The village has no casualties but they are going through the damage and trauma from the loss of property and livelihood.
The school that was recently set up by the "One Block for Batug" Project for 150 students is also gone. One month after the disaster, people are beginning to go back to put their homes and lives together again. During this time, no long-term assistance has reached the community.
The Earth Village Project
The Earth Village Project is a whole systems response to crisis that reminds us of our deep relationship with the earth as a community. Co-journeying with stakeholders affected by disaster, we hope to co-create closed loop systems that support food security, health and well-being, sustainable housing, and even rebuilding a damaged school into an "earth school."
Through a team of local and global experts and volunteers, the project hopes to share earth based energy management principles designed on a regenerative approach that addresses care for the people, care for the earth, and allows fair sharing of resources.
Using ecovillage and permaculture design and application process, the project hopes to assist affected communities to rehabilitate and rebuild, while being mindful of the carbon footprints that directly contribute to the climate changes in the first place. Throughout the stages of response, relief, rehabilitation, rebuilding, and prevention, support is designed, based on how nature works, with the innate wisdom of the community – in terms of their resilient capacities – to move from victims to survivors and, hopefully, shift as survivors into thrivers.
The core of our work is transformation from the personal to the collective; and from the interior and exterior levels of the self, community, and the planet within the backdrop of peak oil and adaptation to climate change.
Our mission is to support whole systems thinking, design, and actions in addressing post-disaster and post-conflict interventions during relief and rehabilitation stages. By whole systems, we mean ways that integrate inner and outer aspects of people care and earth care. It is our intention to assist any initiative to re-think and re-design their interventions that could support their impact to become more sustainable. Our hope is to facilitate resilience on the scales of personal, communal, and planetary, that restore the innate capacity of individuals in alignment with the earth's wisdom.
Permaculture and Ecovillage Design as a Framework for Holistic Disaster Prevention
Permaculture is a holistic framework and design science for providing natural and sustainable solutions to all aspects of human needs, and the needs of the planet.
An Ecovillage Design is a process that empowers individuals and communities with the
knowledge for shaping their worlds and becoming more self-reliant. An ecovillage is an
intentional or traditional community using local participatory processes to holistically integrate ecological, economic, social, and cultural dimensions of sustainable living in order to regenerate the many and diverse environments of planet Earth.
Green Relief and Permaculture Aid Yolanda work within the stages of disaster management in a circular understanding of its interrelationships. We are not first responders, but we serve as support to supplement or support existing response and relief operations. Our main intervention mostly begins between the relief and rehabilitation stages, where long term solutions can be held with participation by the people affected or displaced.
Response and Relief
Garden to Garden Relief is a whole systems model that begins with the garden and ends with the garden. The first stage is sourcing relief assistance from nature through living food, as a source of
nourishment and medicine, through our green smoothie relief efforts, adding dehydrated and powdered medicinal herbs and plants to assist in boosting the immune systems of evacuees.
We are also ready to assist in organizing proper ecological solid waste management in evacuation centers to assist in health and sanitation. We can look at how biodegradables can be integrated in preparing the compost for these gardens, and how residual and recyclable materials can be incorporated in the regenerative home/structures the community builds together: whether a mud house, or an adaptive earthship structure during the rehabilitation period. Towards the end of the rehabilitation phase, we aim to assist in co-creating permaculture community gardens for future food security and as a means of self-sustainability.
REHABILITATION and REBUILDING
The Earth Village Mandala goes through a community consultation process, beginning with a needs assessment, and a balance of inductive and deductive design using appreciative inquiry, tapping into the existing resources of the community. An important part of the process is engaging partnerships with local and international experts, or organizations (government or non-government), who share the same vision, values, and approach that the community designs together.
GEN very much appreciates the work that Pi and Sabina are doing in the Philippines. In fact, the topic of disaster prevention and relief has started to be discussed in GEN circles anyway. Alfonso Carreras, member of the GEN Europe council: "If the world sends firefighters, doctors, engineers, artists, etc. to the displacement areas, should we not also consider sending community facilitators? It makes sense, I think. Besides being able to help people in need, our movement would take an important step if we were able to work side by side with organisations like Doctors without Borders, Firefighters without Borders, and many more."
Permaculture Aid Yolanda: www.pcaidyolanda.com