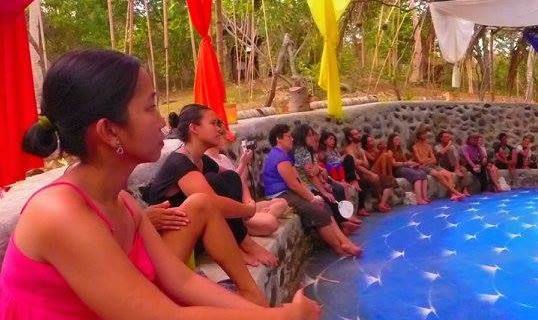 Trudy Juriansz shares about GEN Oceania and Asia. 
Two of GENOA's key objectives for 2016 were to develop more authentic and trusting exchanges, and organize activities and initiatives from deeper levels of insight. We were able to do this through convergence, community building and through being more mindful of how the budget is utilized.
We focused on one sub-regional gathering in partnership with an ecovillage and networks in the region and also on network coordination and strategy meetings amongst the people who are doing the work of GENOA NSO. This helped us create more realistic plans, build energy and trust amongst the team and this has given us some financial stability so we can focus on network expansion in 2017.
GENOA held its first big gathering, the Emergence Convergence at Maia Earth Village, an intentional community, in Palawan, Philippines. The Emergence Convergence was a beautiful experience and space of gathering that brought a variety of people together from different disciplines and walks of life to a common place of deep listening and sharing. The convergence hosted more than 75 people from all over the region and from the international community. The convergence not only strengthened GENOA's network, but it is also catalyzing the emergence of the ecovillage network in the Philippines.
Serena Aurora, a filmmaker who recently completed short films about GEN, Auroville and Wongsanit Ashram, has also created a short film about the convergence and GENOA:  https://www.youtube.com/watch?v=G97Ww5RGiOM
We opened several online dialogue spaces for various topics, issues and themes within GENOA. The first one was on Ecobricks, looking at consumption and how we accept and include the shadow side of our industrial past in the ecovillage movement. We also opened dialogues around education and health and hope to open more spaces in the future.
Within the region, GENOA members held several Ecovillage Design Education (EDE) courses. In February, THREAD hosted an EDE at Siddharth Village, Orissa. NextGEN Korea hosted an EDE with facilitators Ethan Hirsch-Tauber (Tamera), and Pracha Hutranuwatra (Wongsanit Ashram), splitting the course into two 2-week blocks. Gaia Ashram hosted a NextGENOA EDE, with 26 youth participants from all over Asia and Oceania, facilitated by GENOA members, Om-Sunisa Jamwiset, Sarah Quebatlin and myself, Trudy Juriansz. BASD hosted an EDE in Bangladesh for local and international participants. Auroville recently hosted an EDE at Pitchandikulam community, with over 30 participants from the international community, including four participants organised through GENOA's network.
GENOA worked with Pitchandikulam to acquire funds for the Samatanam (Peace) desk. A significant component of the desk is to work with GENOA and identify the right people from our network (as well as Pitchandikulam's), to come together to create a strong network of synergy, collaboration and support at the EDE. Auroville received the funds in October for the Samatanam Desk. GENOA organised for three people from the GENOA network (Bhutan, Sri Lanka and Bangladesh), to attend the December course as well as one youth from NextGEN Sri Lanka.
Ecovillage Transition Asia (ETA), International Network of Engaged Buddhists (INEB), and Wongsanit Ashram are co-hosting the Buddhist Leadership Training (BLT), a 6-month course based on the EDE and Grassroots Leadership Training (GLT), which delves deeper into many topics covered in these courses. The BLT started in September 2016, and will end this coming February, culminating in the EDE Training of Trainers, co-facilitated by Pracha Hutranuwatra, Jane Rasbash and May East (both from Findhorn).
An important event that took place in November was the 20-year celebration of the Grassroots Leadership Training (GLT), in Myanmar. The GLT is coordinated by the team at INEB, ETA and the Wongsanit Ashram. During the 20 years of training, many Myanmar nationals from various ethnic backgrounds, religions and disciplines traveled to Thailand for training to understand more deeply what is going on in the world how that is impacting culturally, economically, socially and environmentally both in their communities and the world at large. They came to learn global thinking while at the same time gaining skills and inspiration for local action to start something in their communities that addresses the particular issues that they are facing.
The GLT has been extremely successful as there is a strong local movement now that focuses on positive components of a healthy village such as the deep community relationships and core spiritual and cultural values, in order to transition to sustainable eco-communities. GENOA will be publishing a full length article in February 2017.
GEN International is supporting the emergence of GEN China. Kosha Anja Joubert, head of GEN International, along with others from GEN, attended the ecovillage conference hosted by Sunshine Ecovillage. Over 300 people attended, with a further 700 streamed online. There is a big opportunity to support the growth of the ecovillage movement in China.
The GEN International team also forged many connections at COP22 that are relevant for GENOA, and we are now in the process of following up and connecting these contacts to the GENOA network.
GEN Australia incorporated in April 2016, with five core members whocome from four different states in Australia and five different ecovillages. GEN Australia hosted an Intro EDE at Tasman Ecovillage in November 2016 with a great team of facilitators, and profits from the course going to GEN Australia. They hope to host their first GEN Australia conference in Narara Ecovillage in 2017, and will formalize their membership and revenue.
GENOA has strong online organizational systems in place, centered on its own intranet site, where the core team members upload updates, information on systems and standard operating procedures related to their areas of responsibility. We also use the intranet site to link to our shared Google Drive where we store files, photos, and other links. GENOA also uses Trello, a task-based application that facilitates the core team to work together and send updates on different tasks.
One of GENOA's volunteers reviewed the ecovillage database for GENOA, which includes individuals, communities and organisations. From this update, we were able to see which contacts were current and which were out of date. GENOA is now working on a system to reconnect with those in the database so we can build greater synergy within our region, and also started a volunteer database that currently has more than 50 people registered.
GENOA created a regional coordinator position, to help support the new systems and developments, build and maintain relationships with members and participants of GENOA, network within the region, coordinate and support the working pods, liaise with GEN International, and ensure communication systems are functioning. I have been working in this role since June 2016.
We had two strategic planning meetings, in India in January, and Thailand in November. In January, we assessed what happened in the previous year, and agreed to shift from organization modes towards network-based thinking and investing, focusing on how we can activate as many local (Asian peer-to-peer) movements this year and in coming years.
In the November meeting, we looked holistically at the functional roles of all our pods (working circles), and confirmed coordinators for each one. We decided on the Integration Council with 7 members (pod coordinators) as the primary decision-making body, and outlined the activities that each pod would focus on for 2017, with an overall theme of supporting education-focused emergence convergences, in order to ignite collaboration among the networks in the region.
About GENOA
GENOA is a network and a network support organization. The network already exists, independent of GENOA, so the main purpose of GENOA is to act as an enabler, connector and bridge. GENOA is a network support organization (NSO), whose role is to support the healthy growth of networking between ecovillages in the Asia Pacific region. GENOA is also a 'virtual Ecovillage' whose community members are the people who step forward to do the work to make the GENOA NSO function.
GENOA as an organization is non-hierarchical, as it uses a circular structure to organize and coordinate critical functions.. GENOA uses the mandala to organize its working pods. The pods are:
Red "Participation" pod
Red represents the root, grounding, substance, building strong social and physical foundation.
The functions include  – expanding passive and active membership, developing strategies for national level networking, creating research library, and coordinating volunteers.
Orange "Shared spaces" pod
Orange represents creativity, birthing, relationships, unity between parties and balance of freedom and flow.
The functions include creative activities such as graphic design and writing; harvesting stories, sharing stories and organising the GENOA ambassadorship program.
Yellow "Office" pod
Yellow represents power, energy, valuation, worth, action, evolution, and transmutation.
The functions include developing a resource pool such as through fundraising or social enterprise, funds allocation and management, legal and management duties.
Green "Gathering" pod
Green represents family, community, service, inclusivity and love.
The functions include events such as sub-regional and local gatherings, festivals, exchanges, tours, virtual events, annual gatherings and convergences.
Blue "Communion" pod
Blue represents communications, understanding, expression, essential exchanges.
The functions include internal communications between pod facilitators and members; external communications – social media and international Ecovillage network; IT logistics; and protocol & website.
Indigo "Learning" pod
Indigo represents insight, perception, framework, learning, consciousness, world-view and paradigm.
The functions include Ecovillage Design Education, Asia-based training and learning processes, mandala learning laboratory programs.
More: genoa.ecovillage.org