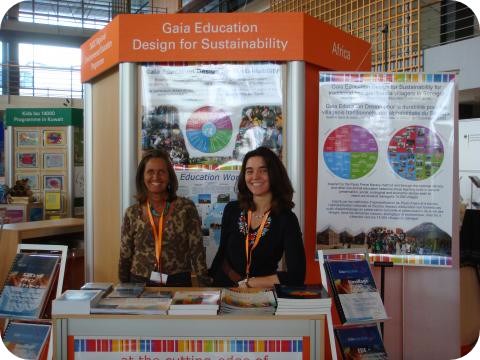 A crucial part of the GEN history was the wish to create a global education for resilience and sustainability based on the experience of ecovillage.
Kosha Joubert, President of GEN International, shares the story of Gaia Education.
What a joy it was for me to be invited to the 2nd founding meeting of Gaia Education, taking place in Findhorn in 2004!
I was one of 24 ecovillage educators to integrate, synthesize and write the core curriculum of the EDE (Ecovillage Design Education). I even remember the moment the invitation arrived. I knew immediately that this would move me back into a more globally connected scope of work, after a period of sheltering in my community as a young mother and facilitator of community courses. I could feel a buzz of excitement rise in me. And my gratitude continues for all those who birthed the vision and prepared the space for Gaia Education to emerge. I gave myself fully to the rich experience of co-creation and watched its growth from those first baby steps back in 2004 and 2005. From 2006 onwards, it has been my joy and privilege to organise and support EDE-Courses, first in Germany, and Europe, then also in Asia and Africa.
In 2008, I was asked to take on a more central role in GEN, starting off as President of GEN-Europe and later, in 2012, stepping into the role of President of GEN-International. One reason for my appointment in 2008 was the sense that the time was ripe for an African Network to emerge in its own right. Hitherto, African ecovillages had been connected to the global networks through GEN-Europe. I had grown up in South Africa and my love for Africa remained strong – it seemed a helpful connection and I was delighted to serve in this way.
EDE courses for Africa
My dedication to Gaia Education and GEN became intertwined as I started offering international EDEs with a strong focus on participants from all over Africa in Europe. The recognition of the EDE as a contribution towards the UN Decade of Education for Sustainable Development 2004-2014 helped to secure substantial funds from private donors, foundations and through the German Foreign Ministry (Climate Funds).
In 2012, after the Arab Spring had raised so many hopes, I received a phone call from the German ministry, asking whether GEN was in a position to convene a conference for some of the civil society networks of Northern Africa. We called the first GEN-Africa conference, reaching out to new projects in Algeria, Morocco, Tunisia, Egypt and Palestine.
The amazing magic of that gathering, where GEN-Africa was officially launched as an independent regional network in GEN, grew from the seeds of the 5 international EDE's that had prepared the ground. Participants from each of 5 courses, who had grown into a close-knit community over the 4 weeks of an EDE, fell into each other's arms. The circles brought with them a field of trust and friendship. Together, we could build on the consolidating force of speaking a common language. We agreed on what an ecovillage was, what GEN was about, why we would like to strengthen networks and alliances at this time, what participatory design entails, and more. The conference gave us all a profound experience of collective wisdom: within three days, we enjoyed presentations of the most wonderful projects, wrote a vision and mission statement, crafted a strategy document together and elected a Council, Advisory Board and NextGEN Council – GEN-Africa was birthed!
Relationship of GEN and Gaia Education
This experience of a whole becoming more than the sum of the parts was truly extraordinary. This is what can happen when GEN and Gaia Education work closely together – like riding a tandem bicycle, the power can be immense! The EDE provides a platform for intense reflection, exchange, relationship building and mutual inspiration, the results of which can then be woven into the developing networks of GEN. The EDE can also be helpful for a group of people who are in the process of designing an intentional ecovillage or are transitioning an existing urban neighbourhood or traditional village into an ecovillage (as experienced in 2014 with the village of Kartong in The Gambia).
There are many ways to conceptualise the relationship between Gaia Education and GEN. One might argue that Gaia Education grew out of GEN, as its educational arm. During those first years, up until 2008, the funds for Gaia Education flowed through GEN-Europe's accounts and the EDE itself grew out of experience drawn from the many courses delivered in ecovillages across GEN.
Or one could say that both organisations grew out of the vision of Gaia Trust (and, more specifically, Hildur and Ross Jackson), as their first-born and second-born. They can be seen as mother and daughter, or as sibling organisations. What is clear is that, whichever lens we look through, the relationship is a close one. Once Gaia Education was set up as a Scottish Charity and started to fly under May East's skilful diplomacy and leadership, it grew more independent. While GEN remained deeply steeped in the democracy of a grassroots organisation, with corresponding communication and decision-making channels, Gaia Education took on a more streamlined management structure, which allowed for more versatility. Both organisations benefited from developing their individual identities more fully in the coming years.
Independent or combined?
Today, Gaia Education and GEN have both developed strongly and continue to expand their boundaries. As we move into 2015, which heralds both the 20th anniversary of GEN and the 10th anniversary of Gaia Education, there is much to celebrate together. This is a year of reflection, of past, present and future. Where have we come from, where are we now, and what is the future calling for? Should GEN and Gaia Education continue to function independently or would their combined impact be improved by even stronger collaboration, as many think? Whether in the areas of further development of educational curricula, the Solution Library, consulting and disaster relief work, community-based approaches to international development, or … Gaia Education and GEN together are a force for the good that is just starting to manifest its full potential. May we all be surprised by the power that is yet to unfold!