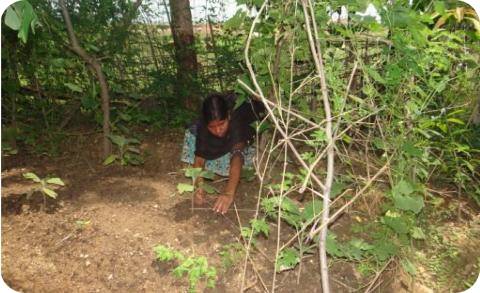 Jyotshna, Gurbari and Meena, three Munda tribal girls never thought that in their adolescence they would be appreciated in their own village for bringing transformation into conventional agricultural patterns, and become young agricultural scientists. Thread reports.
While girls of their age were busy with playing, studying and engaging in household work, the three of them assisted farmers of their village to promote organic farming. They demonstrated how, by minimizing the input cost, maximum yield can be produced, and that yield also being purely organic.
It is hard to believe if one does not see it with their own eyes. But before February 2014, this was almost a dream for the young women. They never would have thought that they would be vital in beginning an organic revolution in their own village, Silaghati of Khunta-Gopabnadhua, where small and marginal tenants would be benefited.
This is what happened though, after we gave them the opportunity to go on an intensive one month training programme on the Ecovillage Design Education Training at Siddharth Ecovillage, Kakariguma. There they learnt the different processes of preparing organic manure and pesticides in a traditional way and how to enhance the production of the different crops on one piece of land. There they also learnt how the conventional methods of agriculture are cumbersome and expensive, decreasing the fertility of the soil by making it barren. They also learnt how pesticides are entering into the food chain due to excess usage of chemical fertilizers.
They learnt to cultivate no less than18 types of vegetables in normal beds (width 4" and length as much as possible depending on the size of the land). For weed control, they learnt to plant the seeds in a triangular manner: in each angle there would be a vegetable, in the middle, leafy vegetables, and in the arms of the triangle, creeper vegetables were planted. By using these techniques, they saw how maximum yields can still be possible even with small investments. This has been widely appreciated by the villagers and they are now doing the cultivation of the vegetable and paddy fields using organic compost and pesticides. These young agricultural scientists have taught the farmers how to prepare the vermin compost and pesticides. Now their efforts have brought cheers to the marginal farmers and are contributing towards their green livelihood without polluting the soil, water and air.