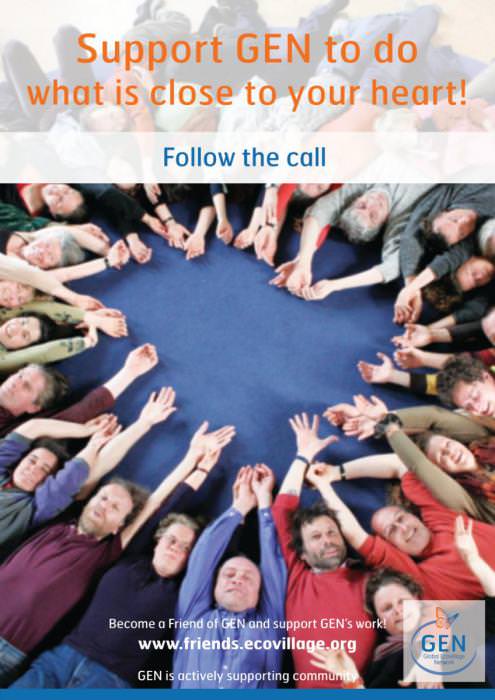 You can be part of making sustainable dreams come alive in 2016! All around the world there are communities and people doing amazing work to take care of people and the planet. There are incredible examples of the restoration of degraded ecosystems, rivers and lakes; the rebuilding of community support 'nets'; the recognition of elders knowledge and ancestral wisdom; the development of economic activities and systems that create solutions and not just problems, to name a few.
In many cases, some of these initiatives take a long time to develop as they don't have the necessary access to economic resources; so from year after year many people work very hard for the projects to finally be implemented and show results. By Margarita Zethelius, Colombia, board-member of GEN International
As much as we are in contact with what is happening all around the world, we feel the need to accelerate the implementation of those initiatives that can make great changes towards a world of empowered citizens and communities living sustainably and in international solidarity.
We are happy to share with you, dear reader, that in GEN International we have started a process to identify initiatives, all around the world, that need a little push to reach their goals. We want to make it easy for all those who wish to support GEN and ecovillage projects on the ground to do so. We want to strengthen local, regional and global ecovillage networks via open participation and, by doing so, assist GEN representatives to track the needs of local members of the network
Towards this end, we now have a section for Small Projects inside the Friends of GEN web page. You can chose from different projects which one is closest to your heart. From initiatives of implementation of appropriate technologies (e.g. efficient stoves, solar panels); to support for social enterprises (e.g. infrastructure, publicity); to capacity building and training (e.g. EDEs, training for women in art-crafts, conflict facilitation) amongst many others.
In January you find:
'Bridging the Generation Gap' is a project of the NGO 'Prosperity for Ethiopia', presented by Solomon Desalegn. It's goal is to enable young people from vulnerable urban populations to reconnect with their roots and improve their socio-economic status by introducing them to beekeeping and honey processing as income generating activities. A central aim of this project will be the celebration of local culture and biodiversity that the farmers and village people imbue in the urban youth; teaching them how to live off the land, in meaningful and sustainable ways.
If you have resources other than money to contribute, please let us know.
100% renewable source of energy for ECO-DOME training center for sustainability,presented by Carolina Miranda (Aldea Domo Ecovillage).
With your support, over three months, we will install a mixed system to generate electricity and develop a training course to share this tool as a best practice. Visitors and students in the ecovillage will experiment with how to have a 100% renewable source of electricity. This will be a living example of how to run heavy machinery and electric tools for woodworking and building using a clean source of energy.
RefuGEN. GEN Takes Positive Action On the Refugee Crisis on the Island of Lesvos
"Together we aim to provide help on the ground in Greece and take responsibility for an issue that affects us all." http://gen-europe.org/spende/index.htm
The flow of refugees from war-torn areas continues and crossing into the EU is a dangerous risk many men, women and children feel forced to take in order to survive. The Greek Islands, and especially the island of Lesvos, is the main entry point where many arrive in need of help and many others do not survive the crossing. As the colder winter arrives, the situation will become even worse. As ecovillagers, we stand for social justice and a humane world where people should not be hindered in seeking their legal right to asylum in the EU.
RefuGEN is now ready to act. We have started to be active from the city of Mytilini on the Greek island of Lesvos. Our Team Member Anna Fillipou of Skala had made connections with the local NGOs, municipality and university.
Our mission is to work seamlessly with local efforts like the Village of All-Together and we aim to strengthen local capacities in Mytilini to utilise local residents and international volunteers to meet the needs of distressed refugees arriving. In particular, those who have lost family members, those who need medical care and have to remain on Lesvos for a longer period of time. We are working with the local community to arrange our accommodation and identify the greatest need for RefuGEN to fulfil. The RefuGEN mission has started on 24 Dec. Anna, Robert Hall (president GEN Europe) and Leila Dregger were part the first group of RefuGEN volunteers on location before Christmas. (See the first report here: http://gen.ecovillage.org/en/node/8400)
We now need your help. We need volunteers, financial support and materials.
All project achievements will be documented and uploaded on the GEN communications platforms in the Solution Library.
Celebrate with us this opportunity to be part of this network living sustainably and in international solidarity!!!