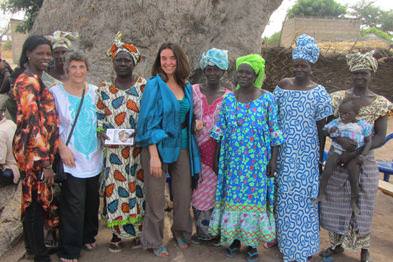 Senegal is the first country to utilize ecovillage strategies for sustainable development with a Government Agency for Ecovillages, dedicated to transitioning 14.000 traditional villages to ecovillages! The government was inspired by the work done within the grassroots network of GEN-Senegal, a network of 45 ecovillages.
In February, 2013, Jane Rasbash of the Gaia Education Board, Kosha Joubert, President of GEN-International and Advisory Board GEN-Africa, and Ousmane Pame, President of GEN-Africa, travelled to Senegal to witness and support the progress of the movement – and to plan a Global Ecovillage Summit in Senegal in 2014.
We have been traveling over dusty roads for many miles through an eerily beautiful landscape dotted with huge Baobab trees and small grass-hut villages. Jane Rasbash and myself, Kosha Joubert, as representatives of Gaia Education and the Global Ecovillage Network (GEN) respectively, together with Ousmane Pame, the newly elected President of GEN-Africa, are traveling with a diverse group of Senegalese government officials, civil society activists, university professors and Sufi spiritual leaders. All of us have one thing in common: we believe in the power of ecovillage as a model for transition.
At last we arrive at Mbakombel, one of the pilot projects of the Senegalese ecovillage programme. Here, seemingly in the middle of nowhere, we stand in awe as the simple complexity of an holistic approach unfolds before our eyes. Young men introduce us to the technicalities of solar panel systems and show us streetlights and lighting in their huts. The villagers pay a small contribution per light bulb for running costs. Women introduce us proudly to the various benefits of low impact cooking technology, including clay stoves that use 50% less fuel, biogas from animal manure and solar ovens. We see reforestation programs, climate smart farming in community gardens, green architecture experiments incorporating styles from Mali and Burkina Faso, new breeds of local chicken, and a computer room with internet access. It is an amazing interweaving of rural and cosmopolitan, traditional and innovative, top-down and bottom-up empowerment!
Senegal, as far as we are aware, is the first country to use ecovillage strategies for sustainable development, with a Government Agency for Ecovillages dedicated to transitioning 14 000 traditional villages to ecovillages!
The government was inspired by the work done within the grassroots network of GEN-Senegal, a network of 45 ecovillages. Here, civil society efforts showcased how local populations can turn around the trend of emptying villages by blending the best of the past with practical solutions and a shared vision for the future. (see www.gensenegal.org). The government of Senegal became attentive to the effectiveness of this approach for rural sustainable development. Why not work hand in hand with a people that have the wisdom and potential to actively regenerate the social and natural fabrics of life and become guardians of the Senegalese and global commons? Ministers from other African nation states have started showing interest in following the Senegalese example.
Now, a Senegalese NGO, the Foundation Aidara Cherif, is keen to take this further with ambitious plans for pilot projects of five large ecovillages in Senegal, Gambia and Guinea-Bissau, including three in the Southern region of Casamance which has long been troubled with civil unrest. The invitation to Senegal for Gaia Education and GEN (the Global Ecovillage Network), came from the foundation after a member was invited to the GEN-Africa Conferences held in Sekem, Egypt in December 2011 and 2012. The Foundation Aidara Cherif is a Sufi organisation that embraces engaged spirituality with a mission to eradicate poverty and promote inter-faith dialogue in Africa. It was significant that the foundation not only sent out the invitation but also covered the costs of the trip. The Foundation and Government officials are keen to link with GEN and Gaia Education as large international Ecovillage Organisations that have global representation and are backed by UN status. Headed by the charismatic Cherif brothers who are spiritual leaders as well as sustainable development actors, we embarked on a series of meetings and consultations with all levels of society from the grassroots and community leaders to Mayors and Ministers. Starting and ending with prayer, the conversations included many aspects of ecovillage strategies and sustainability education in the four dimensions of economy, ecology, the social and the cultural.
The Government officials and other development actors in Senegal were very honoured that GEN-Africa, inaugurated in the Pan-African meeting in Sekem, will have its legal headquarters in Senegal and are keen to build on this momentum. The big dream is through ecovillage strategies to strengthen local ownership of sustainable development and promote peace and inter-ethnic harmony, initially in Senegal, but later reaching throughout Africa and the Middle East.
Casamance is in a notoriously difficult situation with all parties demoralized by the ongoing conflict, yet still struggling to find peaceful solutions. The participatory processes leading to ecovillage design become a tool for peace-building and can contribute to building harmonious and happy communities with diverse populations rooted in local culture. The actual experience involves being in a diverse group striving together with a common vision for sustainable settlements. When community leaders from different areas of local society / religion / ethnicity join together in the courses run through GEN and Gaia Education, there is the strong potential to actively enhance peace-processes, while at the same time developing sustainable eco-settlements.
The concept of transitioning traditional villages to ecovillages, building on indigenous cultural traditions whilst opening a door for innovative and appropriate eco-technology, has been strongly developed within the GEN-networks in the past 5 years. It landed on fertile soils here, representing an empowering and participatory approach conducive to peaceful communities. The Casamance way of showing approval went beyond applause: there was dancing and drumming – very encouraging and invigorating for us as speakers!
The ecovillage concept and EDE curricula are always adaptable to local contexts and conditions as sustainable community design and ownership starts from local knowledge and participation. The Casamance are a marginalised people, who love their beautiful and fertile region, yet as in many areas of Senegal there are few opportunities for youth.
The notion of creating enterprise in alignment with social, cultural and ecological values is inspiring for the Casamance and other rural and urban populations that we spoke to.
In Dakar, we were well received by the Minister for Land Management and local government, the Ministry of Ecology and Protection of Nature (Local Authorities); the Ministry of Agriculture and the Ministry of Environment, who all support ecovillage for sustainable development. The Agriculture Ministry indicated that they would put our common request for a Global Ecovillage Summit in Senegal in 2014 on the Government-backed conference agenda. At the Ministry of Environment, we were honoured to each plant a Mango tree in their garden in the name of GEN and Gaia Education!
We also visited the launch of an eco-commune in Parcelles Assainies, an urban region of the city. This event was organized by " Geum sa Gokh" youth ("believe in your home land"). The Senior State Minister, Mbaye Ndiaye, and representatives of other local authorities also attended the ceremony.
The journey then took us to Dakar's oldest high school, Lycée Lamine Guèye, where students performed a inspiring ballet dedicated to the preservation of African cultures and environments. Among the persons present were General Mamadou Seck, former Chief of the Senegalese Army and Ambassador of Senegal, and Colonel Demba Ba, Director General of the National Ecovillage Agency.
Local TV, radio channels and newspapers echoed the inspiring events of the visit in French, Wolof and Pulaar, and the achievements of Senegalese ecovillages. As a result of the inspiring ground work and press coverage, the Senegalese diaspora, religious guides and many grassroots communities have expressed their willingness to join GENSEN, the Senegal Ecovillage Network.
There were several requests for EDE courses as a step in the process of designing healthy local eco-villages with real ownership from the local people. A need to educate government officials in eco-literacy has also been identified and this could be through a specially adapted EDE introductory course. There is a clear wish for the EDE curriculum to be adapted to the African context and the Foundation would like to work with GEN and Gaia Education towards this end.
As the Millennium Development Goals transition to Sustainable Development Goals, there is a real opportunity for the ecovillage approach to transition in Senegal to become an inspiration and example for other countries North and South to learn from.
As two women with a passion for bridging traditional villages and ecovillages, we were honoured to be invited and believe it is a wonderful opportunity for Gaia Education and GEN, with Senegalese partners, to support the fulfillment of a wonderful and just vision towards a more sustainable planet.
Ousmane Pame, President of GEN-Africa
Kosha Joubert, President of GEN-International and Advisory Board GEN-Africa
Jane Rasbash, Gaia Education Board