At La Cité Écologique, we believe it takes an ecovillage to raise eco-conscious children. For more than 34 years, we are consciously cultivating an environment where we can all explore our full potential, day by day. Here are some of our best practices among the 4 aspects of our community life: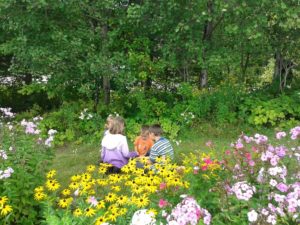 Social: To strengthen our social sustainability, the ecovillage is continually adapting its programme, services and projects according to the flow of life, the evolving needs of its members and new aspirations of the next generation. Our group is formed of 87 members from 6 months old to 85, so we are cultivating multi-generational relations in education, governance and in our day to day life. We share our time as volunteers on the farm as we take care of our 700 acres of land, help in the garden and make decisions together. We can proudly share that over 60% of the kids raised at the ecovillage are still living on site and that there are now three generations managing projects and business! Furthermore, we have a sister community set up in the United States which brings our full community to 120 members.
Here are some of our best practices to generate a sense of belonging, caring, sharing and responsibility:
Offering an on-site alternative education from kindergarten to the end of high-school and even more learning opportunities after
Sharing at least one meal a day
All community members participate in decision making processes
All community members have an active role in the day to day operations
Celebrating together with sports, working bees, arts, festivities, tournaments, parties and more
Ecological: La Cité's low-carbon lifestyle is supported by our design: all members live, work and go to school within one kilometer. We also share most of our spaces, equipment and tools. Our community supports organic local food production within our gardens, orchards and chicken coop. Last year we also researched and built a solar-passive green house, cultivated using an aquaponics system which provides lettuce and good fish all year long at no heating cost. We are continuously researching new climate-hardy produce. What cannot be produced on site is cooperatively bought in bulk mostly from local shops, organic farms or fair trade companies. Note: our sister community is 100% powered by solar energy!
Here are some other actions to lower our carbon foot print:
Sustainable land management and tree planting (22,000 trees including a large amount of nut trees.)
Using less transport : walking trails, car sharing system and community car pooling (including electric and hybrid  car and golf carts)
Sharing resources, spaces, building, tools
Smoke free environment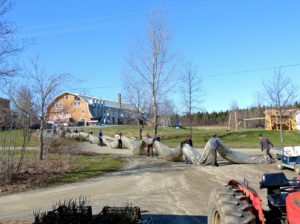 Economic: For us work must be socially profitable and financially viable. We are proud to say that all our members are able to work in one of our ecovillage's business or are self-employed! We also create job opportunities for the local communities. We want our business to reflect our high values with eco-responsible products, social benefits, learning opportunities and time sharing.
Here are some of our main economic activities: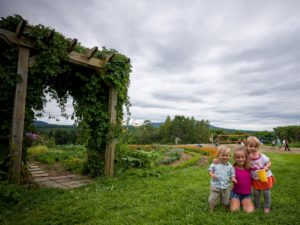 Cultural: Our community's main value is Respect; for the environment, for our differences, for our brothers and sisters and for oneself. Through the practice of that respect in our day to day life we create a rich culture of diversity and broaden our vision. We believe that the more you learn about the beauty of diversity, the less we are inclined to make an unfounded judgment. The ecovillage community is enriched by international volunteers and interns who add a unique cultural mix to the community.
Here are some of our practices that help us cultivate a new worldview:
Students exchanges, travels and classes to share different ways of life
Welcoming international interns and creating moment for us to explore with them their culture
Optional classes: Yoga, meditation, martial arts, music, dances…
Woman, man and mix choirs
Promoting wellness, interwork and mindfulness in community's interactions, actions and reflections
Sharing our live style with local communities through events, guided tours, workshops and education so people can discover it is possible to live a fulfilling high-quality life with a low ecological impact.
What's next?
Our school farm is still pretty new, so we what to expand our learning opportunities related to food production, environment restoration and ecovillage living. Our desire to support the growth of ecovillage movement in our region is bringing us to work more closely with universities, community groups and alternative business. On the ecological aspect we wish to improve our energy consumption and production by having solar panels for our community center and restoring some buildings. And soon, we will have the possibility to build new houses so we will be welcoming new members. As our main focus is always youth; let see what the next generations will bring to the table!