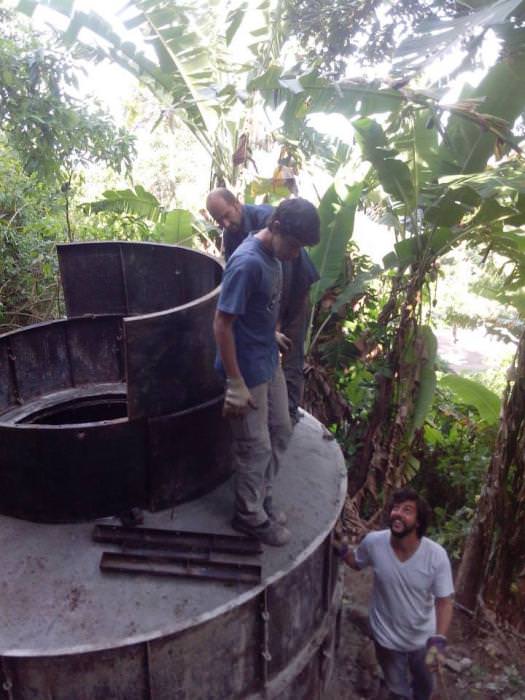 In 2012, Thomas Culhane – who prefers to be called TH – was invited to Tamera to teach the building of small scale biogas digesters to participants of the Global Campus. Since then, the digester in Tamera has been used throughout the years, to provide energy every day for cooking for a large part of the community. The enthusiasm for biogas has spread to other places such as: Favela da Paz (Sao Paulo), the Peace Community San José de Apartadó in Colombia, and OTEPIC (Kenya). During this year's GEN Europe conference, TH made an amazing offer: he will donate the Puxin biogas steel mold system to be used in all interested ecovillages – firstly within Europe. This amazingly generous offer will begin with a teaching session, possibly in the spring of 2015.
The journey started in Tamera a couple of years ago. In a practical seminar, TH taught people from ecovillages with the intention of bringing small scale biodigester solutions to the world. As in a cow's stomach, it is bacteria who do the work of transforming organic matter into methane gas.
In this case, it is food waste, manure, and greens from the gardens. In combination with the solar cookers and Scheffler Mirror – especially in times without sun – the biodigester provides cooking energy for Tamera's Solar Kitchen.
Martin Funk, technician and co-worker of Tamera: "Biogas is, for me, the easiest solar system. God created plants which can easily store solar energy and He created bacteria who can turn the plants into methane. We just have to add a digester."
It took the Tamera team some weeks to make friends with the bacteria. "We needed to find out which kind of organic waste our ´cow´ likes, and which not. Since then, it is a simple business everyday to feed her".
In addition to the cooking gas, the system generates valuable compost 'tea' to be used as fertilizer in the gardens. Martin Funk, and other co-workers of Tamera, exported the system to other communities in Brazil, Kenya and Palestine. Biogas digesters provide a vital alternative to the overuse of firewood, particularly in the Global South. In the comparatively sun-poor countries of the global North, it is an excellent alternative to cooking with gas or electricity – and part of a path towards decentralized energy autonomy.
TH found that European Ecovillages – bearing in mind that people are cooking and eating together and not in nuclear families; their readiness to experiment; and their skills and the small cycles they have – are the best place to start with the slow scale biogas-wave.
The Plan: Moulds go 'Round Robin'
To kickstart this process, TH announced, at the GEN conference at ZEGG, that he would be personally donating the Puxin biogas steel mould system to the Global Ecovillage Network. It is a variant that allows the same moulds to be used for 4, 6 or 10 cubic meter digesters; developed by his research initiative 'Solar Cities'.
TH: "I suggest that we work out a mechanism which allows GEN members to use the moulds free of charge, providing their own transportation to get the moulds to their site, caring for the moulds properly, as in oiling them, using them, washing them clean after removal from the concrete pour, drying and stacking them, and then safely storing them until the next Ecovillage takes them to use. The moulds would go 'round robin', first through the network in Europe – building capacity as well as digesters over the years – while simultaneously training more people to go out into the world and replicate the work."
Obviously, each ecovillage that wants to use them has to still provide their own concrete, pipes and fiberglass gas holder. TH will initially purchase 10 that will be gifted to the network. After this, the network would have to find ways to import more for projects beyond the first ten. However, having the moulds available for free would remove a huge barrier that stands in the way of cost effective, community size biodigesters.
The moulds, if well cared for, can last for several hundred builds and at a rate of one new digester every two weeks, enables a very realistic cost if the whole network is really engaged and could work out the transport logistics – about (roughly) 25 eco-villages getting a digester built every year.
The moulds should be able to be used for at least 5 years (and more likely 10), being used for 125 and 250 digesters – in as many ecovillages – before needing to be replaced.
TH: "Given that there are 440 villages listed in the Eurotopia book, we could imagine that, just by working within that network, we could do a lot to spread the biogas expertise: holding trainings each time a build was done; bringing the network together; and using the experience to build a coterie of trainees who could be trainers of trainers and take the acquired expertise (as Martin Funk of Tamera has), into the field outside Europe, and into developing areas."
It will not be necessary to use the Puxin concrete systems everywhere. TH is also using other systems such as Flexi-biogas, with Dominic Wanjahia, in Swaziland; Hestia rotomoulded systems in the Dominican Republic, and Haiti; and Solar CITIES IBC systems in other countries alone this year. However, the Puxin system gives perfect training for all the other smaller local systems, while providing real capacity for ecovillages – one advantage being that it only takes five days to construct a Puxin digester.
An Alternative Business Plan
The idea to start the process is to build the first one in one ecovillage, embedded within a seminar. Then the moulds would be transported to the next ecovillage, keeping them in circulation for their useful life while they are making their way through the GEN network to the ecovillages and their regions.
This way, TH would not make profit. So, why is he interested in such an idealistic approach?
"Our attempts to develop a business model with contracts and fees, as we did in the Philippines, Brazil, Iraq and New York, were actually slowing things down. Because of this we were only having a handful of builds around the planet, when we should actually have been doing training and building every week or two."
The existing strength of the relationships that have been worked out, and the trust that has been built over years within the GEN network, will hopefully accelerate the adoption and experimentation with community biogas solutions, while removing as many barriers as possible.
TH suggests starting with Tamera, because that is where people have already experience and expertise. The Puxin digester would stand at the Children´s Place as a project of the new School of Hope, and be filled with the children's meal waste.
This would provide the opportunity to run a workshop, inviting neighboring projects from Portugal as well as representatives of European ecovillages, to learn hands-on about the technique and provide labor. In this way, the knowledge and experience would spread rapidly, and the workshop could even help raise funds to offset the costs of materials.
Experience shows that the costs are roughly $1500 per built digester. After this, the mould would be transported to the next village. Workshops and trainings could also bring in funds to bring guests and innovators in.
TH: "One of the things we are doing with Andrew Faust, from the Permaculture Design Institute in New York, is holding a biogas training workshop to cover costs and bring some expert builders and speakers in. It works great."
All network members who want to build one and have gathered experience building a Puxin system can just go for it!
Along with the first workshop an easy video or manual shall also be produced.
TH: "I see the moulds traveling like birds, migrating with the weather, hopping from watering hole to watering hole each season, until Europe is filled with community food waste powered biodigesters."
The first task – before ordering the moulds from China and shipping them into the first European country – is to find out how many ecovillages in Europe would embrace a Puxin concrete system of this size and kind, and how many ecovillages would be able to organise and pay for the transport of the system. It is also a question if Portugal would really be the perfect starting point, taking into account the long transportation routes to other ecovillages. Maybe an ecovillage that is more central in Europe would be better.
Kosha Joubert, President of GEN International: "Biogas is an important ingredient for the future. I deeply appreciate TH´s generosity, creativity and aliveness with this. I suggest to open this opportunity also to traditional villages and urban neighbourhoods in transition. We need a person or an ecovillage to fully take on the organisation of this adventure."
Please give us your responses and reactions: Which of the ecovillages are ready to start, to come to the first workshop and become builders and in future trainers of the trainers? Which ecovillage would like to be the hosts for the first workshop? Who of you would like to be the central person to organise the biogas wave?
Photos: The Puxin system TH just finished in Rio at the Favela "Vale Encantado" after completing three systems at a Habitat for Humanity School in Niteroi.
More about TH Culhane: http://www.solarcities.eu
Manual to build a Biogas Digester: http://gen.ecovillage.org/images/stories/pdf/2012_biogas_digester_en.pdf