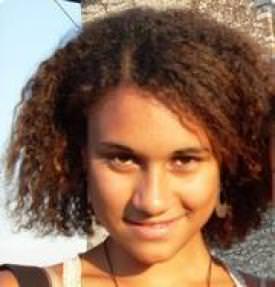 Words and actions between people of different colour, gender, or religion are often charged with unconscious racism or sexism. GEN is creating communication tools to become aware of old patterns to be able to change them. Some people are our helpers by making us aware of our automatic prejudices. One of them is Elena Ball from Next GEN.
The first time I learned about GEN I spent some months in Senegal moved by questions such as "Who am I?", "Where do I belong?", "What do I want to do in my life and in this world?"
Having been born to a German mother and a Senegalese father, I grew up in Germany often feeling out of place because of the colour of my skin. Only after finishing school did I begin to look deeper into this subject, finding words to think and speak about it and meeting people to exchange ideas and thoughts with. Themes like "empowerment and powersharing", "criticism of racism", and "criticism of development cooperation", caught my interest.
On the one hand, it was pleasant to notice the work of an organisation such as GEN, because I had most often encountered paralyzing wordlessness in educational institutions and within societal discourse. On the other hand, there is still much to do in order to change internalized and structural racism, and/or postcolonial economic structures.
The attitudes with which the people forming GEN are working towards this goal of a good life for all of us human beings are quite appealing to me.
From a theoretical aspect, I would locate GEN in the field of post-development-thinkers and practitioners (e.g. Gustavo Esteva), who question the concept of development in itself, because " the ideology of development politics pursues the colonial claim of power. It is based on the conviction that the world cannot be formed other than as its counterpart and that it has got the only adequate subsistence strategy, which is imposed on others. Thereby colonial exploitation is continued" (cf. Friederike Habermann, Der unsichtbare Tropenhelm, S.50).
To me it seems as if GEN aspires to reach real cooperation on eye-level between people from the global North and from the global South when using the word 'reconciliation' instead of 'development cooperation'. The latter conveys another image and can be seen in the tradition of colonialism.
I want to share some experiences and thoughts about how the people within GEN and NextGEN are reflecting on their own position within global power asymmetry:
During the GEN conference 2013, a member of the GEN-Europe council communicated openly how she became aware of some prejudices against Africa and its people while hearing some reports from GEN-Africa. Notwithstanding the cooperation, it had happened unconsciously that people had been sorted into drawers that turned out to be too small for them.
One time, whilst at this conference, I was asked if I were fluent in any "Senegalese dialect". This little occurrence shows clearly that words are creating consciousness. The questioner showed her opinion that the languages spoken in Senegal are only dialects, that is to say, variations of another fully-fledged language. Behind those words there might be the concept that a language only reaches full status as such when it is the mother tongue of white people.
It´s similar regarding the notions of people and tribe or ethos. In paying attention to how they are used, one can notice that the former one is used connected to people in the Western world, and the latter one connected to people in the South. At the same time, the horizon of the meaning of 'people' is different to that of 'tribe'.
In contrast to other organizations, that often promote a one sided learning exchange, GEN puts emphasis on reciprocal learning. An interesting question might be whether the same value is attached to the "soft knowledge" from the South as to the "hard knowledge" which the North contributes to the global learning within GEN.
Of course, I can also see internalized values, images and ideas that are getting in the way of a true encounter and contact between people from the countries of the South and those from the Western industrialized nations. For example, there was a situation during a working meeting of NextGEN at ZEGG two years ago, when we dealt with the important question and decision of how, and on what, we wanted to work for the time left. At the summit of the fervid discussion, it was remarkable that only men were speaking, and only those from Northern countries being fluent in English. Here we also touched on another issue: in mixed groups men, tend to speak significantly more words, and take up more time, than women. To me, it seems important to develop an awareness for the fact that, in our culture of discourse, audibility is often seen as a criterion for truth.
At the same time, I notice the efforts within the GEN network to apply methods like 'worldwork' and 'processwork' in order to broach often unspoken issues such as might, gender and status, as influencing factors within group meetings.
I still have more questions than answers. I am still looking for a place where I am not being "inbetween", and I am also glad to be part of the growing NextGEN network, while being on this search.
And, of course, I am curiously looking forward to the GEN conference in Senegal in winter 2014!