Ecovillage Design Cards 
The New Edition in 10 different languages and available for a reduced price due to office clearance
The Ecovillage Design Cards are currently only available for digital download, but we are working on making them again available in print and in the meanwhile please feel encourages to purchase the digital version and print them at home.
Thank you very much for your understanding!

For any other questions in regard to the cards, please get in touch with us at [email protected]
These beautiful cards are a flexible and creative way to explore whole systems regeneration.
After gaining experience from working with the cards in communities and organisations in 35 countries on all continents, GEN has gathered abundant feedback to upgrade and finetune GEN's 32 Ecovillage Principles which translate into our 32 Ecovillage Design Cards.  
The cards are divided into five groups – four Areas of Regeneration (culture, economy,  ecology and social) arranged around one central path of transformation: integral design.
Here you can discover all 32 Ecovillage Design Cards in a virtual presentation on the Map of Regeneration, where you can zoom into each of the five groups.
Additionally are GEN's Ecovillage Design Cards now available for digital download in ten different languages and the  cards are optionally available with corresponding SDGs for each Ecovillage Principle as a practical guide to achieving the United Nations Sustainable Development Goals (SDGs) . 
So each Ecovillage Design Card is composed of the Ecovillage Principle, the corresponding Sustainable Development Goals (SDGs), and questions of the Ecovillage Impact Assessment (Level 1). Below you can find a video that introduces and presents the SDG Edition of the Ecovillage Design Cards on the Map of Regeneration.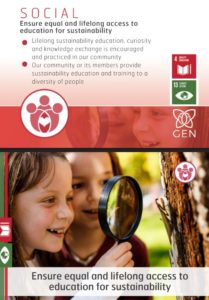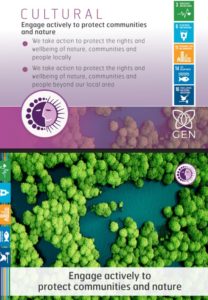 Together, they make up a tool for play, reflection, dialogue, learning, research and design – for individuals, groups, projects, organisations and communities. 
Use them to 
Explore the more beautiful world we know in our hearts is possible

See the interconnectedness between all areas of regeneration

Identify your unique contribution to a regenerative way of living

Design pathways into a regenerative future with your community or team 

Experience fields of collective wisdom

And much more…
The cards come with a booklet bursting with inspiration and instructions for a multitude of ways to start playing and designing today. Let's transform our presence on this planet together – one heart, one community, one team and one organisation at a time. If you want to inspire others, this is the way to go!
English
French
German
Italian
Greek
Japanese
Arabic
Chinese (Mandarin)
Portuguese
Spanish
Sizes Available: 
Classic – A5:

148 x 210 mm or 5.8 x 8.3 in (for groups up to 15)

Large – A4:

210 x 297 mm or 8.3 x 11.7 in (for groups up to 30)

Jumbo – A3:

297 x 420 mm or 11.7 x 16.5 in (for groups up to 100)
If you don't see the Size or Language you'd like in stock, please contact GEN.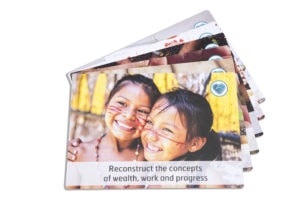 Printed Consciously!
GEN goes the extra mile in research and relationship-making in order to make sure that our printers are ecologically and socially conscious. For these cards this includes:
Vegetable Oil based inks                                                           

 

100% Recycled paper
100% Wind Power printed   

                                     

High Efficiency equipment and processes                                                     

Waste reduced, with 95% of all waste Recycled                                                   

Supports Reforestation (as well as other social programs)