SIRCle is a strategic partnership project sponsored by the ERASMUS+ Programme. Its partners include a university, two social enterprises, a cooperative and several NGOs with consultative status to the UN and
EU. The partners share an interest in community-led approaches to sustainable development. This diversity offers a good base for an exciting journey to co-create the "Evoneers' Journey".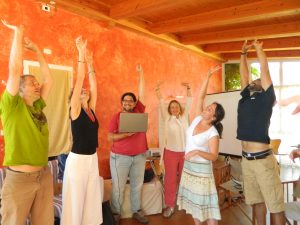 SIRCle supports the development of life sustaining cultures.The flexible and collaborative curriculum offers a compass and a living map for a journey of individual and collective fulfillment, integrity and contribution.It is offered to individuals and groups, from a rich diversity of backgrounds, who are called to marry their love for the planet with the capacity to thrive financially.SIRCle envisions the empowerment of individuals; the establishment of supportive networks; the transformation of existing organisations; and the birthing of new social enterprises ­ all embedded in a field of resilience and economic prosperity.