Hosted by the House of I, China
October 13 – 16, 2019
I was invited to attend the Global Ecovillage Network (GEN) Ambassador Training Conference by my friend and colleague Dan Hines, a trainer extraordinaire who teaches internationally at many holistic centers. For the better part of this year he has been based at House of I, a center in China that offers programs and services as part of a development north of Beijing improbably named "Jackson Hole". HOI does its work in a beautiful set of buildings and park-like grounds at the base of the Yanqing Mountains, and is managed by a wonderful staff of people headed by Annie Liu. My friend Dan humorously terms HOI "the Imaginarium" and, as I spent a few days and became more familiar with the emerging social reality there, I began to understand the deeper symbolic truth embedded in this name. Truly, the House of I is a place where improbable dreams can (and do) become everyday reality. It is a wonderful setting.
My connection with the HOI began four years ago when our dear friend Sean Feng invited HCN to host our first gathering in Asia with HOI as the host. Many of us have returned to China in subsequent years and co-hosted various events. During my recent week there I attended the GEN conference led by Kosha Joubert, the Executive Director of GEN. She was accompanied in facilitating this conference by Trudy who is based in an ecovillage in Sri Lanka and heads up GENOA (Global Ecovillage Network Oceana Asia). These two women offered daily sessions explaining the GEN mission and vision, and offering practical tools and processes developed by GEN. Approximately 30 people from around China attended the conference in addition to members of House of I staff and me.
The most engaging activity we did involved a deck of cards developed by GEN. These cards reminded me of a Tarot deck, in that they are both representational and predictive. By this I mean that each card represents an essential principle pertaining to ecovillages, with a phrase that describes that principle and an image that symbolizes that phrase. The cards are big, perhaps 8" by 10". Kosha laid the cards on the floor in an arrangement of five groupings. Each grouping of cards represented a particular theme such as economy, culture, equity, environmental sustainability, and so on. Kosha began our exercise by having each participant choose a card. I chose the one about creating and improving on successful networks. We then replaced the cards in their original positions, after which Kosha deftly led the group in an iterative process where each person was given 10 tokens taken from the local natural world.
Being October, Kosha had gathered numerous little apples that had fallen from a nearby fruit tree, and also gathered numerous red colored leaves from the autumn foliage. Each participant was given 5 apples and 5 red leaves. The apples represented excellent achievement and the leaves represented development opportunities. We were instructed to consider all of the aspects of our host center as represented by the many cards. We were then instructed to place each of our apples on a card representing a principle that, in our opinion, was well achieved by House of I, and to place each of our leaves on a card that represented a value that needed more development to be achieved. As you can imagine, apples and leaves soon adorned many of the cards in the array on the floor and, as if by magic of group intelligence, patterns emerged.
This exercise had become a kind of divination process, with certain cards covered by quite a lot of apples on them, and certain other cards festooned with many leaves. Kosha then interpreted the meaning of the patterns of apples and leaves. What it showed was that, in the opinion represented by this group of participants, the House of I was very strong in certain key elements of its operations, and conversely could use some focused attention to address under-developed areas. In addition to the conference participants involved in the exercise, there were many staff members of HOI also present who contributed to this process. The conversation that followed was quite deep as we all considered the relative strengths and weaknesses of our host center with both honesty and positive regard. The takeaway for everyone in the room was a deeper knowledge about the relative strengths and weaknesses of House of I, but more importantly, the use of the cards was shown to be a relevant tool for group assessment of a holistic center or ecovillage.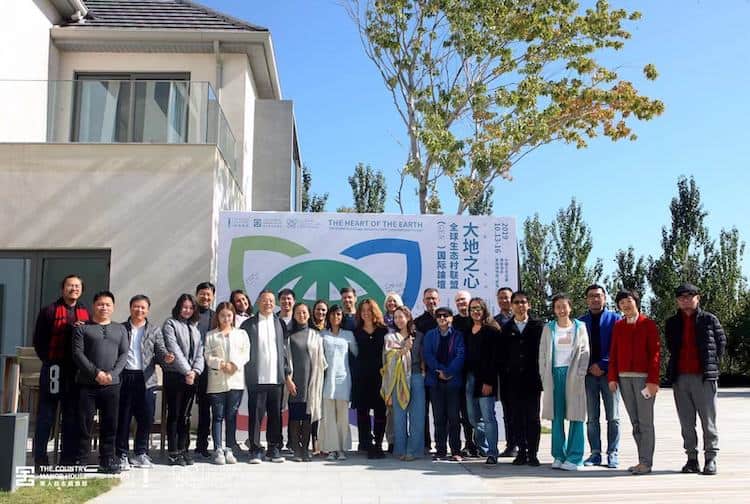 Our GEN conference included quite a number of other experiences as well, many of them quite fun. On Tuesday evening, we all made our way to the Red House, an extraordinarily beautiful building, quite spacious, set in an exquisite garden. Dorota, an expat Findhorn community member, and currently a GEN Ambassador on staff at House of I, had invited an American fellow, John, to conduct a group sound healing. John is a gifted musician with a varied assortment of flutes and other instruments, including a didgeridoo (a 6' long circular-sound flute instrument developed by the indigenous people of Australia).
Everybody lay down on mats and pillows and for the next 45 or so minutes (time as we conventionally perceive it was extinguished so it may have been 15 minutes or an hour and a half, who knows?) John played his instruments and we all disappeared into a lush auditory world of tonality and vibration. Most of the people in the room had never participated in anything like this before and the comments from the group when we all came back to conventional reality were quite wonderful. (Of course, I was receiving translation from Mandarin to English.) One woman described her experience of the sound healing session by saying that previously, she had always considered healing to be a linear process leading from bad to good, from broken to fixed, but now she understood it in a profoundly different way. Healing was actually about knowing life more fully, being more whole.
On the final night of the conference the staff of HOI put on a gala celebratory dinner. The foods were wonderful and the desserts to live for, but it was the people and conversation that brought it over the top. Dan and Ezra, both Canadian members of the HOI staff, played a music set of songs composed at HOI with John joining in with wind instruments. Someone knew that I had once-upon-a-time made my way through the world as a minstrel, and started up a chant of my name, to which all the Chinese participants at the festivities joined in.
Eventually I was dragged to the stage and found myself with a guitar in hand and a mic in front of my face. Amazed (I haven't played in front of an audience for years), I played a couple of songs including an old favorite, a beautiful Scottish ballad, 'Come By The Hills'. The lights were out and my audience waved candles in slow arcs over their heads as I sang out the melody with John accompanying hypnotically on flute. Each verse concludes with the words "Ah but cares of tomorrow must wait till this day is done," and that poetic sentiment felt quite true to the experience we were all in. It was a beautiful moment of shared joy held between people from China, North America, Russia, Mexico, Sri Lanka, United Kingdom, and who knows how many other places on Earth, all met at this one place called House of I in China. Really a great scene.
The Global Ecovillage Network has been spreading its wings across our world for years and now its Global Ambassador program has reached China. GEN has signed a Memorandum of Understanding with House of I and the two organizations will be collaborating a great deal more in the near future. Kosha and I also had our own moments to touch in about the work that Holistic Centers Network (HCN) is doing and discussed potential future collaborative projects between GEN and HCN. A partnership has existed between the two networks since the GEN+20 conference hosted by the Findhorn Foundation in Scotland in 2015, twenty years after GEN was founded.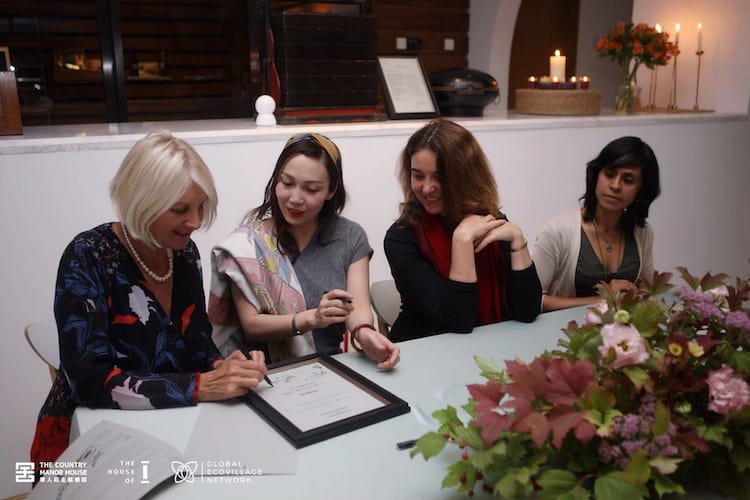 The fact is that there is a lot of work to be done to heal relationships between all peoples everywhere, as well as the planetary life-support systems on which we all depend. Although underreported by corporate and government media, people all across our world are catching on to that fact and working together in myriad ways to make it happen. The networks of GEN and HCN are helping by creating communication links, developing essential tools for engagement and establishing collaborative relationships to move this movement forward.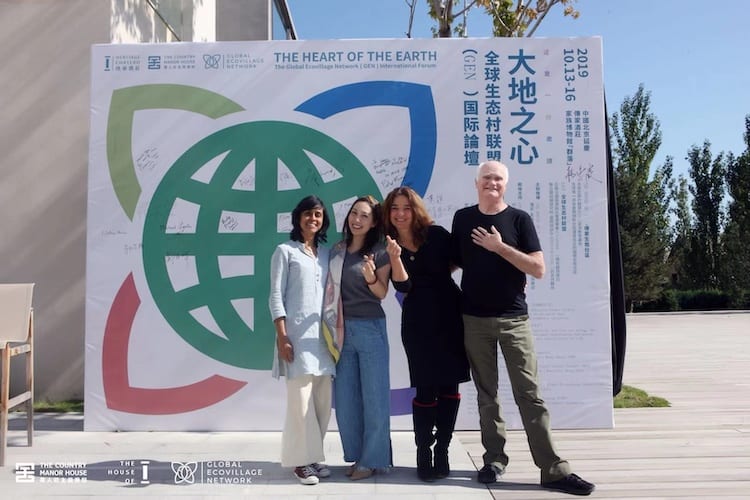 Peter Moore serves on the board of directors of Holistic Centers Network and is based in Breitenbush Hot Springs, Oregon, USA. He can be reached at [email protected]. This article appeared first on Holistic Centers Network. Published with permission from the author.