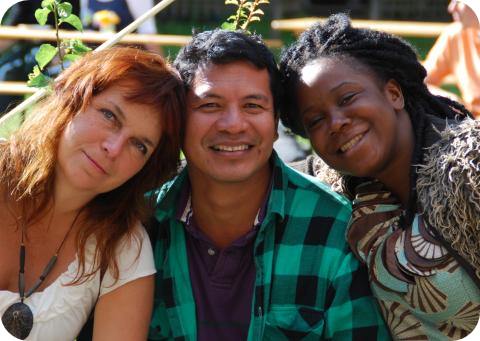 Some of the many meeting points of the movement:
River of Life – Back to the Source. By Women for Women. Retreat for Community Leaders.
March 27 – April 6, Umphakatsi Ecovillage, South Africa
The River of Life Project was born within GEN to weave webs of kindness and trust for women's empowerment, bringing sweet hope to places of harshness.
More: https://ecovillage.org/de/node/5217
National Ecovillage Gathering in Chile
April 2-5, Tierra de Domos (Land of Domes), Cajón del Maipo, RM, Chile
This second Chilean Ecovillage Network (EcoChile) gathering called "El Llamado del Canelo" is going to be focused on the social structure, decision making and legal advising. Also we will invite more sustainable projects so we can grow a little bit more. This is the gathering of the year, when most of the network can share in person.
More: http://www.permacultura.cl/el-llamado-del-canelo/
First big network meeting of the German communities and ecovillages
13. – 17. Mai 2015, Lebensgarten Steyerberg
Creating structures for a powerful impact, celebrating the foundation of GEN Germany and welcoming new members.
More Information: www.gelebte-nachhaltigkeit.de
CLAP: Latin American Permaculture Convergence
June 15 – 20, Ecoaldea Feliz, Colombia
The Latin American Permaculture Convergence is a space for permaculture people, projects and organizations of Latin America to meet, learn, teach, integrate and have fun while doing it. It is a platform for synergies that strengthen private, community, local, national and continental permaculture initiatives. CLAP is organizing to create a synergy with ECCO, the second official gathering of CASA, and the Council of Sustainable Settlements of Latin America (member of GEN).
http://convergencialatinapermacultura.org/
https://www.permaculture.org.uk / IPCUK.
ECCO (Encuentro CASA Continental) – CASA Continental Gathering
June 23-26, Ecoaldea Feliz, Colombia
CASA´s (GEN Latin America), second official gathering will bring together many activists and leaders from the ecovillage movement in Latin America, focusing on "strengthening internal structures and relationships to build a resilient Network". CASA Network is organizing the event in collaboration with The Permaculture Network of Latin America, bringing more union and amplifying the voices of these movements in the continent.
More: www.casacontinental.org
The First Sustainable Valley Festival
June 24-25, Hurdal Ecovillage, Norway.
The Sustainable Valley Festival is meant to inspire from words and vision to concrete action. One of the key target participants are Norwegian municipalities, along with researchers, business leaders, and civil society. The festival will offer SVIFT – Sustainable Valley Inspirational Festival Talks, showcasing best practice. A keynote speech from Angela Merkel is planned to come after the opening with Prime Minister Erna Solberg. Other international speakers expected to take part are Thomas Piketty and Gro Harlem Brundtland.
More: http://gen-europe.org/activities/news/news-detail/artikel/hurdal-ecovill…
Celebrating 20 Years of the Global Ecovillage Network and 10 Years of Gaia Education
July 5-10, Findhorn, Scotland
Make a booking for the GEN+20 Summit today on the Findhorn Foundation website: http://www.findhorn.org/programmes/559/
https://ecovillage.org/de/event/gen20-summit-living-new-story
Pre-Summit Workshops

There are six pre-summit workshops happening in Findhorn in the days leading up to the summit. Here is a list of the workshop dates and titles. Read more about each workshop and sign up on the Findhorn Foundations website: http://www.findhorn.org/programmes/575
June 

27 – 30:

Expand The Box – Sustainable Culture Thoughtware
 with Clinton Callahan and Marion Callahan

Sociocracy – Empowering Transformational Collaboration 
with James Priest and Diana Leafe Christian


June 30 – July 3:

Constructive Journalism – Especially for ecovillages and transition projects
 with Leila Dregger
Transformative Innovation for a Regenerative Culture
 with Daniel Christian Wahl

Transition Initiatives
 with May East

UBUNTU: The sacred path to finding self in community
 with Karambu Ringera

California: Celebrating and Honouring Water
From September 1st, continuing in September 2016 and 2017, a pilgrimage in California called Walking Water will spotlight humanity's relationship to water and invite people to co-create solutions that are pivotal to the wellbeing of all life on Earth. GEN is an official cooperation partner of the pilgrimage, as is Findhorn. More: http://www.walking-water.org