GEN Ambassador, GEN Regional Representative, CASA Council member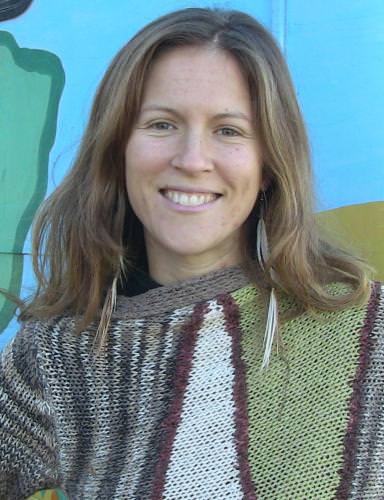 Letícia Rigatti, brasileira de Porto Alegre, Bacharel pela UFRGS, Máster pela Universidade de Barcelona, praticante de artes visuais. Depois de trabalhar por 5 anos na área de comunicação como Gerente de Planejamento Estratégico, Letícia decidiu mudar sua vida, viver seus sonhos e trabalhar com a sustentabilidade.
Como viajante, desde 2006 esteve em diversos países da Europa e Américas estudando comunicação, saúde, artes, sustentabilidade e gestão comunitária. Durante 2008-2009 realizou um Intercâmbio no Esalen Institute da Califórnia, abrindo seu caminho para o universo da vida em comunidade. Desde então Letícia trabalha criando projetos para a emergência de um novo paradigma regenerativo e sustentável no mundo.
Co-fundadora do Projeto Común Tierra, desde 2010 ela trabalha criando educação sustentável e criativa através de comunicação multimídia, artes e experiências vivenciais. Além disso é articuladora de redes sustentáveis internacionais: serve como membro do Conselho Internacional de CASA (Conselho de Assentamentos Sustentáveis das Américas) e como representante da América Latina no Conselho Internacional do GEN (Global Ecovillage Network). (Enlgish translation follows) --
Leticia Rigatti is a professional in the fields of communication and sustainability, social activist project designer, networker, educator, visual and musical artist. M.Sc. in Marketing and Research from the University of Barcelona, B.A. in Social Communication from the Federal University of Rio Grande do Sur, Brazil. Leticia has 14 years designing experience in strategic planning, communication projects, branding and marketing, as well as formation in diverse visual and musical arts. In the last 7 years Leticia has worked in the South, North America and Europe what brought her deep and learning experiences about the challenges humanity faces. After living as a community member at the Esalen Institute in California, Leticia has connected her creative work with communication skills and a deep seeking for a global regenerative paradigm, designing grassroots sustainable projects. Co-Founder of the nomadic educational project Común Tierra, since 2010 she has worked with education for sustainability in 12 countries of Latin America (and some in Europe). The project travels full time, and has worked with and documented over 120 sustainable grassroots projects, sharing information through multimedia materials, and training local communities and institutions with hands-on workshops, events, solar-powered cinema and seed exchanges. Común Tierra (www.comuntierra.org) has created a communication channel for ecological projects with over 1,000,000 views, which resonates and amplifies the voice of the sustainable communities movement in Latin America for the world. Leticia is Co-Founder and Board Member of CASA (The Council of Sustainable Settlements of the Americas) in addition to representing CASA on the Board of GEN, the Global EcoVillage Network.
Site content by Letícia Rigatti Ramires Barcellos
Blog posts
Video presentando el Común Tierra y la Minhoca filmado en Chile, por el Proyecto Ecos de Origen que también viaja documentando proyectos ecologicos y personas que están haciendo el cambio de paradigma en el mundo! (www.ecosdeorigen.com) https://youtu.be/m5V0k7o6lIc … Read more