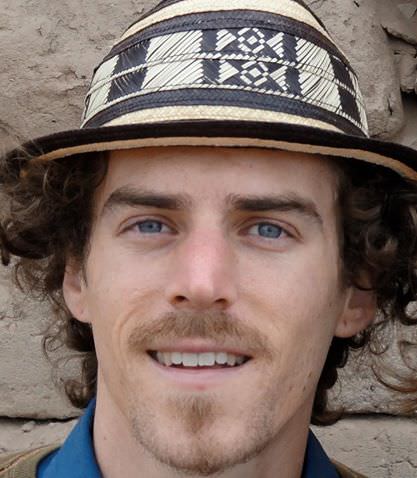 Ryan Luckey conecta su trabajo creativo como músico, videografo y escritor, con su pasión para la permacultura, diseño regenerativo y comunidad.
Nativo de Oakland, California, sus viajes alrededor del mundo por diferentes culturas y ambientes le trajeron experiencias transformativas y aprendizajes profundos. Las increíbles contradicciones de la era moderna le han impulsado convertirse en un 'Ciudadano del Mundo,' construyendo una perspectiva global y acercándose al pensamiento sistémico.
Como co-fundador del Proyecto Común Tierra, Ryan está inmergido en los movimientos de Permacultura y EcoAldeas, trabajando con herramientas regenerativas que enseñan que vivir en harmonía con el mundo natural es, no solamente posible, pero un feliz, enriquecedor y necesario camino para la vida.
Ryan Luckey bridges his creative work as a musician, videographer, and writer, with his passion for permaculture, regenerative design and community.
Originally from Oakland, California, his travels around the world brought many deep, challenging and insightful experiences, immersed in different cultures and environments. Grappling with the incredible contradictions of the modern era has pushed him to become a 'Global Citizen', building a global perspective and moving towards systems thinking.
As co-founder of the Común Tierra Project, Ryan has immersed himself in the Permaculture and EcoVillage movements, finding the inspiration that living in harmony with the natural world is not only possible, it's enjoyable, deeply fulfilling, and necessary.
Primary interests: Social (Trust & Communication); Culture (Nature Connection, Art & Celebration); Integral Design (Contextualised Design); Ecology (Seeds, Food & Soil)
Site content by Ryan Luckey
Blog posts
http://comuntierra.org - Ulises Escorihuela explica sobre la importáncia de la facilitación en el desarollo de procesos grupales mirándolos desde una perspectiva holistica, Temas como liderzago, "elderazgo", rango, trabajo de procesos y técnicas de facilitación son comentados. Más informaciones: www.caminodelelder.org https://youtu.be/YFNbw3TVHM4 … Read more
Events