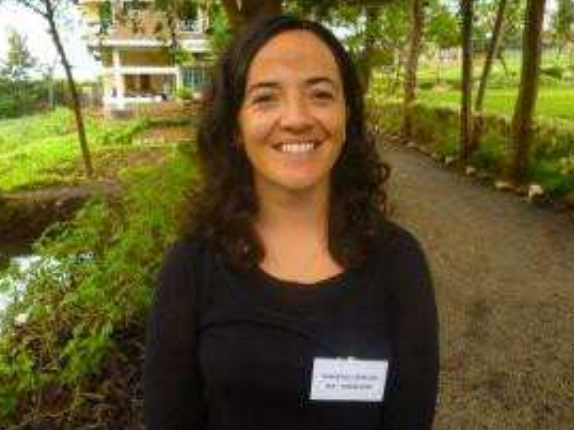 In 2013, Margarita O. Zethelius was elected in Colombia to be one the representatives of CASA on the the Global Ecovillage Network board. Michael Buick contributed her profile, edited by Ryan Luckey.
Optimism is clearly one of Margarita´s strengths and you can feel her positivity energize the room when she enters. She explains how her work in conservation and sustainability got started. During research trips, immersed in Colombia's amazing natural riches, she and some biologist friends began to wonder how they could have more social impact in helping with wildlife conservation.
They started to put on plays and produce educational material for both rural communities and city schools. After the strong experience of the kidnap and release of several of their biologist friends, they started to look more deeply into the social aspects of Colombia's crisis.
The group's projects were strengthened by the ecovillage approach to sustainability, including tools such as Permaculture design, agroecology, and appropriate technologies. Margarita and her friends then established 'Colombia En Hechos' which translates roughly as 'Colombia In The Making'.
Since 2001, Margarita has connected with the Colombian ecovillage network and expanded her toolbox to include integral design, teaching, and consultancy with other organizations. Contact with traditional communities, their approaches to wellbeing and their connection with the land, have had significant impacts on her work.
While much of her work in communities has been initiated on the premise of a specific situation such as an endangered species, or protecting a fragment of Andean forest or Climate change, Margarita brings a holistic approach.
She has facilitated several co-creative processes with communities to design and implement responses to these environmental situations. These actions have included Community Life Plans, conservation agreements, ecotourism projects, environmental education strategies, permaculture food production, clean water planning, revitalization of traditional wisdom, conflict resolution strategies, among others.
Margarita was first exposed to the Environmental Sciences by her grandfather, Sven Zethelius, who was a pioneer in the field, in Colombia. Amidst a busy career, Sven was called to contribute to the project "Gaviotas", an important experiment in sustainability and consider a great example ecovillage design worldwide. Later Sven created the Faun Natural Reserve in the Colombian Andean Region where Margarita currently lives part-time.
Margarita grew up in this environment, and won a scholarship to study Biology at the National University of Colombia between 1999 and 2005. Then with scholarships from the University of California, Berkeley and the World Wildlife Foundation (in 2008 and 2011), she participated in the Environmental Leadership Program (ELP) of the University of California at Berkeley, and attended the MSc in Conservation and Rural Development from DICE, part of the University of Kent in England.