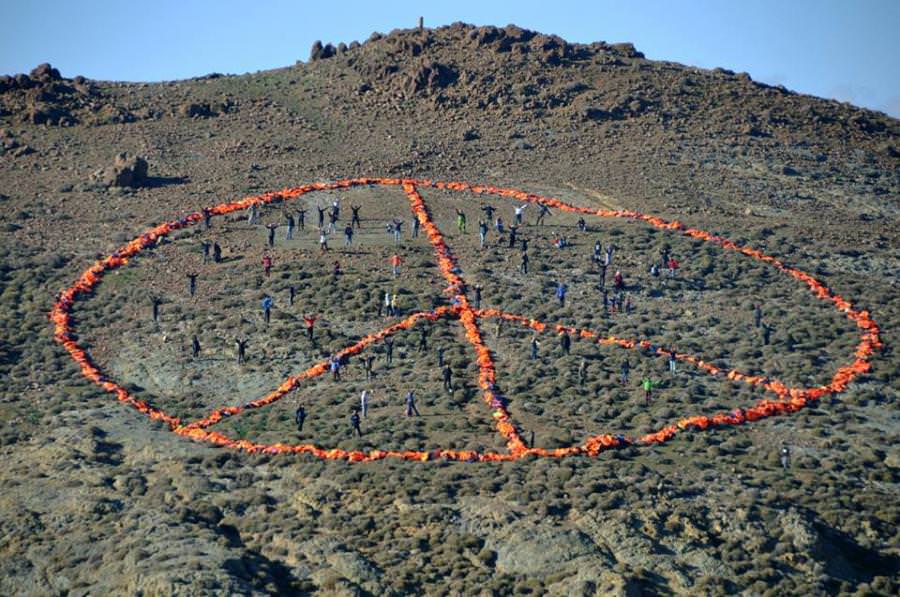 RefuGEN is a GEN (Global Ecovillage Network) initiative bringing a minimum of 5 volunteers at any time from end of December to end of June to Lesvos. If you want to join it, register here. Leila Dregger shares her experiences from the first week of RefuGEN.
The idea of RefuGEN started during the Green Phoenix conference at Schweibenalp, Switzerland. We spent a whole day thinking about what GEN can do to support the millions of people who are migrating at this time. Although many ecovillages are already hosting refugees, supporting them to integrate into the local community, teaching them languages and sustainability skills, GEN also wants to do more. Eventually, the idea of RefuGEN was born, and from December to June, 2016, the initiative is sending 5 volunteers at a time to the Greek Island of Lesvos, to provide first-aid and other support for arriving refugees. Aida Shibli and myself were part of the first team arriving at Christmastime. Although temperatures have dropped, the sea is rougher, and the Turkish border police now controls the shores, there are still around 3000 daily arrivals. Much immediate help is needed. RefuGEN has started a closer cooperation with the Village of All-Together, whose members are building sustainable structures and taking a community approach to improving the situation of refugees.
(Photo credit of the first photo:Greenpeace International and Medecins Sans Frontieres/ Doctors Without Borders. Other photos: Leila Dregger)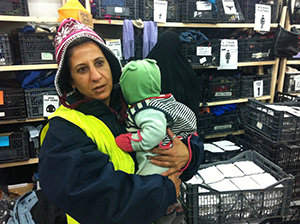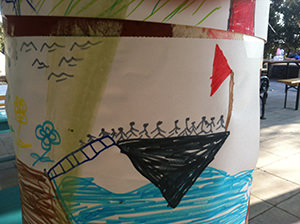 We arrive in Lesvos, after a long and complicated trip, on Christmas morning. Robert Hall, President of GEN Europe, Anna Fillipou from Greece, and Munir from Canada have arrived some days earlier, and we drive straightaway with the whole team to the north of the island. It is a beautiful warm day, everything looks so peaceful, the coast of Turkey is just in front of us.
In Molyvow, we have a meeting with Elena from the Starfish NGO who coordinates the locating of refugee boats. We want to figure out how to support them and arrange that they can call us whenever they lack volunteers. We see friends from the Seawatch boat and the Greenpeace boat arriving from patrolling the sea. It is amazing how well all the different volunteer groups are organized: how well they work together – anarchists, official NGOs, even a person from Frontex was seen helping pulling people out of the water. There is a new collaboration developing here, born of necessity, compassion and the wish to be of use. People seem really happy to meet each other, proud of themselves, ready and willing to cooperate; at least this is my first impression.
As we travel further to the beach, a boat arrives. 20-30 people, many of them children, came out unharmed, happy, moved, laughing, celebrating. They are received by helping hands, provided with dry clothes and warm drinks, transported in buses to the arrival camps – all by cheerful young people from many places around the world. Another group clears the beach after them right away, removing garbage and boat wrecks; locals come and take what is useful to them. Fifteen minutes later it looks as if nothing had happened there.
There are many clever initiatives and teams, for example the 'Dirty Girls', started by Alison, an English lady who has lived in Lesvos for a while. Each group receiving the arriving boats collects wet and dirty clothes, puts them in sacks and places them on the side of the road. The Dirty Girls pick them up on a daily base, sort them, have them washed in a local laundry, dry them and deliver them again. 3000-5000 people arriving every day produce a huge mountain of clothes! The work of the Dirty Girls means that this mountain doesn't add to the garbage, but becomes useful again and even provides the economy of Lesvos with a bit of income.
Later we have lunch in a quiet café in a little harbour, and suddenly a crowd comes by carrying refugees in emergency blankets to the medical team, again many children among them. We run out to see if we could help, but they were already taken care of. A young boy says their boat had been leaking, the engine collapsed in the middle of the sea, all children were crying, nobody knew what to do, the Turkish police cruised around them laughing at them – and then they were spotted by the boats of the International Rescue Committee and taken to the shore. All of them survived, but it seemed like a last minute chance. When I see all the freezing children walking by who could have been dead by now – I don´t know what to say. Yesterday 11 drowned. It is such a perverse situation!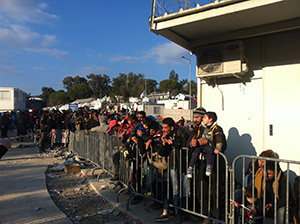 In Moria
The two refugee camps Moria and the 'Village of All-Together' on Lesvos are run by volunteers. However, the places represent different philosophies and organizational principles. Nothing prepares you for Moria. Thousands of people – extended families of 3 or even 4 generations, groups of young men, single travelers, old people, people in wheelchairs, covered in blankets, sleeping on the ground, waiting in lines – for food, for tea, for clothes, for toilets, but mainly for the papers. This is why they are here: getting registered by Frontex to continue to the ferry, the mainland of Greece and further North. We ask a family from Syria, how long they stand already in the line: "Three days." They have been taking shifts, and now they hope to make it tonight.
Official institutions are apparently over challenged in supporting the refugees while they are waiting in the cold. "All they do is send soldiers", people complain. As good as every help that is being given here – every blanket, every piece of dry clothing that is been handed out, every piece of trash that is removed, every food unit, is being prepared by the hundreds of volunteers who have come from throughout the world to help. No matter if they have come self-organised and anarchistic, or as part of the big NGOs: nearly nothing would be given here without volunteers: no first aid at the boats, no transportation to the camps, no information. Walking through Moria, Aida and I cannot imagine what will happen when it rains – where will all those people stay? Where would all the children play? How would the lines of waiting people survive soaking-wet?
In front of the Family Compound, which opens at 6 pm, a hundred or more families are waiting in a long line. They have settled here since the afternoon. The Compound manager takes us around and asks us to stay and help. "We have run out of volunteers, we urgently need people for the evening shift", he says. "What qualifications are needed to volunteer here?" "The only one is: be cheerful. We cannot use volunteers that push people around. We cannot use mean people. Especially, the children are frightened, this place looks like a prison, so we work with them to gain their trust." The compound is heavily enclosed with barbed wire and huge iron fences, it is a former army accommodation.
Our job is to take the families to the rooms, show them their places, hand them food, dry clothes if needed. 800 people every night. The rooms are stocked with 12 beds, but we have to put 40 people in them. Only sick people and mothers with children can use a mattress or bed. During the night, many more people will arrive, often soaking wet directly from the boats, often with small kids, and need shelter and food. We take families of sometimes more than 20 members. The young woman from France who introduces me to my job reaches her limit of resilience when a refugee woman shows her sick child: "It is so little what we can give them. The electrical light and the heaters are broken. She has given birth just two weeks ago and needs a doctor, and I don´t know if one will show up tonight."
As volunteers we have to make choices: we have to refuse a thirsty child a bottle of water, knowing that then everybody would wish water, and then we would never come through the accommodation process for 800 people. We signal a thousand times: sit in your room, wait, food will come, water will come. Only sick people get a bit better treatment. Some people are cheating and make us give them a second drink or food unit. I see them doing it, and I cannot even be angry at them. It must be one response to not feeling like a passive beggar waiting until something is being put into their hands and saying 'thank you'. Other refugees offer their help, carry boxes for their fellows, translate. Some families organize tiny spaces of community and comfort, sharing the little that they have. A smiling young girl of maybe 12 years impresses me. She insists of helping us carrying the food and the drinks to the rooms, distributing it, being a part of the helpers and not of the victims. People like her will go through this situation becoming stronger and stronger. It is clear that it is a very basic help that we can offer. We cannot make everyone happy.
And indeed a smile, a friendly "Salaam Aleikum" sometimes makes the difference, and I am amazed how composed and polite most refugees are. What does it take to keep your dignity in such a situation of dirt, cold, and tiredness? I run so many times up and down the stairs, taking little kids by the hand, guiding families, helping carry a baby or the luggage of a overladen or elderly woman, I forget my own hunger and my need to sit down for a moment. I just want to help as much as possible. I see people with empty eyes, apparently resigned to their fate of being homeless, identifying with the label of 'refugee'. Others seem unaffected in their friendliness – just people who accept some weeks of struggles and already carry a better future in their eyes. There is family of six from Iran, nobody carries any luggage. "All is gone", signals the father and laughs: "Better than to lose a child."
There are numerous kids of all age groups, some playing, some crying, many tired and some sick. I observe breathtaking moments between parents and children, and I wonder about the family bonds that are being created here. How will these children remember those weeks in 20 years time? But there is always also another side. As I help a tired mother with many kids to carry a one-year-old, she says something to me, makes gestures between me and the baby. I am pretty sure she says: Would you like to keep the baby? I try to take it with humor. What ordeal must a mother have gone through – and still see in front of her – that she would rather give her child away? In the end I feel totally exhausted, but so happy that I could be of some use. Only later in the night I wake up, and cannot sleep again. Thousands of eyes look at me. All those people, what they have gone through, where they will go to? 3000-5000 every single day. The whole planet seems to be in movement. Most of them will go through a hard and long walk to the North, many of them will be denied asylum in the end and be sent back to the situation they wanted to escape. They must know it and still they have tried. Seeing this you really understand that this system is about to collapse. It has already collapsed for so many people on the planet.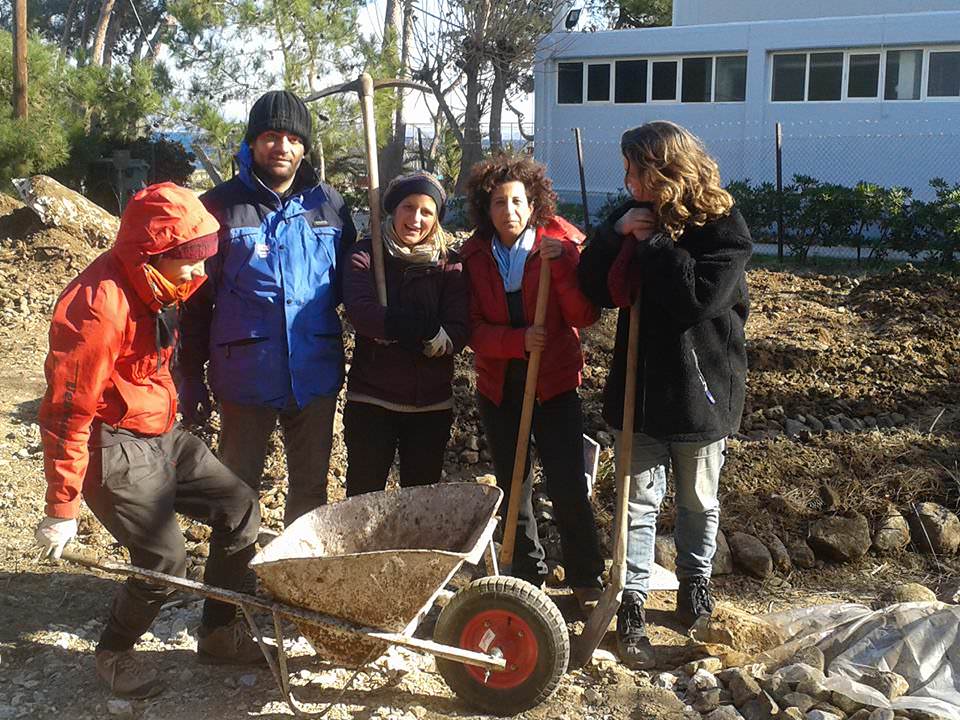 The Village of All-Together
The Village of All-Together is a totally other story. Greek activists had come together on this former official site of the "Patriotic Institution for Social Welfare and Assistance" (short P.I.K.P.A.) based in Athens. Here the activists created a place to support impoverished families due to the economic crisis. During the last year it became an alternative refugee camp hosting mainly refugees who have to stay longer, be it because they lost a family member, because they are sick, pregnant or just gave birth, because they don´t have the money to continue or because they don´t get papers. "We are not a camp, we are a community", Mareike says, a long-term volunteer. "A community of volunteers and refugees. You have become part of it by stepping into the site. You are all responsible. When you see something that does not to be OK, change it."
Compared to Moria, the All Together Village is paradise. Up to150 people live in wooden cabins, cook for themselves, or choose to eat in the common dining room. Achilles, one of the longterm volunteers, is troubled: "Imanuel was crying this morning. I want to find out why."
People cry often in Lesvos, for many reasons, but only in Pikpa volunteers can take the time to find out why. My day in the Village starts with cleaning toilets and showers. "If the bathroom is clean, they feel save, they can relax, and they can become more creative to find solutions", my co-cleaner Munir explains. The place shows the stress that their users have gone through. We try to create a new standard. Never before I cleaned toilets with so much love and care. There are service jobs for the big camps like sorting second-hand clothes, preparing and packing 700 meals every evening to be distributed in the family compound in Moria.
And there are projects like running a compost system, starting a garden or teaching children. A group collects some of the thousands of life vests that have been left on the beaches, tears them apart and upcycles them. They produce orange hand bags to be sold to make some income for Pikpa, insulation mattresses to hand out in cold nights, and insulation for the wooden huts in winter. In the Village of All-Together, there is clearly a lack of leadership and clear organisation. That said I am amazed that the most important work always gets done. Everybody is asked to take responsibility and "to have fun", as Mareike puts it: "If you don´t like what you are doing change your attitude or do something else. We will only succeed if we like what we are doing."
The vision of the All-Together team is not only to provide immediate help but to create a sustainable place, where all kinds of people can live together as a model for co-existence, hospitality, and cooperation with nature. Many of the volunteers from all age-groups and countries enjoy the community spirit of this place, several of them I hear saying: this is how I had always wanted to live. Together with Fade, a Syrian communication engineer who has decided to stay on the island and seek asylum in Greece, Aida has started a permaculture garden. Young men from Kurdistan, Morocco, Algeria put their hands in the ground, together with volunteers from Switzerland, USA, Germany and England we build several raised beds.
Aida: "As Palestinian I have learnt that handing out food and clothes is not really the sustainable help that I want to give. We as Palestinians have become dependent on aid and lost our ability to be autonomous. If you know how to grow your food even in the poor or small spot that you have you have created a piece of autonomy and resilience for yourself."
The Village is very open to the Ecovillage approach and has become partner for RefuGEN. It could be a place to showcase an alternative dream of the dream of consumption and security towards most refugees are striving – but which had caused the whole disaster in the first place.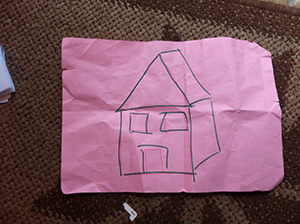 During my last night on Lesvos the temperature drops below zero. I do another evening shift in Moria. After accommodating the waiting people we still have space, and we stroll in pairs through the entire camp, locate families with children and invite them to come to sleep inside. The frozen families are deeply grateful to have a place to spend the night in the warmth. As we cannot speak their languages we show them a little drawing of a house. It now has become my most precious souvenir that I take back home to never forget the meaning of home and a warm place to spend the night.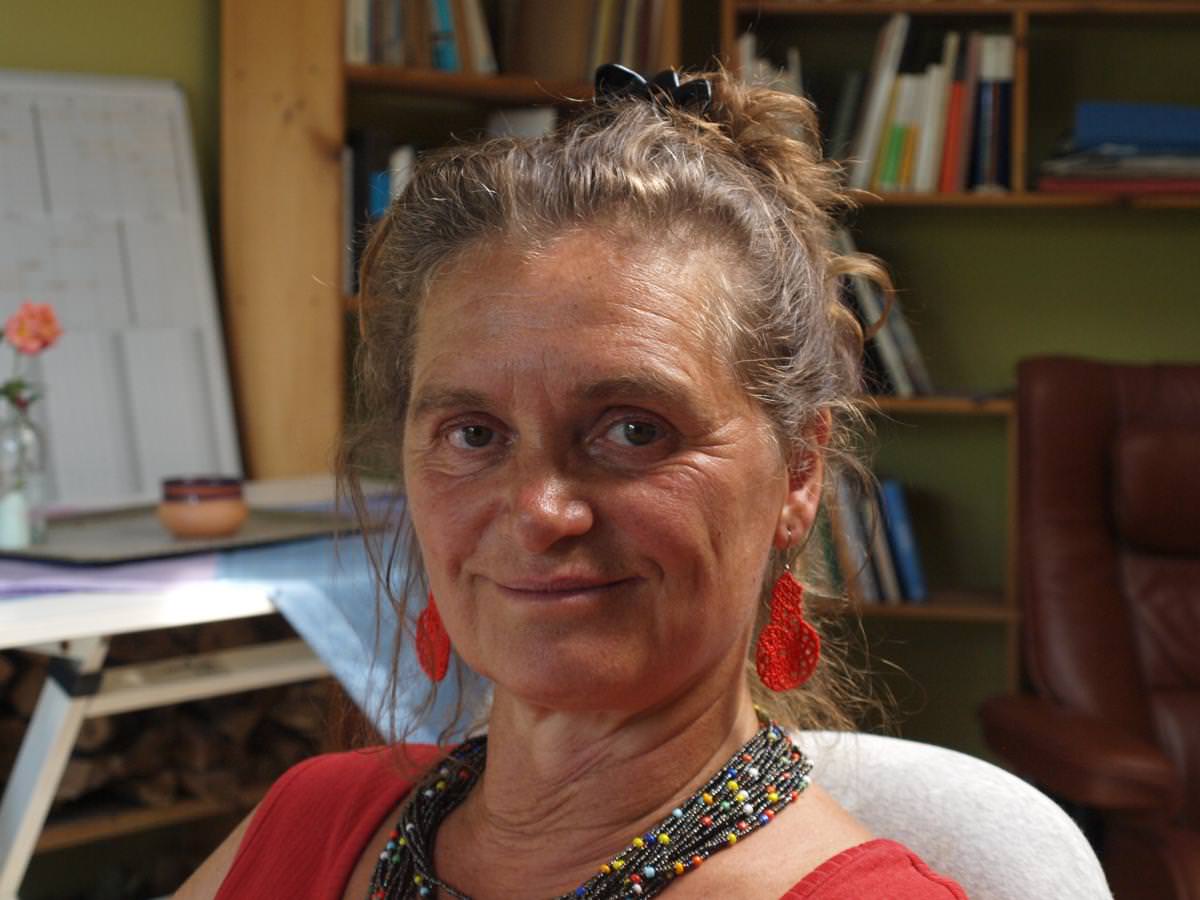 Leila.Dregger(at)tamera.org
Please see also the RefuGEN Facebook group
Read the portrait of a refugee here