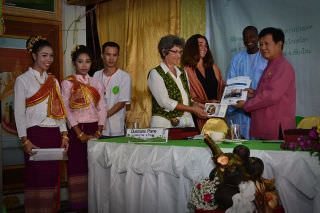 In Thailand, another exciting cooperative initiative between government – or stakeholders – of the South with the Global Ecovillage Network has commenced. GEN representatives join hands with ETA (Ecovillage Transition Asia), to support ecovillage strategies for sustainable development in South East Asia. Jane Rasbash and Kosha Joubert report.
Bicycle water pumps, meals served in banana leaves, and beautiful hand woven cloth were just some of the attractions at a recent Ecovillage Festival at Wat Phar Tung, an old Buddhist monastery at the centre of a municipality comprising 11 villages in Northern Thailand. Hundreds of villagers, local officials, indigenous leaders, and other stakeholders gathered together to share and learn about transitioning to eco-settlements. They listened to talks about sustainability and ecovillages, contributed to panels and exhibitions, proudly displayed their eco-projects, and sold ecowares such as pottery and organic rice.
Ecovillage Transition Asia (ETA), an arm of the Institute of Management Consultants Association Thailand, put on the event. ETA is a new body consolidating the ecovillage initiatives in South East Asia, such as the GLT programme in Burma under SEM; the EDE programme under Wongsanit Ashram; and the EDE training in China, with a vision for sustainable human settlements in the region.
An invitation from ETA to support the emerging Asian Ecovillage movement led to us joining the event as Board members of Gaia Education, and President of GEN International. Ousmane Pame representing GEN-Africa also attended. It was a great honour to join hands with ETA to support exciting ecovillage strategies for sustainable development in South East Asia. We spent several hectic, inspiring and exciting days in Bangkok, Chiang Mai and Ontai village, sharing about GEN and Gaia Education, signing two MOUs and a Declaration of Intent as a commitment for further co-operation. Dr. Di Baofeng, an academic from China concerned with environmental issues, travelled with us, also giving presentations about ecological recovery and ecovillages.
Prior to the festival we visited some of the Ontai neighbourhoods, including a 40-year old community forest, described to us as an eco-supermarket, where villagers supplement their diet with wild berries, fruits, bamboo shoots, mushrooms and herbs. Many of the trees are 'ordained' with orange monks robes tied round them, signifying the sacredness of the forest. They also symbolise an engaged spirituality, activist movement in Thailand that uses the respected monks robes to protect trees from deforestation.
The Ontai area has deep spiritual roots, and Wat Phar Tung is where a renowned meditation master practiced and taught until he passed away a few years ago. His peaceful presence fills the energy of the monastery and we heard that Buddhist practice is strong among the local communities. The deep caring for Nature and spirituality is one of the reasons this area was chosen for a pilot ecovillage project.
ETA is in the preliminary stage of supporting the transition process of Ontai. For more than six months there have been intensive consultations to pave the way. Local people have been fully involved in the process and are very committed. This has been achieved largely due to the participatory action research (PAR), well known in South East Asia as a process to empower villagers with full inclusion in development interventions. This methodology has gained baseline information about 11 hamlets with a population of 5000 earmarked as the pilot – Ontai Ecovillage. The villagers themselves have put their substantial knowledge into seasonal calendars, bioregional mapping, cause and effect flow charts, etc. They have also noted their use of carbon and identified areas where improvements can be made. The PAR process will be augmented with the support of Thai experts and feed into a community master plan outlining the ecovillage design.
Planned improvements span the 'four keys' of sustainable development encouraged by Global Ecovillage Network and Gaia Education, namely : social, ecological, economic and worldview/culture. The plan to meet identified needs has been further categorised into 11 core areas, namely spiritual, ecological, good governance and social justice, economic and agriculture, appropriate technology, education, disaster and water management, eco tourism, culture, land use, and healthcare. Steps to transition to sustainability in each of these areas will be detailed in the Community Master Plan, a joint collaboration between community and local government. This is due to be finalized in September and implemented in Phase 2 of the project, once funds are acquired.
This second stage will also include an Ecovillage Design Education for villagers, local government officers and other stakeholders. It is significant that the Chiang Mai local government budget has financially supported much of the costs of this launch, including our travel expenses. As when we both visited Senegal earlier in the year on a similar mission, we are noticing a new trend for government and other stakeholders in the South who are looking to use ecovillage strategies for sustainable development, to seek support and endorsement from GEN and Gaia Education as two leading International NGOs concerned with Ecovillage education, networking and sharing of information.
ETA have been plugging away, getting the Ecovillage concept known not only to local villagers, but to multi-levelled stakeholders from the Governor of Chiang Mai to the local villagers; from investment business men in Singapore and Malaysia to village chiefs from ethnic minorities. Thus, a multi-sectorial ecovillage movement for sustainable change, although in the early stages, is fast gaining momentum with potential to inspire far beyond Thailand and South East Asia, linking to similar trends elsewhere.
In an open-sided Sala close to the ancient meditation hall, we gave complementary presentations. Jane spoke of the need for sustainability education in response to overuse of planetary resources and the need to address the four dimensions of sustainability that are the basis of the EDE curriculum. Kosha spoke of the international nature of the ecovillage networks, and the global trend of ecovillage strategies for sustainable development, that can bring together a powerful coalition of civil society, government, and business.
Ousmane, who's cheerful and friendly persona was very well accepted by the locals, spoke inspiringly of the ecovillage scene in Senegal, where many traditional African villages are transitioning. He gave an introduction to GEN-Africa, where an ecovillage movement from the village-up is taking off, and announced the intention of GEN to have a World Summit for Ecovillages in Senegal in December 2014, inviting representatives from Ontai, ETA and the local authorities to join.
Dr. Baofeng gave a fascinating presentation on old irrigation systems in China built more than 2000 years ago, that have stood the test of time. He also outlined eco-projects such as Anlung Ecovillage, and the Chengdu Urban Rivers Project, that are taking small steps to counter the massive industrialization of China. A key part of the celebrations was the signing of an MOU with the Governor of Chiang Mai to pledge support to the ecovillage plans.
Outside the peaceful shrine-room the monastery had an air of celebration and festivity. A traditional Northern Thai lunch served entirely on banana leafs was a tasty reminder of an era before the ubiquitous plastic bag culture that is used for take away food in many parts of Asia today.
Prior to this occasion, on the 18 August, in Bangkok, a smaller event took place for stakeholders, who were unable to attend in Chiang Mai. A similar MOU was signed with Arsomsilp Institute of the Arts, an alternative university based in Bangkok. This event brought together an interesting group of business men and potential investors.
It is exciting that Gaia Education and GEN will follow up on future ETA interventions through 'joint content development, design and delivery of educational programs, consultancies and other activities, in order to improve general conditions in society, with special reference to the values of community, self-reliance, right livelihood and intrinsic connectivity with the natural systems'.
In addition, at the Bangkok event a Declaration of Intent to support a Farmhouse Bank in Myanmar (Burma) was signed. The proposed Farmhouse Bank is a visionary concept concerned with 'transitioning to a new sustainable paradigm of banking so that the farmers of Myanmar will empower themselves to transition towards resilient agriculture and an ecovillage way of life whilst eliminating poverty and social injustice'.
GEN and Gaia Education will support the development of concrete plans for the Farmhouse Bank and in the longer term input into training for the smooth transition of traditional farming communities to ecovillages and organizing exchange of information through our networks.
The visit was an incredible example of how the ecovillage movement has the potential to flourish in South East Asia, with ecovillage communities that are supported by local government and businesses. We were both very glad that Ousmane attended, spearheading more possibilities for south-south exchange, where significant ecovillage actors can learn and share from each other. We are both looking forward to continuing collaborations and following progress on this exciting initiative.