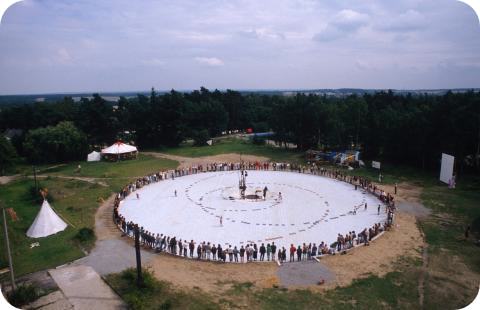 The ZEGG community in Germany has been a genuine and integral part of the GEN network in Europe. Ina Meyer-Stoll was GEN Europe Executive Secretary from 2003-08, Achim Ecker was GEN Europe council member and president at the same period of time, and Thomas Heuser, the Managing Director of ZEGG is a current GEN-Europe council member. Artemis Zimt (member of Next GEN) interviews the three of them.
Artemis: In 1996, two representatives from ZEGG, including Achim, went to Lebensgarten, Steyerberg, to help found GEN Europe. From 2003-2008 ZEGG co-hosted the GEN-Europe office together with Findhorn. In 2004 and 2014, the general assembly and the conference of GEN-Europe took place at ZEGG.
In 2013, ZEGG managing director, Thomas Heuser, was elected on the GEN-EUROPE council. How do you recall this time?
Achim: Up until 1995, we were mainly connected to communities on a German speaking level. But then we grew into an international family of ecovillages. At first the definition of an ecovillage was a big concern for me. If you call it an ecovillage does it still stay a community? What is the spirit? Back then I believed that only "intentional communities" could change the world. Today, I feel that anybody who wants to work towards transition is doing great.
Ina: It was really a privilege and a gift to feel the trust of the GEN members when we were invited to host the GEN Europe office here in ZEGG. And it was beautiful to build such an easy relationship with Findhorn in sharing responsibilities. The idea was always to rotate the offices among ecovillages to give them the opportunity to experience all the advantages of the international office's presence.
In 2008, the office moved on, but in 2014 parts of the GEN-Europe administration came back to ZEGG. Especially for a non-English speaking community having so many international groups and people coming through, opened our eyes to the diversity, beauty and power of the worldwide community movement.
Artemis: What have been the highlights of ZEGG's relationship to GEN?
Thomas: The annual GEN conference last year (2014), was highly inspiring for our community. We all had so much mutual interest and so many ideas to exchange. And it touched me to see how 430 people were not just dreaming but really LIVING THEIR DREAMS. The ecovillage network for me is about living this dream in many countries and varieties. And that's just the GEN network. The movement is becoming a network of networks thanks to these connections, some political, some environmental.
Ina: Recently we were at risk of losing our closed water cycle system. So we put a call out in the GEN newsletter. We had so much international support from the network all lobbying our local government for our existing waste-water treatment system. It showed our local council that we are part of an international network. While the decision is still open whether we can maintain our water cycle, we were able to make a huge step with the help of the network.
Artemis: How has ZEGG been inspired through the GEN network?
Ina: By the many deep friendships that have grown over the years. We were deeply inspired by the networking possibilities. So many projects broadened our perspective. By the connection to GEN, we realised how many communities and ecovillages there are contributing to the healing of our planet. In 2004, the general assembly at ZEGG had grown from 40 to 80 people. The more we looked, the more ecovillages we discovered. And we saw in all these countries, all these amazing mushrooming activities happening.
Achim: There were techniques such as the triangle huts from Auroville in India that we adapted to our climate. The Mandala roofs I first saw during a German network meeting. Reciprocal frame constructions are a beautiful symbol for community; no one beam holds the roof up, they all do it together sharing the work. In 2006, I saw these little drying huts for clothes in Swanholm and build two of them at ZEGG. And I may say that other projects, such as Günesköy from Turkey, saw them at ZEGG and manifested them in their ecovillage.
Artemis: How did ZEGG inspire GEN?
Ina: We inspired many other communities with our focus on the social aspects of community life.
Thomas: Ina and Achim have been invited often to other intentional communities and ecovillages to share our Forum process for community communication and transparency. Sieben Linden adopted it and now teaches it, too.
Ina: Education is a key part of GEN and our work. For me personally Hildur Jackson, the founding mother of GEN always put so much emphasis on education. I am very grateful to her. It was eye-opening to realise that ZEGG is also a living and learning centre. Watching the way we live is already an education for other people. GEN is all about this broader perspective. It is taking us beyond the potential that we have on our own. GEN´s approach to education has always been holistic, including songs and games as well as intellectual stimulation, practical action, and social learning. Hildur gave the founding spark for Gaia Education which started the Ecovillage Design Education, making our ecovillage experience available to new people.
Artemis: What is the vision for the future of GEN, ZEGG and this movement?
Thomas: Introducing all these solutions to the world. People all over the planet are searching more and more desperately for solutions to the global crisis. They realise we can't live unsustainably any longer. GEN gives the ecovillage movement a voice. As an individual community we can only act locally but GEN is building a network of networks including the permaculture movement, transition towns, communities and more. It unifies many levels of local solutions in a clear way for governments to see their potential impact. Living in community is one solution – what everyone in these networks has in common is the goal to look at sustainable ways of living and implement them in life.
Ina: Imagine if each country had a ministry for sustainability, all universities could have an external campus in an ecovillage. In ZEGG, we are starting to cooperate with schools and universities to bring the heart to climate science, bridging the connection between brain and heart in education! And then there is peacemaking – really experiencing the difference in attitude of living in cooperation instead of competition. There's so much potential for the next 20 years.
Artemis: Thank you for these many insights and inspirations.