In 2020, the Hildur Jackson Award jury welcomed a record number of 70 applications from across the globe. Celebrating their diversity and commitment to the network, we honoured the top 10 projects, communities, and ecovillages, giving special mention to the top 2, and selected one official 'winner' of the Award.
We caught up with the winner, one year later to find out how their community has continued to shine, how it may have evolved, and how they've beneffited from being featured.
First, a brief recap on one of the elements that makes them special:
Like all of us around the world, they experienced a challenging year. Still, they created some interesting developments as result of the support from the Hildur Jackson Award.
It has been helping them build a new kind of capital, opening doors of new possibilities and imagination.
Due to the increased publicity, they started receiving many more inquiries from friends and families about the ecovillage lifestyle. They also started receiving many request for visits, internships, magazine articles. Even more so, they witnessed a surge of enquiries of people wanting to understand how to become a member of the ecovillage. In fact, there is currently no piece of land available for sale in TI, so they have started directing inquiries about land outside TI to explore for further replication and expansion of TI Ecovillage especially for those people interested in farm lands.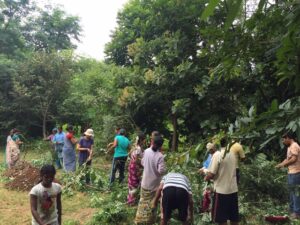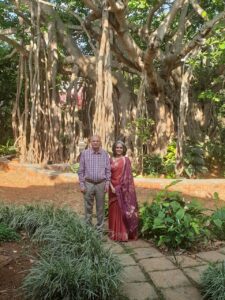 Beyond the on-the-ground interest, they also welcomed curiosity from new partnerships and interaction opportunities with the likes of Regen Villages, Future Thinkers and Corporate CSR initiatives for exploring some more smart technology adoption being magnetised to their ecosystem. For Brij and Amena, two core members, they have had many friends and family members with large land banks of farm land inquiring about consulting to explore the possibility of converting their estates into an Ecovillage.
They are also exploring how best to utilise the award money. The council takes their time to peacefully discuss the ideas and is very supportive of going forward with some proposals:
1. A MasterClass subscription for the creative filmmakers and photographers for TI to improve their story telling and educating skills online;
2. A 25% reimbursement for members to participate in the Ecovillage Design Education course. Amena is currently participating in this one;
3. An ecovillage infrastructure creation education Center / studio / library (makerspace) possibly on the lines of Ibuku Bali;
4. Some type of post COVID rehabilitation center for the area to support mental regeneration through art and community engagement.
The council has also suggested a thought process is based on 'Maximally Natural, Minimally Anthropocentric' and some ideas which have come about are as follows:
1) Naturalists and Environmentalists to educate and guide members in marking and procurement of endangered plant and tree species local to South India
2) Giving power and acceleration to the already ongoing programme of animal care and cat /dogs neutering in villages around TI as they do pose a hazard to local wildlife
3) Waste disposal workshops in villages around TI espcially with women and children as they can then educate the men in the house 🙂
4) Combined lake rejuvenation and management along with the villages around TI
5) Spending some money on initiatives to help villagers around on Covid – information and medicine, vaccination, self and home care, etc.
All of the above could be under the umbrella of a "TI Eco Restoration Center" as this will allow members to educate their surrounding community. Then they can set up pilots for growing native plants, animal care, lake restoration, eco material usage, waste processing etc. The center can also buy children library books on ecology, audio visual equipment, invite guest lecturers from some of the naturalists whe have in our community and network.
Stay tuned for more news from T.I. Ecovillage, from their representative Amena's studies in the Ecovillage Design Education course, and from future awardees!
Another 3,000 Euros is available in 2021 with applications closing on 1 June. Find out more here.
Reach out to [email protected] for any enquiries.