Education Director
GEN Staff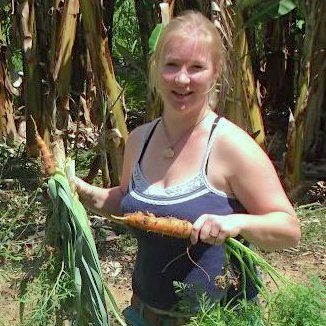 Starting as a volunteer with GEN, Abbie is now Education Director, where she primarily supports the online learning platform and schools project.
Originally from a tiny island (Bermuda) and currently based in the Netherlands, Abbie considers herself a world citizen as she has lived in many places, including a range of ecovillages and intentional communities. After completing her Masters in Sustainable Development and working with community-focused NGOs, she pursued her passion for education, returning home to launch and run the international environmental education programme, Eco-Schools.
This sparked a further desire to learn hands-on skills which lead her to complete a Permaculture Design Certificate and then onward to adventures in ecovillages. She participated in workshops and conferences and contributed to natural building, gardening, and community engagement projects, some of which she remains involved.
Primary interests: Social (Lifelong Education, Diversity & Cohesion, Trust & Communication, Health & Healing); Culture (Nature Connection); Integral Design (Contextualised Design); Ecology (Seeds, Food & Soil, Green Building, Water Cycles); Economy (Sharing & Collaboration, Planetary Boundaries)
Events & Trainings held by Abbie Caldas
Date: 9 February 2019
Language:
Location: The Hague - Please contact the host for exact location, Netherlands
For any participants of the summit interested in sharing the experience with others in the area. This will be a very informal gathering to discuss the topics from the summit in a locally relevant context and brainstorm any potential applications. … Read more
Site content by Abbie Caldas
Blog posts
Over the course of 2022, both schools faced massive transformation. Escola da Esperanca in Tamera Ecovillage experienced change in their staff as multiple teachers involved with the project left the school. In their partnership with Inkiri School, now Almar School, in Piracanga Ecovillage, Anja was able to find commfort in understanding that the changes she was experiencing were happening globally, that she wasn't alone. That the effects of Corona were long-standing.  "I want to honor the … Read more