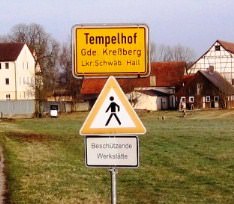 TEMPELHOF
In December 2010, after three years of community building and inner preparations, a group of about 80 (mostly German) have purchased a small abandoned castle with surrounding buildings and farmland, altogether 31 hectares, in Baden-Württemberg, Germany.
TEMPELHOF NEWS
Today, in 2020, 150 people live at Tempelhof, about a third of them children. In addition to the members of the community, there are also employees from the companies or young people in training or in their community experience year. In 10 years, a real village has been created with a school, a seminar house, community-supported agriculture, community kitchen and catering, car-sharing, guest house, village shop, café, workshops, and creative rooms. On the way to becoming an All Leader community, it is about growing into a culture of trust and learning, which strengthens the ability to take responsibility, the connection, and integration of diversity and actively involves many. To achieve this, we continually adapt our social structure and move topics in regular intensive periods.
TEMPELHOF LEGAL STRUCTURE
Stiftung Tempelhof (Foundation)
Genossenschaft Tempelhof eG (Cooperative)
Tempelhof e.V. (Association)
TEMPELHOF CULTURE
A culture of trust, clarity, transparency, and "not knowing".
SIX SHARED VALUES OF TEMPELHOF
Community
Diversity
All-Leader
Relationship- and Communications-Culture
Personal Development
Economic Transformation
Sustainability
We look forward to meeting you! (Please call us to arrange your visit!)
Membership & Visitors
Current members: 150
Open to new members
Open to visitors
Work Exchange welcome, Volunteers welcome