What's going on in Auroville?
Currently Auroville, an intentional township in South India, is facing an extremely difficult struggle within its community. Some of our forests, watersheds, and homes are subject to threat due to a contentious interpretation of the town's development plan.
On December 4th, the Auroville Town Development Council started bulldozing trees, despite Auroville residents trying to protect the area (See the Timeline of the events).
Since then, bulldozers have demolished the Youth Center and its surrounding forest has been cut through. Many of our residents involved in peaceful protest against this violent destruction were intimidated with threats of jail and deportation. Auroville Outreach Media, which has served as the community's link to the press since 1996, was asked to refrain from issuing any statements.
On December 10th, a case was filed with the Indian National Green Tribunal, and a Stay Order was placed on any tree felling and development work. Now our community apprehensively awaits the verdict of this case.
What is the development about?
The development plan proposed by Auroville town planning authorities includes a perfectly circular "Crown Way" of 16.7 meters. As this road cuts through many ecologically sensitive areas and precious water catchments, residents in the concerned spaces worked with our Town Development Council for months to come up with alternative solutions that would meet the mobility and infrastructure needs while respecting the sensitive environment. These alternative proposals were ignored by the Auroville Town Development Council and bulldozing of the areas began, accompanied with violent handling of protesting Auroville residents.
The established community decision-making processes are being undermined by Auroville's internal working groups, which goes against the Auroville Foundation Act (1988), a parliamentary act that recognises the Residents Assembly's role in decision-making. The development plan is being reinforced through violent authoritarian measures despite the legal base for participatory decision-making.
While the issue is multi-layered, the bottom line is :
The protesting residents want to develop Auroville in a sustainable way that respects the natural environment and honours the intensive reforestation work done by so many residents over the past 50 years; see the inspiring effort of Aurovillians to restore a desertified bioregion into a lush forest here.
The residents want to build Auroville in such a way that our community decision-making processes are upheld, and that residents of Auroville have a voice in the growth of their community.
How to help?
We ask that you sign and circulate this change.org petition within your community and beyond: https://www.change.org/p/prime-minister-of-india-sos-from-auroville-the-city-of-dawn-needs-your-help-urgently
We urge you to look into this situation further via this website and follow our social media platforms:
To learn more about Auroville's afforestation work see Ever Slow Green: an award-winning documentary film that tells the story of a 50-years-young tropical forest that evolved in Auroville.
Trailer:
Full film: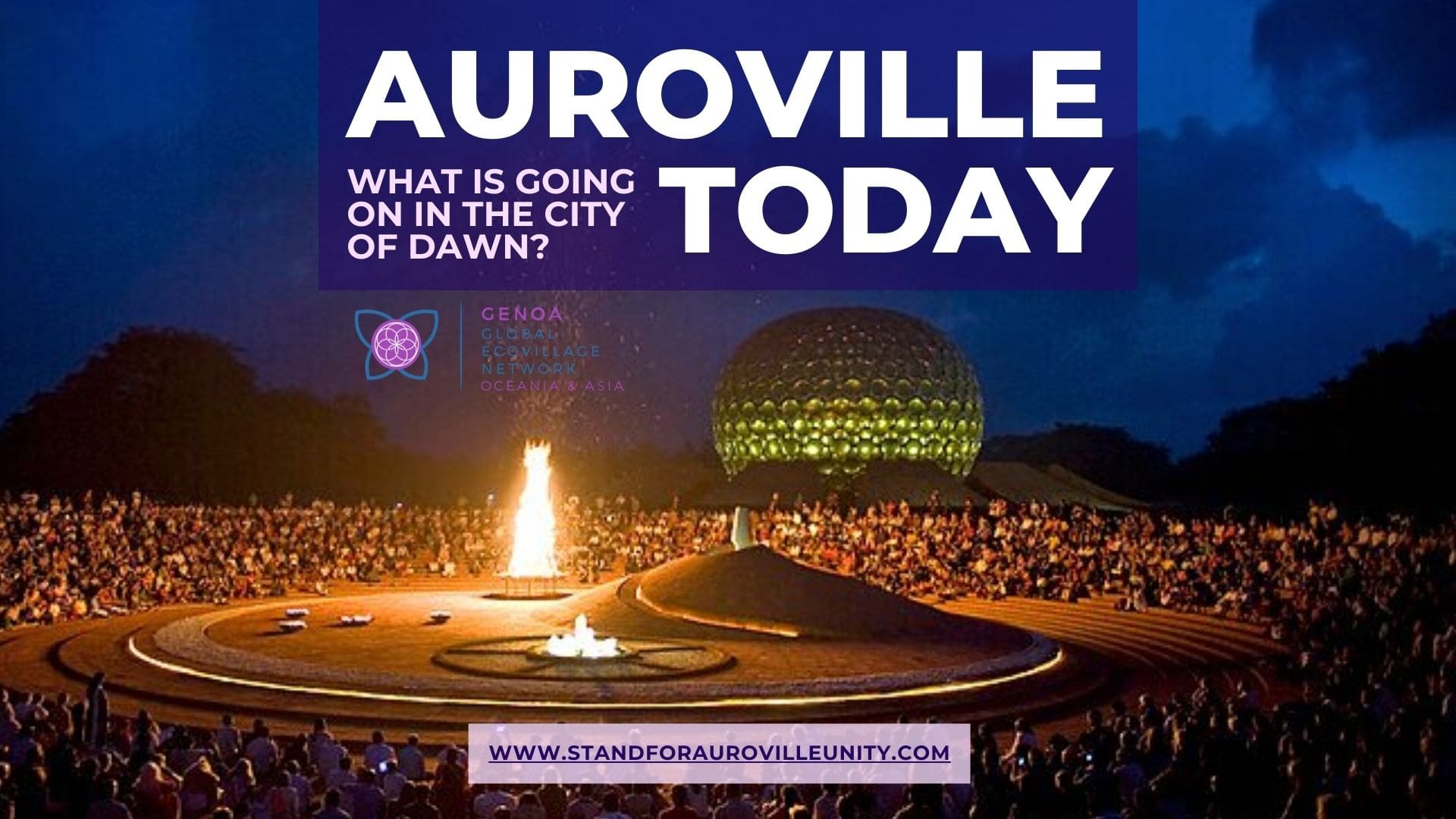 Author: an Auroville Resident