Today we unite for a celebration of generosity, unleashing the power of people and organizations to transform the world.
Xóm Bắc Cầu, Vietnam
This is the story of Émilie, who, together with architect Franscesco and teacher Hieu and many other volunteers, has given life to Xóm Bắc Cầu to spread sustainable community living in Vietnam. It is a powerful story, especially when realizing that Émilie at the same time is confronting a genetic disease that weakens her veins. Before going back to Vietnam she will need to undergo a vital surgery to ensure the strength of her neck.
COVID-19 and the restrictions have severely disrupted the continuation of Xóm Bắc Cầu, along with many ecovillages in the world. It is essential now that we work more and more tightly together as one large global community, supporting each other to stand strong and independently of governments and large funders. The work of building a new normal is hardly ever easy! It is the work of pioneers and takes so much courage, and every day a renewal of commitment to work through much of our old, fragmented and shortsighted ways of living.
With your support, we will accomplish this together. Join our Movement today, and become a Friend of GEN.
Building the new normal!
Strong human connections can totally be our normal! It will take an investment on our part, an effort to grow together, but with a shared intention we can work together to make that happen.
Every day ecovillages and communities around the world are building a more authentic, connected and regenerating way of life. They want this to be their normal, and rather than wait for the world to catch up, ecovillagers go ahead and build it themselves. They know in their hearts that it is not only possible – it is also destined to be.
Friends of GEN Building a New Normal is a campaign to celebrate the many people seeded around the planet who are building their own "new normal" through the very lives they live. Each one forms the bedrock of the Network, the Movement we are – saplings of regenerative planetary cultures. This campaign is a statement, a challenge, as well as an invitation to take action or join hands. We flourish together.
Become a Friend of GEN and support the ecovillages on the ground build the new normal!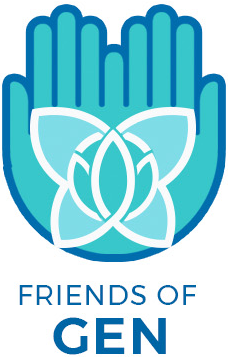 As a Friend of GEN, you become a sustaining contributor to the work of the Global Ecovillage Network. Together we can continue to implement sustainable solutions and help catalyze the power of community for a regenerative future.
By becoming a Friend of GEN you will receive exclusive benefits to bring you closer to GEN's work on the ground and connect with communities worldwide. Friends of GEN sustain the work of the Global Ecovillage Network through creating a grassroots community of supporters for ecovillage solutions and collaboration. Learn about the levels of giving below and find the one that is right for you.
Video editing by Lucie Baudin – www.luciebaudin.com
Soundtrack from Arboria – Devotion: arboria.bandcamp.com/track/devotion
and Aux25 – No Turning Back: aux25.bandcamp.com/track/no-turning-back