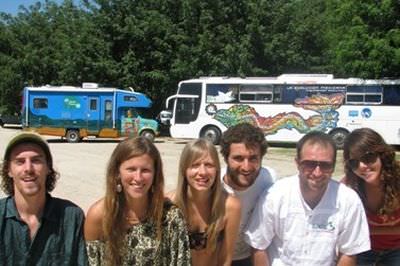 A network of Eco-Caravans has emerged in Latin America. They see themselves as nomadic ecovillages, being on pilgrimages throughout the continent to bring knowledge, and seeds of hope and change. In 2012 they became part of the CASA network. Elizabeth Domínguez shares about the feeling to be modern nomads.
Some mounted their horses, others adapted or built vehicles or boats, and many more… we walked. To arrive was never a problem. We crossed mountains, rivers, villages and valleys. We were more afraid than we appeared, but we were driven by the idea of finding a story to tell, an insight to share, a message to carry.
Eager for a change, looking for something, we began our walk through the world, seeking answers, finding solutions and rescuing our ancestors' knowledge. The winding road offered up stories to tell, and never-ending learning. We surrendered to the path and began transmitting the things we saw, discovering that even the smallest details can spark a great idea.
Teaching courses, giving workshops, playing games, planting seeds, producing videos, music and art, we sow the seeds of awakening consciousness that we all desire. We carry organic seeds, eco-technologies, a solar-powered eco-cinema, loads of ideas and techniques to share, and a whole lot of contagious enthusiasm for a better world.
We are nomadic life projects, educational caravans that travel through Latin America carrying the seeds of change, fostering a culture of peace and sustainability. We pollinate and build networks. We trade and share goods and services. We learn and teach skills and theories. We take action and build examples. And then we keep moving, on to the next nexus, weaving the web a little stronger.
In 2012, many of us joined CASA (Council of Sustainable Settlements of the Americas) and formed the first network of Eco-Caravans in the continent.
Each project has its essence and focus, but we are all reaching across boundaries, transcending our borders. We are children of the journey, world citizens, and our spirit is fed by miles of experiences. We are sustainable travellers, nature lovers and explorers at heart. We continue travelling and spreading the word, carrying messages and discovering a reality that few know.
We have valuable information to share with you on our websites. Search the nomadic project directory: http://www.facebook.com/CasaEcoCaravanas
and don't miss the video about CASA EcoCaravanas: http://www.comuntierra.org/site/blog_post.php?idPost=166&id_idioma=3
We hope to see you on the road someday…
Elizabeth Domínguez
www.caminosostenible.org
www.viajerosustentable.com
Ryan Luckey (translation and collaboration) www.comuntierra.org