Life at Cloughjordan Ecovillage involves hard work, meetings and decisions, and celebration of the finer things in life. While the 100+ residents go about their days in the various roles they play to keep the community running smoothly, every so often they gather together for a completely holistic experience. They balance great food with inspiring food-for-thought.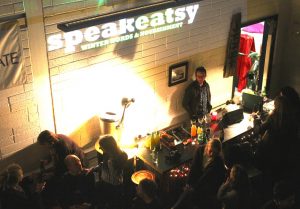 Last month, the regular SpeakEATsy event maintained its reputation as "a unique evening that is so much more than the sum of its parts." Residents and visitors nourished themselves with local, seasonal food blended with a taste of art, music, and dancing late into the night topped off with meaningful facilitated conversations with old and new friends. It's more than a gathering, it's a happening. It's a chance to connect, to re-connect, and to appreciate the "simple ingredients and the desire to cultivate community." One of the organisers, Oli Moore, describes it as a "meander into a world where landscape and language, farming and food, nature and nourishment weave together seamlessly."
Food has been central to The Village's primary activities, with the community farm running almost 10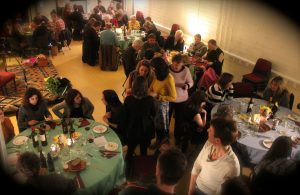 years since the first houses were built in 2009. And while there are many diverse skills and interests among the residents, art included, they've recently pronounced a specific focus on celebrating the arts by creating an Amphitheatre. On the eve of Earth Day 2017, the multi-purpose performance space was officially opened by Ireland's President, Michael D Higgins, who praised it as "a work of vision, of reimaging." It has brought a fresh wave of creatives to experience the community.
Often many of those curious about ecovillages are keen to learn about natural building, community supported agriculture, or consensus decision making. With the amphitheatre and SpeakEATsy events, Cloughjordan adds to the cultural dimension of ecovillage design: an opportunity to witness creativity as community continually evolves. Follow Cloughjordan's event listings for future opportunities.