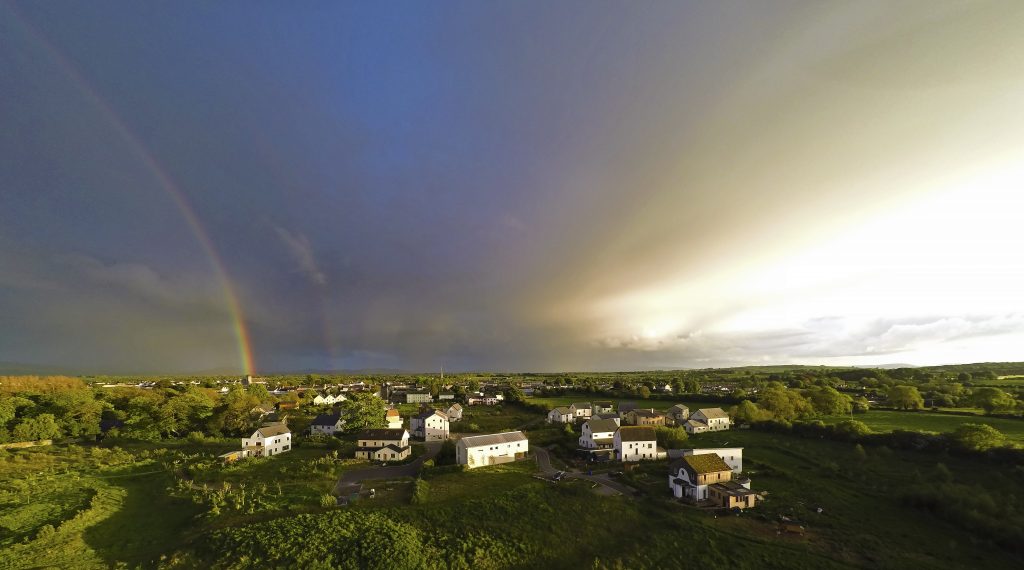 Cloughjordan ecovillage measured its ecological footprint in 2014. The ecological footprint of the average ecovillager was found to be 2 gha (the "gha" or global hectare is a measurement unit for the ecological footprint of people or activities related to the biocapacity of the earth), compared to an average of 4.7 gha for the average Irish person. This gives evidence that the ecovillage is modeling the transition to a low-carbon society through developing its own unique ecosystem of innovation that addresses each of the four dimensions of sustainability:
Ecological: Cloughjordan's low-carbon lifestyle is supported by our Ecological Charter which specifies the ecological standards for building in the ecovillage, ensuring our homes are low-energy and ecological in the materials used. Our district heating system heats the water that heats all of our homes in a carbon-neutral way, using only renewable energy. Nine individual homes recently installed rooftop PV generating 14kW electricity. Our Community Supported Agriculture farm, with members from the ecovillage and the surrounding community, grows food using organic and biodynamic methods, and systematically regenerates the soil. We are also currently finalising plans for a reed-bed treatment plant to treat our waste water. We have also had a major replanting programme in our wild woodlands which comprises 17,000 trees.
Economic: Our farm is at the heart of a unique food-system which generates livelihoods and therefore greater economic sustainability for the ecovillage and surrounding area. Among the elements of this food system is the Middle Country Café, a co-operative enterprise established on the main street of Cloughjordan which uses produce of the farm to supply healthy and tasty meals. The café also uses the sourdough bread baked in the award-winning RiotRye bakery in the ecovillage. As an educational charity, the ecovillage every year attracts thousands of people to do courses in sustainability: these help sustain livelihoods as they eat meals prepared by the Middle Country Café and by other food producers in the wider community, as well as staying in the ecohostel which is situated within the ecovillage. Other businesses established by members of the ecovillage are the Sheelagh na Gig book and coffeeshop on the main street, and Cloughjordan Arts, a co-operative company which has built an amphitheatre in the ecovillage as a venue for cultural activities and is also an essential part of the collaborative economy being developed in Cloughjordan.  
Cultural: The amphitheatre is just one element of a rich cultural life that helps develop cultural sustainability in the wider community. Regular plays, talks and musical performances take place here. A weekly ukulele group, a women's choir called the Mellowtones, weekly traditional music sessions, plays and concerts, activities to promote the Irish language including a new fortnightly 'pop-up Gaeltacht' or Irish-speaking gathering, all attest to a rich cultural ecosystem in Cloughjordan. The Dark Skies group is seeking that the ecovillage be designated as a location for star-gazing and is developing a dedicated area for this activity. The ecovillage's amenity field is used by the local Scouts for activities and campouts, and by the soccer club for its under-12 players. The ecovillage community is supplemented by international volunteers and interns who add a unique cultural mix to the community. We host four volunteers from the European Volunteer Service (EVS) every year; from mid 2017 to mid 2018 we have had a woman from Hungary and from Belorussia, and a German man and a Kurdish man from Turkey. We also have a Belgian woman and a Greek women who are on internship programmes from academic courses. Supplementing these are WOOFers: at the time of writing we have WOOFers from Italy, the US and France. (read more about regular SpeakEATsy events here as well.)
Social: To strengthen our social sustainability, the ecovillage is planning a new development phase. Plans include social housing for those on lower incomes and for elderly people who wish to live in a supportive community. We also seek to provide opportunities for refugee families to join our community. A co-operative company established by members, Cloughjordan Cohousing, is planning a development of co-operative owned housing that will be both affordable and sustainable. Overall, we plan to double the size of the ecovillage community over the coming years. We then plan to again measure our ecological footprint and continue our efforts to reduce our footprint as we develop our project.