The Conscious Food Systems Alliance (CoFSA) is a movement of food, agriculture, and consciousness practitioners, convened by UNDP, and united around a common goal: to support people from across food and agriculture systems to cultivate the inner capacities that activate systemic change and regeneration.
CoFSA has created a collection of case studies showcasing the application of consciousness practices and approaches that have the potential to unlock food systems' transformation. Giving fuel to CoFSA's intention to "advance the exchange of knowledge and learning on conscious food systems and to build the evidence basis for this pioneering field of practice," we look forward to sharing a few with you!
From the ecovillage movement, Anna Kovasna, Sarah Queblatin, Kin, and Joshua Konkankoh have all been part of the alliance so far. Read on for inspiring stories from Ndanifor Permaculture Ecovillage in Cameroon and REGEN-nations programme developed by GENOA.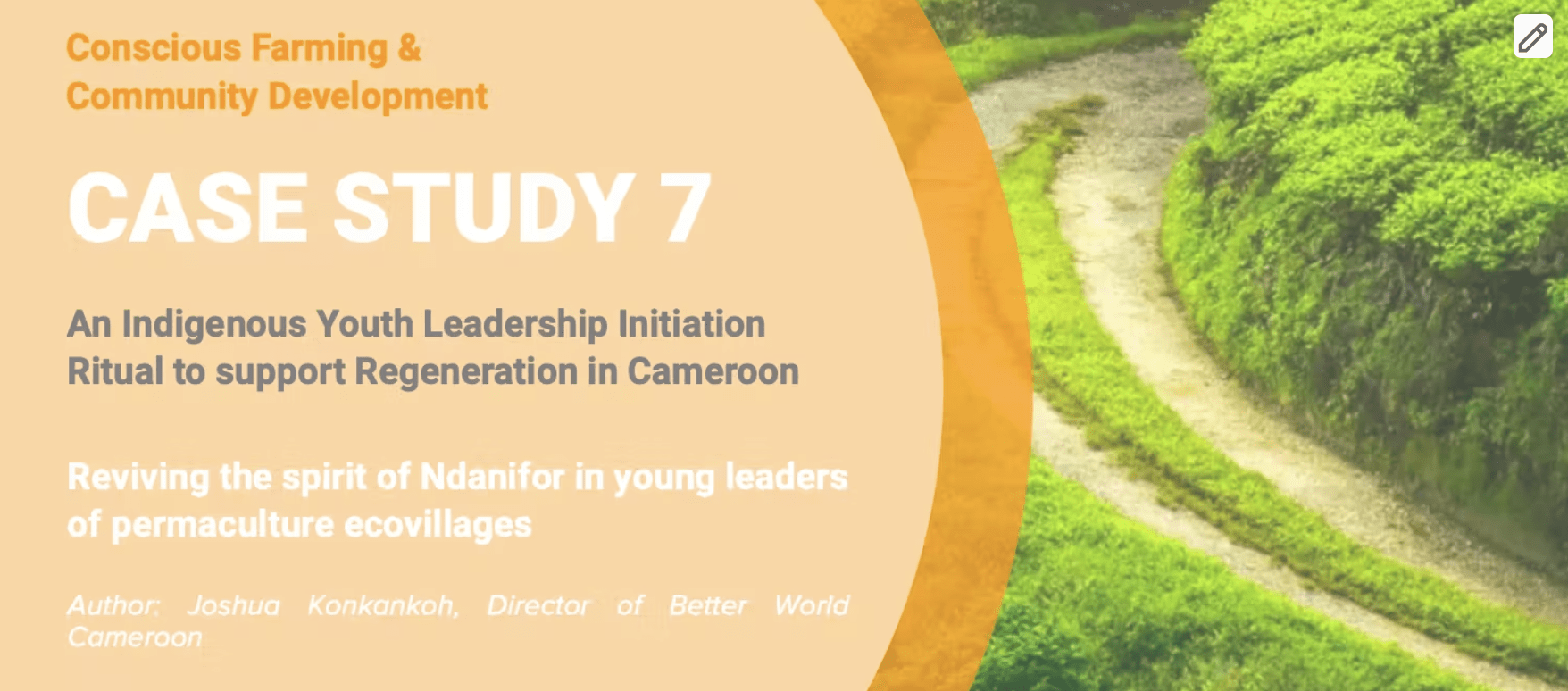 🌱Indigenous Youth Leadership in African Permaculture Ecovillages
Since 2013, a rehabilitation programme designed by Better World Cameroon has been implemented in the Bafut area of Cameroon to transform around 54 traditional villages into resilient ecovillages, where connection with nature is restored, high-value agricultural products (HVAP) are grown, sustainable food forests are preserved, and biodiversity is protected.
Designing an integral ecovillage project, while safeguarding biodiversity and ensuring sustainable food production in Cameroon is one of the main goals of Joshua Konkankoh's mission, the man behind Bafut ecovillage and Better World Cameroon.
Joshua Konkankoh said, "To build ecovillages in Africa" – or what he defines – "peace villages"… "we need to understand what peace is and reconnect with ourselves, nature, and indigenous wisdom in order to learn the rules of trust, solidarity and love".
Ndanifor Permaculture Ecovillage is the first demonstration site in Bafut that has been converted into a resilient ecovillage, through a combination of indigenous initiation rituals for leaders and permaculture training for the community; a combination that has supported the village's systemic transformation towards sustainability at both the individual and community levels.
The Ndanifor ritual is linked to the belief that if young people are constantly connected to Mother Earth for seven days, they develop their consciousness by receiving the wisdom and knowledge of their ancestors. At the end of the journey, a celebration of leadership initiation is held for those who have participated in the retreat and who aspire to become the new village leaders of the Bafut communities. This initiation supports young leaders' involvement in outer ecovillage activities such as regenerative agriculture, and medicinal gardens, from a mindset grounded in interconnection with nature.

🌱REGEN-Nations in Oceania & Asia
REGEN-Nations offers a learning program and incubation for solutions that emerge from the grassroot people of the region Oceania & Asia addressing the systemic problem they are facing with a holistic approach.
REGEN-Nations is a 6-month learning journey and prototyping lab using whole systems thinking to design solutions for sociological, cultural, economic, and ecological resilience and regeneration.
REGEN-Nations was inspired by the ecovillage design education program which develops from the ecovillage map of regeneration. The program circles through five areas of regeneration: the social, cultural (worldview), ecological, economic to whole systems desig
On the topic of Conscious food system, the program offered extensive sessions on: ● The indigenous link between food, biodiversity and health; ● Regenerative agriculture practices (including permaculture, analog forestry and appropriate technologies); ● Local and regenerative agri-economic systems (e.g., co-operatives, and community supported agriculture CSA); ● Whole system design for agricultural systems;
In 2020 the first REGEN-Nations course was given to 16 project teams from Oceania & Asia. They welcomed 49 participants from Australia, Japan, India, Malaysia, Nepal, Philippines, Singapore, Sri Lanka, Taiwan, Thailand, and Vietnam. Their live expert speaker sessions were open to the public and joined by an additional 120 people. At the end of the course, 10 projects were incubated & activated.
🌿Read all the case studies at: https://consciousfoodsystems.org/wp-content/uploads/2022/10/CoFSA-Case-Study-Collection.pdf
🟠 CoFSA members are part of a vibrant global community, supported by a digital platform, where practitioners can connect, learn, inspire each other, and collaborate to build conscious and regenerative food systems.
To join the movement or if you would like to receive news and updates from the Alliance go to: https://consciousfoodsystems.org/join-the-movement/