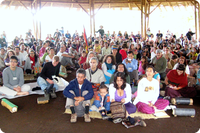 After enduring sixty years of armed conflict and malcontent, the people of Colombia are rising to the country's longing for a life of peace, stability and well-being. Towards this action, the Ecovillage movement is combining with Colombian grassroots organizations – being those of the Campesinos, Indigenous and Afro-decendant people.
While the first vital steps have been taken, there is still a long way to go. In order for these powerfully distinctive forces to enter into a co-operative dialogue and partnership, the Ecovillage movement has to be able to incorporate the highly focussed political action of the grassroots movements, says Jorge Calero, Atlantida Ecovillage.
There are 16 ecovillages throughout Colombia, five or six of which are in the consolidation process. The longest existing ecovillage is 28 years old.
Some recent achievements of Colombian ecovillages:
Pachamama Ecovillage in Quindio is exporting full containers of their organically treated bamboo as building material in Spain and The Caribbean.
Aldea Feliz in Cundinamarca won the Fulbright Commission grant to build an 'ecoshop' with high green architectural standards.
By the end of 2012, all the major ecovillages in Colombia will have their own MALOKA – an ancestral house of gathering in the Amazonic tradition.
Atlántida ecovillage in Cauca is the main training center for Latinamerica for leaders of Dances of Universal Peace.

As a network, the Ecovillage movement started around 7 years ago, called RENACE COLOMBIA. It is developing a multilayered strategy for greater communication with other networks, sectors and movements in the country, as well as developing scenarios for the multiplication of ecovillages and other kinds of sustainable human settlements, in these crucial times of planetary shift.
The process starts from the recognition of an historic opportunity in human society, emerging from the convergence of several interdependent processes:
The planetary crisis is reaching critical levels within social, economic, environmental, political and cultural spheres; levels that appear to be approaching a point of no return. Simultaneously, global awareness and collective awakening concerning the problems, their causes and alternatives, are generating mass movements in cities and rural areas globally.
Many members of global society are now physically carrying the banners of opposition to this crisis-originating system as well as, figuratively flying the flags of building viable and real life-dignifying options.
The attainment of a certain degree of maturity of our projects and network.

These are times of rapid change. The environmental discourse and sustainable development approach that, 30 years ago, was represented by a revolutionary minority, is today a discourse adopted by the structures of political and economic power. It is already mainstream.
We are slowly ceasing to be seen as the alternative people," rare "," hippie", or "maladjusted", and are instead coming to be known as "the people", the majority, the guides and points of references.
The slogan "We are the 99%", masterfully summarizes this historical reality.
Within movements, networks and projects such as ecovillages, transition initiatives, permaculture, solidarity economy, alternative pedagogy, agroecology, food sovereignty, etc., there has been a generative process of very valuable lessons concerning the social, economic, cultural, and ecological sustainability of regeneration and resilience.
We believe that the next evolutionary step in our collective movements and networks is that of achieving a higher level of articulation, professionalism and multiplication.
We believe it is essential to learn to articulate across sectors, networks and movements that we are co-creating this better world in comprehensive and holistic ways. Also, it is essential that we refine our capabilities to generate verifiable and replicable knowledge, and increase our reliability and reputation as carriers and developers of meaningful interventions and functional solutions.
Finally, we want to learn to create an organizational fabric and networking structure, beyond the borders of our spaces and circles, to reach those segments of the population who are seeking answers and who are willing to take action.
In order to move in that direction, we brought the "Vision Council" methodology to Colombia in 2012, and changed our traditional annual ecovillage gatherings into an open space with clear facilitation for dialogue between alternative movements, of which the ecovillages are just one part.
Amongst other great results, we were able to host the birth of CASA, the new Latin-American ecovillage network, with an expanded capacity to include other types of sustainable projects and settlements.
For the 2013 Vision Council, we decided to deliver 4 different parallel and simultaneous gatherings in 4 different bioregions of the country, as a contraction/expansion dynamic, to be introduced as a new national initiative in 2014.
We are also directly involved in the production of the 1st Ecovillage Design Education programme (EDE) in Colombia with the full 160 hours curriculum from Gaia Education, as a pilgrim course offered sequentially in 3 different ecovillages, as part of the professionalization mentioned previously.
Lastly, we want to share with the broader community of world changers that we are in the middle of dialogues with several government branches and institutions about a project for the incubation of 100 indigenous villages, that have been victims of forced armed replacement, into 100 healthy and thriving ancestral ecovillages, combining the best practices of the native heritage and of the modern sustainability movement. Many of these communities are highly motivated to move in the direction of sustainability in their newly reassigned territories, and are awaiting the allocation of resources.
This project is being nurtured under the umbrella of what we call the "ecovillage incubator", a unifying platform for products, services, education and organization for sustainability, regeneration and resilience.
We see the incubator platform evolving into a consultancy not for profit company, with high quality standards and capacities capable of opening up spaces within the historically closed circles of politics and economics.
May we all be able to be part of the tide of change, surfing the wave of these special times, applying strategic and powerful acupuncture in the best places to intervene, thus catalyzing the future of our global societies.
On behalf of RENACE COLOMBIA
www.ecoaldeasdecolombia.org